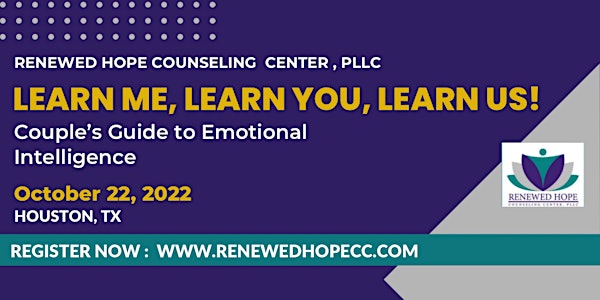 PRE-REGISTRATION-Renewed Hope Counseling's: Learn Me, Learn You, Learn Us.
THIS IS PRE-REGISTRATION - Give your union the gift of a 1 day retreat where you'll focus on better understanding yourself and each other!
About this event
Why Attend
This immersive retreat will utilize Myers-Briggs Personality Typology as the foundation to allow attendees to apply introspective insight to better understand the differing psychological preferences between themselves and their partners. We believe identifying these differences will position each attendee to embrace each other's unique qualities in hopes to improve communication skills, conflict resolution strategies and to better serve one another as a couple. Each attendee will leave the experience with something tangible they can take home in the form of relationship skills that will continue to help them grow closer to their partner.
What You Get
General Admission Attendees will get the opportunity to participate in group (collectively with their partner) and small breakout interactive sessions (separate from their partners) that are curated in focused and confidential environments to openly discuss various topics that impact attendees individually and as a couple. Lunch and refreshments will be provided. VIP Attendees will enjoy the perks of General Admission as well as a Friday Date Night Mix and Mingle with the Host and Guest Clinicians!
Cost
PRE-REGISTRATION THRU JUNE 30, 2022
July 1, 2022 - August 1, 2022
General Admission - $499.99 per couple/ VIP Admission - $549.99
Standard Registration - August 2, 2022 to September 5, 2022
General Admission - $599.99 per couple/ VIP Admission - $649.99
Last Call Registration - September 6, 2022 to October 14, 2022
General Admission - $699.99 per couple/ VIP Admission - $749.99
Visit https://www.renewedhopecc.com/ for additional information.
Hosting Clinician
Katrina Landry, MA, LPC-S of Renewed Hope Counseling Center, PLLC
Guest Clinicians
Dr. Cheryl Ivory, Ph.D., LPC-S of Enlightened Psychotherapy
Michael Dangerfield, M.Ed., LPC, NCC of Allin-Therapy
Sabastan Moore, M.A., LPC of Progress to Purpose Concierge Therapy