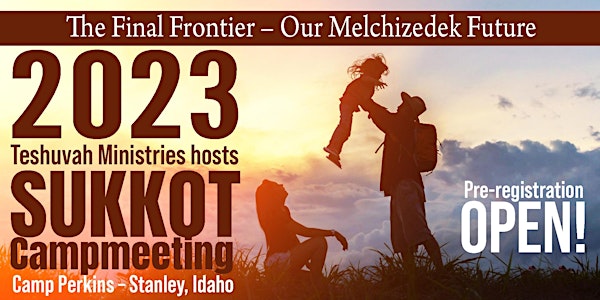 Pre-Registration OPEN for TM'sMelchizedek-Minded ID Sukkot Campmeeting 2023
Idaho Sukkot Campmeeting 2023 hosted by Teshuvah Ministries. Reserve your spot for a fun, packed-with-goodness and well organized Sukkot ID!
By Teshuvah Ministries, Inc.
Location
Camp Perkins LOM Alturas Creek Road Stanley, ID 83278
About this event
34 days 20 hours

Mobile eTicket
Watch our video from Sukkot 2021 to see what our Sukkot Event is like!
Idaho Sukkot Campmeeting 2023 is OPEN – taking Pre-Reservations NOW!
Feast of Tabernacles • Mo'edim • YHVH's Royal Appointment – TM style!
By pre-registering today you are simply telling us that you are truly planning on spending Sukkot with us in 2023.
We don't know the specific date for Sukkot yet, but we will after the Head of the Year (Rosh ha'Shanah) in the Spring of 2023. But for now, you MUST hold your spot, as spaces (cabins) are limited. The final registration form with the dates and full cost (somewhere around $425 for each adult) will be sent out to all pre-registered attendees during the Spring of 2023 to finalize and confirm their registration. Today's pre-registration fee (a non-refundable $10 each) will apply toward your registration.
Early Bird Discount! - Pre-registering today will give you access to an "Early Bird Discount" and other good things!
Follow these 4 steps:
1) Pre-Register today to hold your spot ($10/person including children and babies. This is non-refundable).
2) In early Spring of 2023 you will be sent (via email) the registration link with the dates.
3) Register and pay after you get our email in the Spring 2023 (your pre-registration fee will be applied toward your balance).
4) Travel and meet us for a beautiful Sukkot Campmeeting experience in Idaho!
Plan NOW to join us for a fun, packed-with-goodness, rabbinic-free and well organized Sukkot Campmeeting in 2023 at Camp Perkins in Stanley, Idaho. Hosted by Melchizedek Teshuvah Ministries. Praise YHVH Elohim!
Read on to learn about our 2023 Sukkot Campmeeting.
NOW: Pre-Register
Snatch up your spot today with our "pre-registration" system. Pre-registration is $10 per person (adults, children and infants) and is non-refundable if you end up NOT coming. BUT it will be applied toward your balance if you DO follow through and continue registering with us in the Spring of 2023. Space is limited. Pre-reserve your spot ASAP!
LATER: Finalize your Registration
In the Spring of 2023 all those who have pre-registered will be sent the link to finalize their Sukkot registration.
Registration Fee will be around $425 regular price / per person. It will be a little less for 4-11 year olds and free for children under 4. Registration fee will cover 6 days of Sukkot and will include all kosher meals, lodging and most activities (there are some activities that you will be able to add-on for an extra fee). More info to come about the "Early Bird Discount."
At this point we don't host the entire Sukkot because most people can't take so much time off and we want to allow people time to get home or to their next stop before the final High Shabbat (Shemini Atzeret) of Sukkot.
Refunds
All pre-registration tickets, full registrations and all activity add-on's are non-refundable. Thank you for your understanding in this. We hope you are using YHVH's tithe money that you have been saving to attend Sukkot. Assuming this is the case, then if you have to cancel we will apply YHVH's money (that you used to register) toward sponsoring someone who wants to come, but who can't afford it. This way you will know that HIS money will be used to take care of the poor, the orphans and the widows! :-)
Sponsorship Opportunity
Can't attend our Sukkot Campmeeting, but still want to be part of it? Become a 2023 sponsor and be mentioned on our "Sponsor Board" at Sukkot AND those who give a full registration fee (approx. $425) for someone will get a gift in the mail after the event. Though we would prefer you being with us in person, your free-will offering / gift will be a beautiful representation of your presence and thus you will be in our hearts. Thank-you for helping this be an amazing Sukkot!
Lodging
Cabins: Cabins are clean and smell nice! Cabins have 10 bunks each with wood stove, incase it gets cold at night (and it does). We will be putting one (1) family per cabin. Singles and couples might be able to get a cabin of their own, depending upon numbers, but if our camp is full we will put singles in either the girls or the boys cabin and we might ask couples to split up into those cabins or there might be rooms in the retreat center available for them. We'll see.
Bathhouse: Both bathhouses are clean and smell nice! One bathroom is newer and another is older. (No bathrooms in cabins). Campers will have to walk to the bathrooms.
Hotel Rooms: We MIGHT have hotel-style rooms in the Retreat Center available. If we do they will be a little more in price. No bathrooms are in the rooms, instead bathrooms are shared on the same floor. Stay tuned for more on that.
RV's - There are 4 dry RV spots available. No water or power. Please contact us if you want to reserve one of these. The registration price is still the same.
Tenting - If you want to tent camp there is room. Registration fee will be the same. But we highly suggest not camping in a tent as it can be COLD in the Sawtooth Mountain Range in the Fall at this elevation. If you have a tent woodstove, we just need to get it approved through the camp before you can bring it to use. The registration price is still the same.
Program
Morning Camp Counsel: Held at the campfire bowl outside before breakfast around a campfire.
Evening Campfires: Held in the Lodge where we eat our meals. Evening meetings will be after dinner and include music, interactive teachings and perhaps fun things like skits and breakouts. Please bring your musical instruments to join in!
For the Children: There will be a short afternoon program specially for the children.
Payout: Rebekah's "Participation-Reward" will be back for those under 16 years old! Using Sukkot play money to buy organic treats at TM's camp store is a fun way to engage the children in the event all week long! :-)
Marriage Vows: During one evening of Sukkot our Campfire Program will be dedicated to married couples taking a re-dedication of their marriage vows. Our Melchizedek Wedding Ketubah has 8 vows they will make before YHVH and witnesses. It will be a beautiful evening!
Awards, prizes and certificates: to be given out at our last morning Camp Counsel.
2023 Program Theme
Yah's overall theme for HIS Sukkot is prismatic, but mostly about "tabernacling together." It's about His Family (Israel) showing up to "live" together for a season in anticipation of the final Sukkot. This will be the theme of our morning Camp Counsels. But with that as the backdrop for the whole event, the theme we have chosen for our evening Campfires is:
The Final Frontier – Our Melchizedek Future
A little about our theme: Our Messiah Ye'shua has been made High Priest and King in the Eternal Order of Melchizedek. Our coming Righteous King is going to bring His Melchizedek Administration to Earth for His Millennial Reign. It is important that His disciples have Wisdom, Understanding and Knowledge about His Father's Royal Covenant and His Law that He will be establishing here on Earth in that day as He will be destroying all those who refuse to surrender to His government.
Let's be ready for this day. Prepare to welcome the King of Kings to Earth so that we can go forward with Him as His Bride to fulfill the prime directive YHVH gave humans back in the Garden, which was to guard the garden from evil and expand His Kingdom. (Ps.110:4, Heb. 5:6,10; Heb. 6:20; 7:17, 21; Ps. 4:7; Jer. 3:15;1 Cor. 15:25 etc).
Activities
Group activities: Included in your registration fee are these activities that we will be doing together as a group. Things like:
Building the Main Sukkah
Ye'shua's Birthday Party
Witnessing Mikvahs
Erev Shabbat Agape' Feast
Mini-Sukkah Building Contest
Hiking
Individual activities: Included in your registration fee are the following activities that you can do during your free time:
Swimming
Canoeing
Kayaking
Paddle boards
Water bikes
Volleyball
Hebrew craft
Basketball
Add-On Activities: You can add these to your reservation for a small extra fee to do in the morning activity time after breakfast (except on Shabbat):
Sport Climbing
Mt. Biking
Archery
Special Friday Boat tour of Redfish Lake to see "Heaven's Gate"
TM Sukkot Camp Store: Along with organic treats for the children's Sukkot Store, we will have many cool Sukkot items with Sukkot's logo on it for you to buy when you arrive. Plan to bring some spending money (CASH)!
Morning Praise and War Prayer Time: Available in early mornings for 1 hour – before breakfast.
Food
Kosher Food: Each day the camp will be serving us a Biblically kosher breakfast and dinner in the dining hall and a mid-day snack under our sukkah. Breakfast will be in the Lodge at 8:30 am, snack will be under our sukkah at 12:00 pm and dinner will be in the Lodge at 6:00 pm.
A detailed menu will be sent to you before Sukkot 2023. At that time you can let us know if you have any food issues that the chef is happy to take care of. :-)
Arrival and Departure
Arrival and Departure: PLEASE COME ON TIME! We highly discourage late check-in's or early departures. Please come to stay the whole time. Check-in is 3:00 (date TBA)--please make your travel plans accordingly. Our first gathering will be for dinner in the lodge followed by Ye'shua's Birthday party and Campfire! Check-out is 11:00 am (date TBA) AFTER our morning Camp Counsel, awards ceremony and our last breakfast together.
Pets
No pets please: We are so sorry to have to pass on the camps rule of no pets allowed. Someday, we hope to have our own camp where we can allow your family dog to join us in Sukkot! For now, please no pets. Thank you!
Bring
A freewill offering (don't come empty-handed) as required by Yah.
Personals items
Clothes and for all kinds of weather and activities – Bedding, pillows, towels etc.
Musical instruments
Safe sunscreen and hats (at this elevation you can get burnt easily)
Money for the TM Camp Store. Cash only.
Rules
Basic Rules:
1) Lights out and quiet time will be 10pm - 7am in the cabins.
2) Parents will be expected to watch, control and discipline their children all day long and also during meals and programs (keeping their toddlers with them int he seats or in the back).
3) If you want to go out and explore the mountains or the area outside of camp alone, you MUST tell someone who is staying back where you will be going and what time you will be back.
4) No phishing for people or promoting another ministry during Sukkot.
5) No teaching of beliefs contrary to TM's will be allowed (those are posted on our website). Campers are there to learn from TM not pick battles with us during this time.
In order to keep our Sukkot event a safe place, we reserve the right to ask anyone to leave, if need be.
Phones and Internet: There is sketchy cell service at the camp and no internet for our use. We are going to suggest that you unplug from the world for the event and enjoy being old-fashioned by using your phones for only picture taking.
COVID: There are NO masks allowed at our Sukkot. PLUS, you are NOT allowed to join us if you have had ANY of the "experimental medical device" jab (the "vaccine"). During the online registration process you will be required to swear in YHVH's Name that you (and those you are bringing) have NOT had the "vaccine." If you can NOT swear to this and you continue to pay, your registration will be rejected and your money will be used to help a "poor, orphan or widow" to attend in your place. The Ruach ha'Kodesh will help us have wisdom on this. Thank you!
Change in plans might happen: We reserve the right to change the program up as needed, due to weather, fire, lack of help or lack of reservations.
What People are Saying about TM's Sukkot
"While we were driving to Idaho from western ND, we we're talking about future Sukkots and how we could certainly look for a fellowship nearer to ND. But after all the "a-ha!" Revelations and fun, we unanimously decided that Sukkot will definitely find us "Tabernacling with Teshuvah Ministries!" – Tawyna Bulger
"I miss everyone and everything Sukkot! The road trip was wonderful! Sights and sounds of this mountain was magnificent! I miss the cafeteria and the activities. None of my photos do it justice. I just have to close my eyes and recall the handiwork of Elohim!" – Erica Ford
"It was fun decorating the sukkah with everyone last year for Sukkot! Cayden, Jeremy and my Dad did an amazing job of building the frame of the sukkah!" – Hadassah
"My favorite memory is watching my kids walk into the water after watching their daddy Mikvah. My whole family was mikvah'ed during Sukkot! What a true blessing!" – Katie Walker
"I can not wait to see all the families this upcoming Sukkot! The growth, the solidifying of friendships, the challenges that are overcome to be obedient! They are such treasures!" Tawnya Bulger
"I knew that attending Sukkot 2021 "Exposing the Counterfeits" was going to be a crucial stepping stone for my family. We have only been keeping the Feasts and Shabbats since May 2020, so being fed appropriately and first-hand is of a huge value to me. I have been following after Messiah since 2002 and He has continued to lead me into deeper and deeper waters, which I have eagerly jumped to. In 2011, He called me to home school our youngest two children, now teenagers, which has been huge in pouring into a strong foundation with them. But I am so grateful for those who shared at Sukkot, who are passionate about TRUTH so that our teens can glean from them, too, and further strengthen their personal foundations of faith. Surrounded by so many counterfeits, many are spiritually starved and apathetic towards His Ways; I don't want that for my family. I am convinced that they need to be spiritually strong and pure for the days to come; keeping Sukkot set a huge stone in their foundation for that end. Thanks, Teshuvah Ministries!" – Tawyna Bulger
"My faith grew stronger, and I feel like my friendships did as well…seeing the happiness on my children's faces … I wouldn't change it!" – Katie Walker
About the organizer
LEARN.LIVE.TELL.
Teshuvah Ministries was established by Isaac and Rebekah Garvin in 2012. Our overarching goal is to promote the heart of YHVH Elohim towards Israel, young and old. We, ourselves are captured by and in love with YHVH Elohim, God of Abraham, Isaac and Jacob. We recognize that the call on our life is no different than the call on your life: to repent, become light and produce good fruit. Therefore, using our gifts and callings we offer the trumpet of our voices, our experience and abilities to help guide Scattered Israel into the Royal and Everlasting Melchizedek priesthood as she comes out of the nations. We work together full-tim in ministry and live a humble lifestyle. We offer YHVH Elohim everything we have and pray that He is pleased with our daily sacrifices and that our life is a blessing to Him and you. We look forward to meeting you at the Great Wedding Feast of the Lamb, Ye'shua ha'Mashiach! Thank-you for your support.