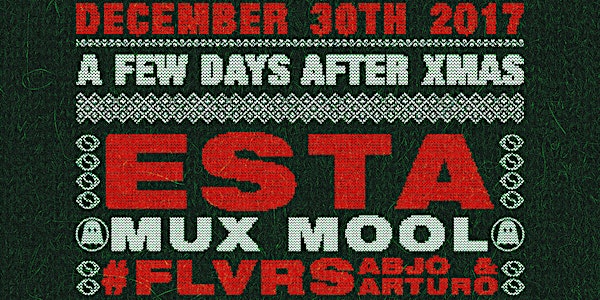 Pre NYE: ESTA + MUX MOOL + #FLVRS
Date and time
December 30, 2017 · 10pm - December 31, 2017 · 4am PST
Location
1015 Folsom St San Francisco, CA 94103
Description
DJ DIALS, #FLVRS & 1015 Folsom present
Pre NYE: ESTA + MUX MOOL + #FLVRS

ABJO (SOULECTION)
MILES MEDINA

MIKOS DA GAWD | ARTURO | JR JARRIS | SHRGGS

Saturday December 30th / 10PM - 3AM / 21+
---
ESTA.
An open-minded and loyal supporter of all music philosophies, esta maintains zero barriers in his meticulous method of danceable, yet sexy music production and arrangement. Based in Southern California and part of the Los Angeles-based Soulection imprint, esta is a rising star within the future music ecosystem, with a loyal, globally recognized support base.

In 2006, esta was introduced to the Fruity Loops music production software program by a close friend and says "my first beat took eight hours with no break in between and I've been hooked ever since". Seven years and many Fruity Loops beats later, esta joined the Soulection family, moved to Los Angeles from his hometown of San Diego and subsequently began performing as a DJ/Producer around the world. In less than two years, esta reached the east coast of the U.S., Canada, Asia, Europe and remains a staple in the Southern California music scene.

2013 marked esta's first appearances at both Coachella and the historic LOW END THEORY. Having played alongside acts like Gaslamp Killer, Sango, SOSUPERSAM, Mr. Carmack and Penthouse Penthouse, while pulling Inspiration from artists like Hudson Mohawke, Dilla, Cory Henry, 9th Wonder, Taylor McFerrin, M-Phases, D'Angelo, and Just Blaze, esta seamlessly fuses multi-dimensional genres into an atmospheric swing.

In 2015, esta released his etc. remix EP and continued his grueling touring schedule, with notable appearances at Circo, Applesap, Decibel and HARD Fest.

2016 marks the year of esta's first official album release.
ESTA Boiler Room London DJ Set
Plays: 294,746
---
MUX MOOL
I know it's electronic music," Brian Lindgren says, "but sometimes I feel like an old-timey traveling musician with an M-Audio Trigger Finger instead of a guitar." As Mux Mool, Lindgren has been criss-crossing the country by himself for years, collecting records, loops, and samples, and rocking parties in towns both large and boondock-small. Lindgren is a self-confessed nerd to the bone, an incurable doodler, a Star Trek: The Next Generation fan; he lives on energy drinks and barely sleeps, spending his days working on music and his nights absorbing Internet memes by the hard-drive load. Mux Mool's homespun electro hip-hop is the product of an introverted mind, an extroverted imagination, and a bottomless cultural appetite.

Lindgren's life in music began in Minnesota with a cheap toy sampling keyboard ("I remember being so fascinated by how much a sound changed when you dropped it down several octaves"). Flash forward a few years (and more than a few keyboards), and the teenage Lindgren began recreating his favorite sounds – Dilla's stutter-step beats, classic video-game music, abstract electronic noise – using software and digital effects, glazing them with tape hiss and vinyl static.

An early Mux Mool track, the slinky strut of "Lost and Found," was discovered by Moodgadget Records and released on their Rorschach Suite compilation, eventually finding its way onto iTunes' Best of 2006 Electronic list. A string of EPs, tracks, and remixes followed, including the song-a-day project Drum EP, the grimy talkbox anthem "Night Court" on the Ghostly International/[Adult Swim] comp Ghostly Swim in 2007, and the Ritalin-fueled "Ballad of Gloria Featherbottom" on 2009's Moodgadget-curated Nocturnal Suite on Ghostly. Mux Mool's 2010 full-length debut, SKULLTASTE, is the culmination of years of toil and experimentation, gathering Lindgren's myriad talents and obsessions into one gloriously sprawling document.

As for where he got that name, Lindgren offers up an oddly telling story: he was dubbed Mux Mool by a band he admired, after he posted a blog on MySpace soliciting fans to submit names for his project. "Mux is short for 'multiplexing,' which is the streaming of many types of information through one channel," he explains, "and Chac-Mool is an ancient Meso-American statue of a reclining man." A technologically complex breed of synthesis and a timeless piece of indigenous art. Sounds about right.
mux mool - get better john
Plays: 163,470
---

Tickets: After purchasing a ticket through Eventbrite, you will receive an email with your tickets attached as a PDF. Please PRINT out your tickets and bring them with you on the night of the event. By purchasing a ticket you agree to receive periodic email communication from 1015 Folsom. Presale tickets must be redeemed by 1:30am.

All events are 21+ | Please bring valid identification | NO REFUNDS

About the organizer