Description
***UPDATE****
MEMBERSHIPS ARE OFFICIALLY SOLD OUT. Please read the Welcome Guide: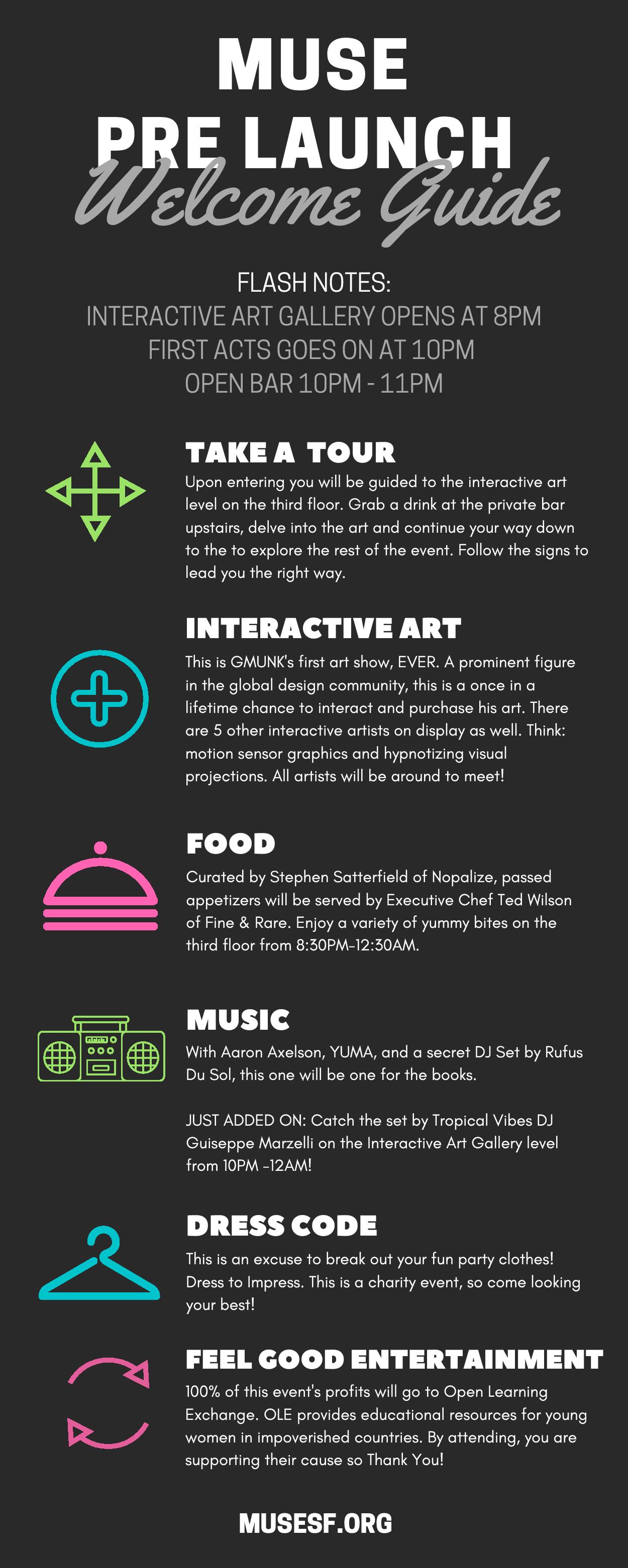 -------------------------------------------------------------------------------
WHAT PEOPLE ARE TALKING ABOUT....
This event. It's sold out. It was invite only. and YOU are going to it. We're excited for you to join us tonight as we take entertainment programming and turn it on its head. We've never seen an event done like this before and neither have you, until tonight.
HOW YOU FEEL WHEN DAYLIGHT SAVINGS TIME GIVES YOU ANOTHER HOUR...
So many activities. It was a last minute change but due to the response we received for the interactive art, we've opened it up from 8-10pm so guests can really enjoy it. GMUNK has never exhibited before, so this is pretty nuts. Plus we have other amazing artists like Ecco Screen, a rap producer turned interactive artist. Local legend Aaron Axelson and CEO/DJ Guiseppi Marzelli are bringing on the tunes starting at 10pm.
WHAT TO SAY RIGHT BEFORE YOU WALK INTO THE BIG MEETING YOU'VE BEEN PREPPING FOR…
Let's do this. Dress to impress. Coat check is on the underground level. It's a big venue, so there's a little guide attached for you. And there will be signs.
---------------------------------------------------------------------------------
11/01/16 *If you have the special ticket code, the headlining artist will be revealed to you. If you missed them at Outsidelands, this will be a unique way to see them.
Grab your tickets fast. The ticket value is $150 and with the member code you can get this for a PREMIUM DISCOUNT plus open bar for an hour.
We're the real deal. We're not doing this for money. In fact, we are donating 100% of the profits from this event to Open Learning Exchange. Read more about them, their doing incredible things.
-----------------------------------------------------------------------------------
DISCLAIMER*** The event is a closed network and the invite code is only distributed to the following companies and organizations (not limited to) with a max of 50 per company first come first serve: Apple, Uber, Microsoft, Google, Twitter, Dropbox, Tesla, Instagram, Facebook, GoPro, Oracle, Slack, Dolby, PopSugar, Chubbies, One Kings Lane, Sephora, Box, Blackrock, Lyft, Tilt, Salesforce, Linkedin, Pandora, Mulesoft, Luxe, Fitbit, Eventbrite, Flipora, UpWork, Automattic, Gray Area, Github, The Battery.
If you've made it this far, you should have the code. If you have a friend who'd like a code, or have questions as to why we're keeping this a closed network please email info@musesf.org. When requesting for a code, please email from your work email.
Organizer of Pre Launch Party
MUSE is a membership based nonprofit organization bent on creating phenomenal experiences and donating all profits to foster positive change. Cliffs notes: We are not doing this for our own monetary gain. We want to create the best experiences for our guests while providing feel good entertainment. We're passionate about using artistry in all forms to fuel social and economical impact.  Purchasing a ticket to this event will automatically make you a members of the MUSE network. Our events are for members only.  Our background comes from creating memorable atmospheres in the private event industry for over 25 years.  
For more, visit Muse SF.
For more on who we're donating to, visitng OLE.