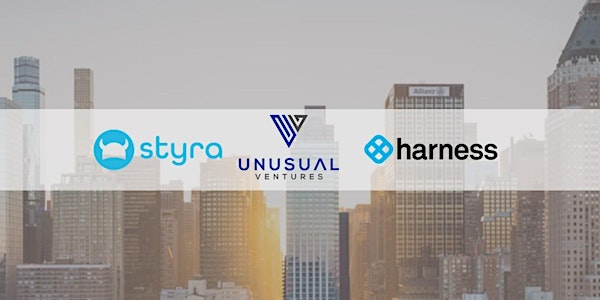 Pre-Kubecon Happy Hour with Unusual Ventures and Portfolio Companies
Unusual Ventures, Harness and Styra, invite you to kick off a week at Kubecon! Come join us for some drinks and light appetizers!
When and where
Location
Nason's Beer Hall 570 J Street San Diego, CA 92101
About this event
Unusual Ventures and two of its portfolio companies, Harness and Styra, invite you to kick off a week at Kubecon in style. Enjoy appetizers and drinks in a relaxed setting and network with peers. Oh, and did we mention ping pong, beer pong, and shuffleboard?
No sales pitches, but if you'd like to schedule demos with Styra or Harness, we'll make it easy (and put a drink in your hand while you do it.)
About the hosts
Unusual Ventures:
Unusual Ventures is a seed-stage venture capital firm designed from the ground up to give a distinctive advantage to both consumer and enterprise entrepreneurs. Unusual is rethinking the venture capital engagement model by serving entrepreneurs with programmatic and hands-on services, such as Unusual Academy and the Get Ahead Platform, and by engaging with a number of HBCUs and other community-based organizations, including non-profits and children's hospitals, as their limited partner base. Described as a partner versus a top down stakeholder by its portfolio companies, Unusual is laser focused on serving exceptional founders, world-class teams, and innovative products. For more information, visit: www.unusual.vc
Harness:
Based in San Francisco, Harness is the industry's first Continuous Delivery-as-a-Service platform designed to provide a simple, safe and secure way for engineering and DevOps teams to release applications into production. Harness uses machine learning to detect the quality of deployments and automatically roll back failed ones, saving time and reducing the need for custom scripting and manual oversight. Learn more at www.harness.io.
Styra:
Styra is the founding team behind the Open Policy Agent project for cloud-native authorization, and also builds commercial solutions that allow enterprises to define, enforce, and validate security for Kubernetes. Our Declarative Authorization Service provides context-based guardrails—built from a simple policy library—to mitigate risks, reduce human error, and accelerate development. Learn more at www.styra.com/