Pre-Assembly Workshop - Elders Rising
Description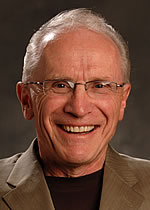 Elder's Rising - The Promise and Peril of Elderhood
With Rev Roland Martinson
The numbers of people and length of years spent as an older adult are greatly increasing. These years at the last third of life have expansive opportunities and risky vulnerabilities. This workshop, with Rev Roland Martinson of Luther Seminary, will explore congregations' huge role in the quality of seniors' lives as well as essential contributions elders can make to the vitality of congregational life and missions. Both Rostered Ministers and Lay leaders are welcome to participate.
Rev Roland Martinson, came to Luther Seminary as assistant professor in 1977 and was named professor of pastoral theology and ministry, pastoral care, in 1982. He chaired the committee which created the new curriculum introduced at Luther Seminary in 1993. In May, 2000, Martinson was installed as Carrie Olson Baalson Professor of Children, Youth and Family Ministry. Ordained in 1968, he was pastor of Salem Lutheran Church in Glendale, Calif., until 1974, when he became pastor of Hope Lutheran Church in Fargo, N.D.
Full Bio Here
---
Cancellation Policy:
- Sorry, no refunds can be given for no-shows or cancellations.
- Tickets are non-refundable after May 31st
- You may send a friend in your place should you be unable to attend.
---