Description
TICKETS:
VIP SILVER PASS:
VIP SILVER PASS INCLUDES: VIP AREA ACCESS, 4 DRINKS, ONE MEAL, SITTING AREA WITH TABLES, VIEW OF STAGE, CASH BAR WITH NO LINES
VIP GOLD PASS:
VIP GOLD PASS: INCLUDES EVERYTHING THAT THE VIP SILVER PASS INCLUDES, PLUS MEET AND GREET AND PHOTO TAKING OF THE INTERNATIONAL ARTISTS ON THE RED CARPET
TICKETS
AVAILABLE
NOW
ONLINE
AND
AT ALL THESE LOCATIONS!
FREE for children uner 8 years old.
METRO PCS, Wireless For All
Proudly Sponsors PRC Fest & Carnaval Américas
Store Locations, Click Here
FIESTA MARTS
Proudly Sponsors PRC Fest & Carnaval Américas
Store Number: #2, #3, #4, #7, #8, #9, #10, #28, #31, #49
Store Locations, Click Here
CAFE PIQUET
5757 BISSONETT
BELLAIRE, TX 77401
713 664 1027
AMAZON GRILL
5114 KIRBY DRIVE
HOUSTON, TX 77098
713 522 5888
DODO'S CHICKEN
9431 RICHMOND AVENUE
HOUSTON, TX 77063
713 789 3636
PUNTA CANA RESTAURANT
17776 STATE HIGHWAY 249, #21
HOUSTON, TX 77064
281 894 0960
FLOR DE CUBA RESTAURANT
16233 CLAY ROAD, #344
HOUSTON, TX 77084
281 463 8611
Ticket & Show Info:
All ages are welcome
Free admission for Children under 8 years old.
Festival gates open at 11:30
Show happens rain or shine
No refunds or exchanges
Lineup subject to change
All patrons subject to search
Photo ID required to get tickets
Info
Festival Grounds Feature
Information Booth & Will Call Window at the Main Gates
Food Vendors: Cuban | Puerto Rican | Dominican
Souvenirs
Arts & Crafts
ATM (automated teller machines)
Ice available for sale on site
Car Show
Fashion Show
Porta Potties located through-out the grounds
24 hour security – Houston Police Department
Night lighting
Festival Policies
Food and Beverage carry ins are not allowed in concert area.
Bring your own lawn chair for seating in concert area.
All people attending PRCFestival do so at their own risk. No liability is assumed by owners, managers, promoters, sponsors or others associated with the event. All sales are final and there are no refunds or exchanges. Festival is not responsible for lost, stolen, or forgotten tickets or passes, or the replacement of armbands.
PRCFestival goes on rain or shine.
Roadside sales and any other scalped tickets will not be honored.
Pets are strictly forbidden in the concert area.
Any violations of festival policies will be subject to having your arm band removed and being escorted from the Festival grounds and subject to fine according to state and local ordinances.
Want to volunteer at the event?
VOLUNTEER: View the volunteer opportunities.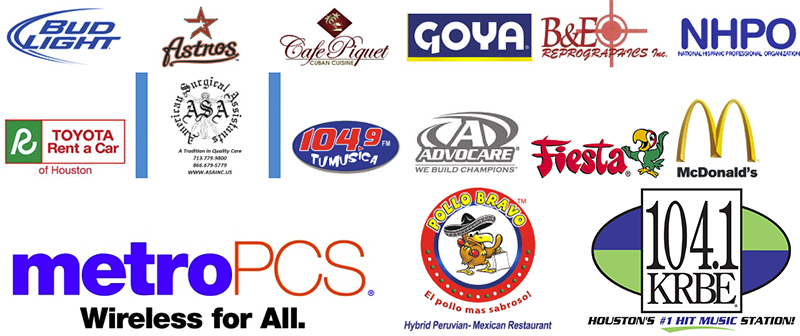 The Annual Puerto Rican & Cuban Festival (PRC Fest) launches Carnaval Américas!

About the ANNUAL PUERTO RICAN & CUBAN FESTIVAL:

This is our 7th PRC Festival! Our mission is to disseminate the Puerto Rican & Cuban Cultures within the City of Houston and it's surrounding communities. We want to enlighten and educate the audience through dance, art, music and food. Our event supports and promotes other ethnic organizations and their mission, by providing a venue for unification for our Spanish Caribbean citizens and the general market. Most importantly, the PRC Festival empowers our youth to become accomplished, self-directed, and collaborative citizen who boldly contribute to an increasingly complex and evolving world by engaging in leadership roles, relevant experiences and building positive relationships while embracing the uniqueness of each individual.

Our event is done annually to support the continuous efforts to disseminate the Puerto Rican and Cuban cultures within the city of Houston. We also want to teach our children about our roots, assisting them with their self-esteem, identity and letting them know that they have a strong support group. Additionally, we are educating the citizens of the City of Houston about who we are and asking them to embrace our cultures in a friendly and festive environment.

We receive strong support from many businesses and cultural organizations within the city of Houston, Puerto Rico and across the United States for which we are very grateful!


About CARNAVAL AMÉRICAS:
Moreover, Ferrer Productions decided to launch another event, Carnaval Américas, themed after Calle Ocho in Miami. Our event promises total inclusion of all of the Latin American countries represented in Houston. Additionally, Carnaval Américas will include music, food and culture from all over Latin America, bringing our community together to one event in one day. Calle Ocho, in Miami, attracts over 1.5 million visitors every year. Due to Houston's continuous population growth, Carnaval Américas, with strong support from our presenting Sponsors and Media Partners, Univision Radio (Tu Musica 104.9, Recuerdo 106.5), TELEMUNDO Houston and KRBE 104.1 the number 1 Pop Radio Station in Houston, we invite everyone in Houston and its surrounding cities throughout the state of Texas, to join us and enjoy the rich Hispanic multicultural experience that features Latin American traditions in music, art, entertainment and culinary pleasures.
Organizer of PRC FESTIVAL | CARNAVAL AMÉRICAS - 9/21 & 9/22