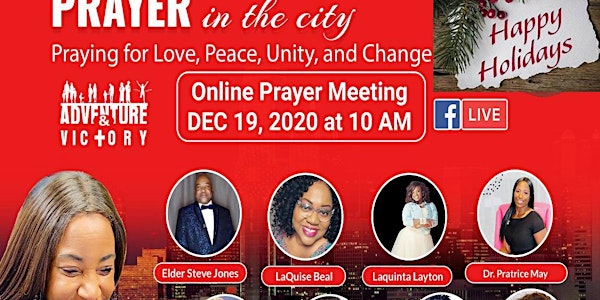 Prayer In the City via Zoom
Prayer in the City is about unity, love, breakthrough, and standing in the gap for others while being impacted by the presence of God.
About this event
Our cities are filled with broken, hurting, and confused people. There is an emptiness without God and we must put Him first in our homes, business, community, and cities in spite of the distraction. We are people of destiny. We must believe that prayer and transformation will affect everything. Unity and love are a byproduct of relationships. This gathering is a time of corporate prayer, worship, edification, designed to mobilize many to seek the face of God for their kingdom assignment.
It's your time for a miracle, prophetic activations, and breakthroughs.
It's time to be fruitful, multiply, and replenish the earth.
You are Invite It is free to attend. Just click the link to register. Tag, invite, share and spread the word
We'll see you there!
"What God has planned for people who love him is more than eyes have seen or ears have heard. It has never even entered our minds!" 1 Cor. 2:9