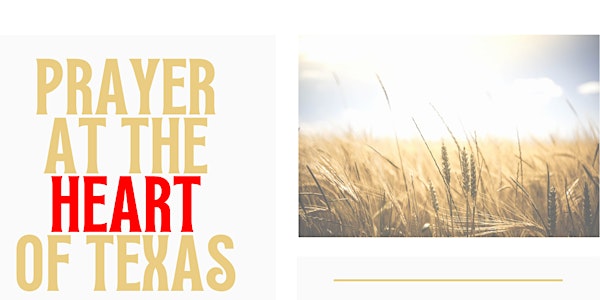 Prayer at the Heart of Texas - A Day of Worship and Prayer
Will you join us in the field? On April 9,2022 we are going to the heart of Texas for a day of repentance, worship, and prayer.
When and where
Location
1370 Memory Ln 1370 Memory Lane Brady, TX 76825
About this event
On April 9, 2022 worshippers, intercessors, moms, dads, teenagers and children are traveling to the heart of Texas from across the state for a day of prayer. What will happen when God's people from across the state gather together with one desire -- to see the name of Jesus lifted high. Join with Somebody Cares, United Cry, Justice Foundation, Gateways Beyond, Evangelism USA, America Prays, Texas Apostolic Network, and many more as we gather from across the state for a day of prayer and worship. This is not about big names or big platforms. This is about the people of God coming together in one accord to repent, pray, and worship.

IMPORTANT THINGS TO KNOW ABOUT PRAYER AT THE HEART:
THIS IS AN OUTDOOR EVENT -- PLEASE BRING CHAIRS, WATER, and SNACKS
INFO FOR APRIL 9th RICHARDS PARK, BRADY TX
Schedule of the Day:
9 am Pre - Worship
10am Welcome / Repentance
11am Life
12 pm Revival / Awakening
1 pm Generations / Family
2 pm Engagement
3 pm Communion / Commissioning
WHY WE ARE HERE TODAY: With hearts of repentance, we are gathering at the center of our state crying out for revival and awakening. We are gathering to worship because the name of Jesus is worthy to be lifted high. Please come with hearts to pray and worship. This is not about the platform; this is about the people of God coming together.
LOCATION: Richards Park 1370 Memory Lane, Brady TX. The stage is set up in the field behind the Showbarn. Please stop at the show barn to get your communion cup and receive other important information.
T-SHIRTS for SALE: Prayer at the Heart of Texas t-shirts are available for sale. They are $20 dollars each. We take cash or check. Please make checks out to United Cry.
FOOD: This is a day of fasting. However, we know fasting looks different to different people. Please drink plenty of water and there will be a food truck and bar b que sandwiches available for purchase at the event.
BATHROOMS: There are public bathrooms at the park. There are also portapotties available along the sides of the field.
WATER: Water is available at the registration tables if you need water.
PARKING: If you parked in remote parking, transportation will be available at the end of the day. A shuttle will come and take you to the parking area.
FIRST AID: If you have a medical emergency, please call 911. For bandaids or other minor needs, please go the registration table under the Showbarn.
WHAT IS THE 254 PROJECT: There are 254 counties in Texas. We invited people from all 254 counties to join us here today in Brady. At the end of the day, we will be praying over the counties of our state and encouraging people to host prayer gatherings at the county and community level similar to this. We asked people to bring soil from their county and at the end of the day, we are mixing that soil from all 254 counties together and inviting people to take the soil home as a reminder that UNIFIED PRAY IS GOOD SOIL for REVIVAL. If possible, we are asking for you to stay until the end of the day for this significant segment of the day. TO GOD BE THE GLORY!
GIVING: If you would like to support UNITED CRY and the Prayer movement across Texas, please go to https://unitedcry.com/donate