P.R.A.Y. with Passion - Ladies Event featuring Debbie Taylor Williams
About this Event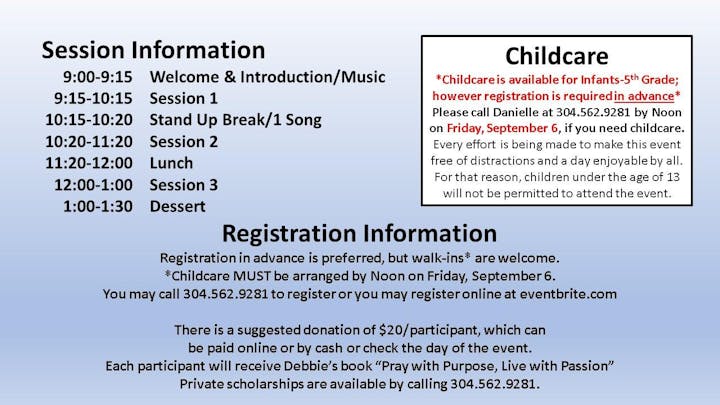 Debbie Taylor Williams is touring the US and joining us here in West Virginia on September 7th for her P.R.A.Y. With Passion Conference! Debbie is an author of 11 books and a Prayer Journal that has been endorsed by Beth Moore! She is an authentic servant of Christ who encourages, inspires and equips her audiences to live out their faith as women of passion, purpose and prayer.
The heartbeat of P.R.A.Y. With Passion Across the Nation is to:
• Inspire women to live passionately for Christ
• Equip women to pray purposefully according to the awesome name of God
P.R.A.Y. with Passion Across the Nation is gathering women throughout the United States. Women are called to Praise, Repent, Ask, and Yield according to the powerful name of God.
TRANSFORM YOUR PRAYER LIFE by joining hundreds of women in reading Debbie's Book/Bible Study called "Pray With Purpose Live With Passion"