Description
This training will focus on how to train communities/programs on opioid overdose prevention and connect them to pharmacies. Participants will be given the information and tools necessary to become trainers on opioid overdose prevention within their community. We expect that trainers make a commitment to conduct at least one training within six weeks of the TOT training and participate in future learning activities with their cohort, helping trainers remain current in their knowledge and continue to polish their training skills.
Please note the following:
1. Priority for registration will be given to BSAS funded treatment providers, non-profits, and community organizations.
2. No Narcan will be provided after the training.
3. Lunch and coffee will be provided.
Parking: folks can park in the lot around city hall (front, side, & back 2 rows), as well as across Clippership Dr. behind the Hyatt Hotel.
City Hall is circled in red, and highlighted in yellow are the lots people can park in. PLEASE NOTE that some lots/spots are metered so they should look for signs, but the ones right around City Hall are for city business and are OK/free all day. There is a parking garage across City Hall Mall.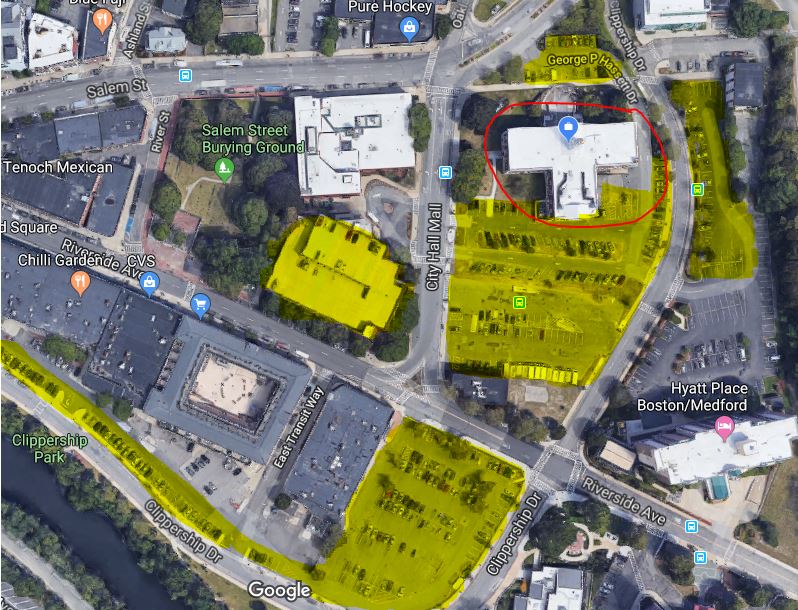 This training is coordinated with the help of Mystic Valley Public Health Coalition.