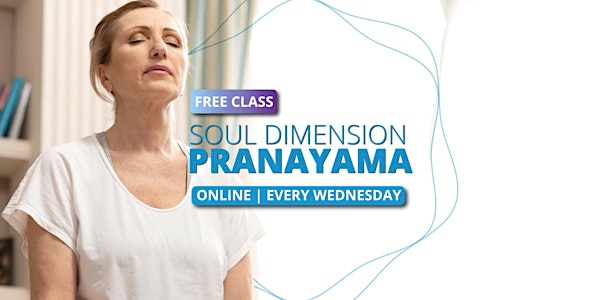 Multiple dates
Pranayama Breathing Free Class • Toms River
Elevate your pranayama practice and align your chakras in our free class. Explore the power of yoga breathing and improve your well-being.
Date and time
March 8 · 1pm - June 28 · 1:30pm EST
Location
Soul Dimension Online Zoom Meeting Toms River, NJ 8753
Agenda
Introduction to the Soul Dimension Breathing
Guided breathing practice
Interaction: sharing, questions and answers
About this event
Join our global community for this 30 min online Free Soul Dimension Breathing Class.
Powerful pranayama breathing
Connect with your body, mind, heart and soul in a deeper and more conscious way with the Soul Dimension Breathing in this free class.
Soul Dimension Breathing is a unique technique that combines the ancient knowledge of yoga pranayama, chakras and energy, sound healing, and science-backed modern breathwork practices.
Yoga breathing exercises
At this 30 min weekly class, you will join our global community to learn and practice the Soul Dimension Breathing technique guided by 35 years experienced facilitator, Sylvie Horvart.
Mastering your life energy
Soul Dimension Breathing is a simple and highly effective way to influence your total well-being. Practicing just 15 min on a regular basis (daily) will give you access to deeply relaxing, meditative, and healing states of body, mind and emotions.
Watch the class instructions.
Benefits
Deeply relax
Increase energy & vitality
Expand self-awareness
Improve sleep quality
Enhance mental clarity
Reduce anxiety
Feel more positive
Increase feelings of peace, joy & love
Balance the brain & nervous system
And much more…
What students say about the experience
It was so informative
"It was so informative. As first timer, I actually had my anxiety released. I felt much better than I have in months. I will definitely be attending more classes. Recorded and live." - Lisa
Pranayama Breathwork with Sylvie
"Sylvie is very experienced and always delightful. She is a great communicator and the education component is so helpful for those new to practicing healing breath meditation. Sylvie's kindness and gentleness permeates the session and certainly contributes to the healing aspect." - Susan
Pranayama with Sylvie
"Sylvie's guidance, care, with the breathing session was excellent for me - I want to maintain the practice and explore more. I learned a lot also - so grateful and was glad for free session(s) to consider signing up for other sessions." - Madeline
About Sylvie Horvath
I have been guiding spiritual seekers for over 30 years with the self-transformative teachings of yoga, pranayama, transformational breathwork and meditation.
It is my pleasure and honor to guide you toward self-empowerment, transformation, and awakened consciousness. I will help you connect to your deepest self and inner guide, from the physical to the soul dimension.
Frequently asked questions
What is the Soul Dimension Breathing Technique?
How are Pranayama and Soul Dimension Breathing / Breathwork related?
Who can practice Soul Dimension Breathing? Are there any restrictions?