Pranaforce 200 Hr Yoga Alliance Certified Yoga Teacher Training

Monday, July 1, 2019 at 5:00 PM

-

Monday, July 22, 2019 at 8:00 PM (Indochina Time Thailand Time)
Event Details
 In order to create the best group experience, students must apply for this training. To apply, please click "TICKET".
The Pranaforce 200 Hr Yoga Alliance Certified yoga teacher training is not your ordinary Yoga Teacher Training. In addition to all you would expect from world-class teachers:
This is the first of its kind integrated sound-healing YTT, with TED-talk training
It's designed to be private and intimate, with at most 5 students per teacher
You graduate with your own website and professional yoga photography (optional extra)
This in-depth, dynamic, and intensive training will empower graduates with a systematic approach and resourceful understanding of the body that will enable the trainees to teach from several different styles of yoga - including Hatha, Vinyasa and Bikram influences. Completion will provide an in depth understanding of the matrix of the human form.
Our focus is to educate clearly and precisely how to apply alignment of the human body in the teaching of yoga postures. You will understand the therapeutic healing potential of anatomical postures, sequencing, breath work, and energy body dynamics. The work is beautifully contextualized relevant to history and philosophies of the Eastern traditions which continue to unfold and evolve to this day.
A truly magical destination...
The Sanctuary Thailand is a truly magical destination nestled on massive quartz crystals on the island of Koh Phanghan. It's beachfront wellness center and restaurant hosts the most beautiful Sunrises over the spectacular Bay. This sacred space is truly inspiring, a location like no other, people full of smiles knowing what is possible here is truly limitless.
Yoga Alliance Eligibility
Upon completion of this program graduates will be able to register with Yoga Alliance at the RYT-200 level. The training is considered basic entry-level training for anyone aspiring to teach Hatha, Vinyasa Flow, or Hot Yoga classes. Pranaforce Yoga LLC facilitates this training in collaboration with other affiliates.  It is the students' responsibility to register with Yoga Alliance upon successful completion of the program.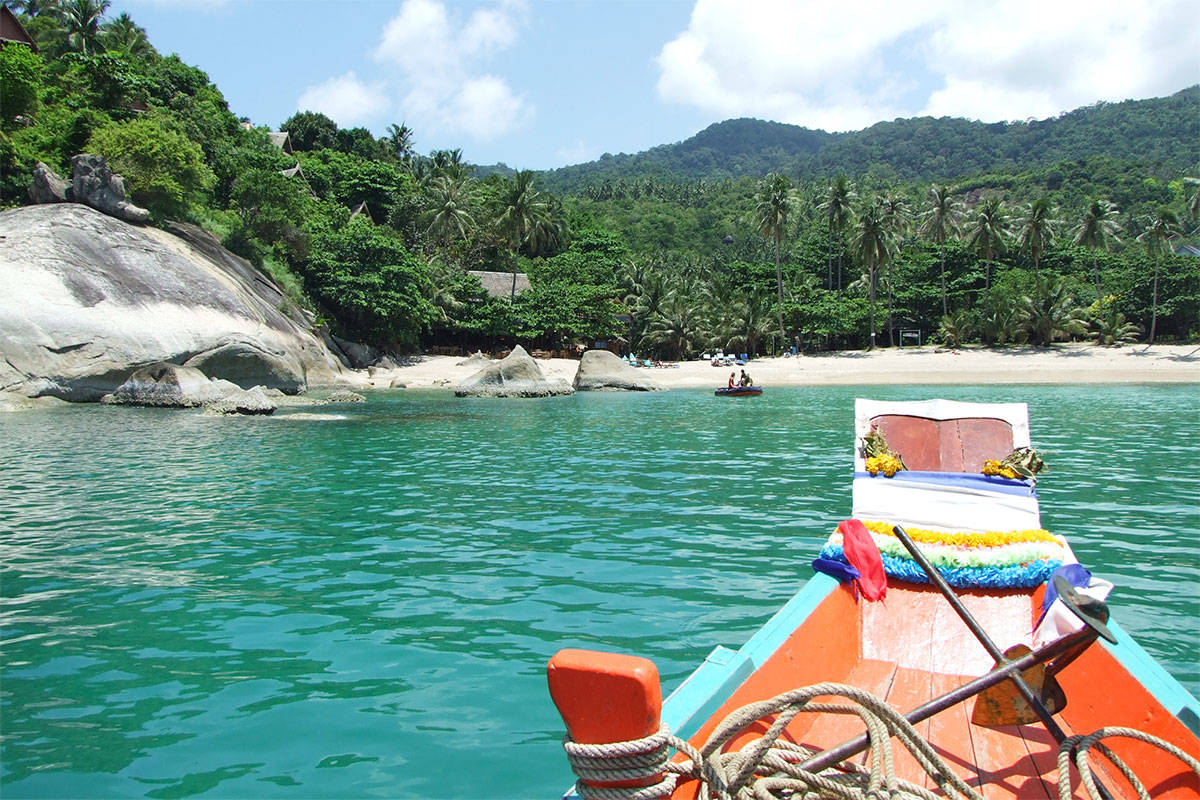 Yoga Style and Lineage
Having a foundation in this training will enable the student to teach from styles of Vinyasa yoga, with an understanding of Bikram and Hatha lineages. The training will review a systematic approach and technique of understanding therapeutic movement and the human form. In it's profound application it will make of many other forms of Hatha yoga including Hot Yoga, Vinyasa / Power Yoga and Hatha Yoga traditions understood and available to teach in simplest form.
Bringing together world class support teachers from the United States, Canada and Russia, the program will include the fundamentals of Classical Yoga (Yoga History and Philosophies), in depth understandings of Yoga Asana, Anatomy, Esoteric Anatomy, Sanskrit, Ayurveda and Tantric Studies.
Your Facilitators:
Abria Joseph
Abria is a veteran Vinyasa and Bikram teacher with 20 years experience teaching yoga globally. He hosts classes, workshops and Teacher Trainings with his Yoga Alliance registered school Pranaforce Yoga, and is the prime example of living the Dream, a Dream Life, with a Dream Job and a Dream way of being. Complementing his teachings, Abria feels for space to feel a clear channel through sound and vision activating our sense organs we know to be our reality. He can be seen traversing the globe with multiple Handpans, conducting inspirational spoken word sessions and sharing TEDx Talks.
Persia Juliet
Originally from Vancouver, Persia Juliet has been teaching yoga in Canada, NZ, Australia and Bali for over 12yrs.  She comes with a variety of trainings ranging from Bikram, Baptiste, BodyMindLife, Les Leventhal, Sarah Powers and Ana Forrest.  Persia's teaching style is an eclectic mix.
Her classes will differ according to the lunar cycle and the season.  With deep respect to safe alignment and intelligent sequencing, Persia's passion in teaching leans to the energetic anatomy of the practitioner.  Her intention is that classes are elementally balanced and that the experience of the practice continues to echo throughout the day.
Eric Monkhouse
Eric is a licensed psychotherapist, bodyworker, yoga teacher in the Iyengar, Ashtanga and Vinyasa traditions. He offers precise alignment to improve core strength and freedom for the spine, weaving in the wisdom of somatic psychotherapy, meditation, poetry, and self-massage. Every class has a sound voyage designed to enhance and sustain a deep flow state, infusing elements of live field recordings, harmonium, didgeridoo and modern ethnic electronica.  He is trained in Sports Science, Reichian Psychotherapy (breathwork and bodywork) and holds a Master's Degree in "Integral Counseling Psychology" at CIIS.
Sundari Ma Aleph
With natural healing gifts and deep intuitive vision, SunDari, "the voice of love", "the voice of Mother Gaia", is an international Musician, Soul Alchemist, Sound-healer, Tantrica, Chaneller, Artist and Art-therapist. She uses sacred sonic frequencies from various instruments including singing bowls, drums, guitar, piano, mouth harps, flutes and her voice. Channeling light codes of unconditional love, universal harmony, and ancestral Earth wisdom, she gently guides you into a state of deep surrender to embrace yourself within shadows and light, in clear vision and self love that brings you back to the centered truth of your heart and alignment with universal harmony.
Accommodation options
ZORBA DORMITORY HOUSING: We are very pleased to be able to offer this wonderful group space. Set in the sanctuary gardens on 3 levels it has a 14 bed dormitory room on the top floor, each with a lockable privacy box and shelf space. The main level offers 4 private rooms (1 with en-suite) on the main level and a cute 2 (king) bedded room underneath. This space has 4 bathrooms, 5 shower rooms and communal washing areas with cold water showers.
Housing Options  Please note that a limited number of private rooms bungalows and houses are available for an additional cost but no discounts will be given should you opt out of the housing provided.  
***Bungalows run about $1350-$1800 USD additional for the month depending on availability and houses are close to $2000 USD
COURSE FEES
$4490USD - Fee inclusive of tuition, certification with Pranaforce Yoga School, 21 nights dorm accommodation, daily breakfast and welcome dinner.

$3990USD - Earlybird, available for the first 6 applications or until April 15, . Fee inclusive of tuition, certification with Pranaforce Yoga School, 21 nights dorm accommodation, daily breakfast and welcome dinner.

$2990USD - Course fee only. Does not include Accommodation and Meals.​
BOOKING STEPS
Step 1: Register and Apply with Deposit
You can secure a spot in one of our Yoga Teacher Trainings with a $200 deposit. 

Step 2: Schedule Remainder of Payment
After making the initial deposit and your application is accepted, you will receive a Welcome Letter confirming your enrolment. This letter will break down your remaining balance of tuition and room & board.

Payment Plans

Payment Plans:  Payment plans are available for an additional $US250. If approved, we can customize a payment plan until full payment is collected. We require in all cases a card to have on file for processing. In most cases, we require that payment plans are completed before the last day of the offering. To learn more about or set up a payment plan, please contact us!
Transfer Policy
If you can no longer attend and would like to transfer your registration to friend, pending application and acceptance into the training program, please email us with your request. A $US200 transfer fee applies.
Cancellation Policy

As much as we would love to honor refund requests, Pranaforce is unable to give any refunds at this time regardless of the reason (i.e. injury, illness, etc)   If you are concerned about refunds please strongly consider obtaining travel insurance after purchase of tickets.

Pranaforce Yoga reserves the right to not credit students with Yoga Alliance certification if they do not meet all the criteria for graduation from the program – in this case no refunds will be made. If a student chooses to leave before the end of a program, or is asked to leave due to mis-behavior, no refund will be awarded.

Pranaforce Yoga reserves the right to cancel any program at any time. In this event, you will be given a complete refund, plus an additional credit of $300 towards another program, valid for 1 year. In the event that a natural disaster or other event causes a program to be moved or otherwise changed, Pranaforce Yoga will do its best to provide adequate substitutions and the program will continue; no refunds will be given if you choose not to attend or leave early. Teachers are subject to change and we will provide notice as soon as practicable in this instance. No refunds will be available under this circumstance.

MEDICAL INSURANCE
*Please also note Pranaforce Yoga and staff are not medical professionals. The Sanctuary Resort staff are not medical professionals. Before embarking on any travel or yoga training program speak with your physician. Pranaforce Yoga is not responsible for any medical conditions and effects during the retreat.

TRAVEL INSURANCE 
Travel Insurance is highly recommended. Pranaforce Yoga will not be liable for any expenses incurred due to Program or travel cancelations.
FOR MORE INFORMATION CONTACT:

connect@soulective.co



When & Where

The Sanctuary

Koh Phangan, จ.สุราษฎร์ธานี 84280
Thailand

Monday, July 1, 2019 at 5:00 PM

-

Monday, July 22, 2019 at 8:00 PM (Indochina Time Thailand Time)
Add to my calendar
Organizer
Pranaforce Yoga is an international yoga lifestyle company offering yoga retreats and Vinyasa teacher trainings, workshops and community events around the world.