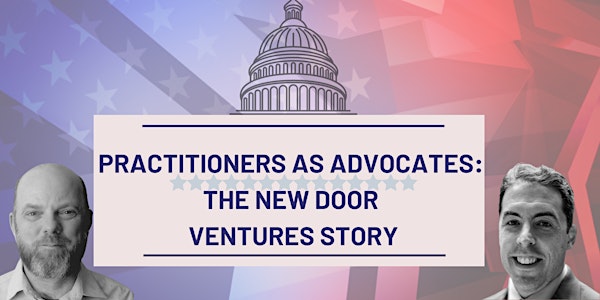 Practitioners as Advocates: The New Door Ventures Story
Join Thomas Showalter, NYEC, and Kevin Hickey, New Door Ventures, to learn about NYEC's policy advocacy efforts and ways to plug in.
About this event
NYEC invites you to embrace our dual identity: We are practitioners. We are advocates. We are doing the work. We have the expertise. As political scientist Jeffrey Berry has noted "for congressional staffers and agency policymakers, expertise is the coin of the realm, and those who want to lobby them need to use the same currency." Join Kevin Hickey, Chief Program Officer at New Door Ventures, through each step of his agency taking a more active stance toward advocacy. You'll hear about his processes, successes, and facepalm moments – and have a chance to share and process your own. You will leave excited about embracing your "dual identity," some tools for mapping and plotting your organization's approach to advocacy, and some new opportunities to make a national impact with NYEC.
Thomas Showalter: Thomas Showalter, NYEC Senior Advisor, is an expert on education and workforce policy and related areas (disability policy, juvenile justice, antipoverty programs), as well as Congressional politics and processes. Thomas leads NYEC's federal policy work and supports other NYEC projects. Before coming to NYEC, Thomas advised advocacy organizations and foundations at the Hatcher Group and spent almost five years on the majority staff of the U.S. Senate Health, Education, Labor, and Pensions Committee, working for Chairmen Edward M. Kennedy (D-MA) and Tom Harkin (D-IA).
Kevin Hickey: Kevin serves as the Chief Program Officer at New Door Ventures. Kevin's career is built on helping youth and families achieve self-sufficiency and build healthy communities. Before joining New Door Ventures, Kevin served as Director of High School and Bridge Programs at Jewish Vocational Service (JVS) where he led efforts to secure job placements and postsecondary education for young people throughout San Francisco. He also holds faculty appointments at the University of San Francisco and San Francisco State University. Kevin loves growing spicy peppers! He is a proud veteran of the United States Navy.