Practitioner Insider Secrets DVD Programme

Saturday, June 4, 2016 at 9:30 AM

-

Friday, March 31, 2017 at 6:30 PM (BST)
Event Details
PRACTITIONER INSIDER SECRETS DVD PROGRAMME - 
HOW TO CREATE, SELL, & RUN YOUR OWN EVENTS
A Live Workshop designed to accelerate both your personal and business development
(If you missed Part 1 you can buy the DVD recording of the full 2-Day Workshop which is now available for pre- order purchase)
"Marilyn delivered more valuable content and vibe than all those (previous workshops) before her combined." 
WHAT IS THIS EVENT?
Part 1 of this event, which is now available to purchase as on Online DVD, was a 2-day, hands-on practical, and information packed.  
It was a mix of psychological theory, real life 'this is how we did it' practical information, MasterClass Interviews, and rolling up your sleeves and getting it done.
Part 2 is a 1-Day event which is about you, your confidence, tapping into your creativity, starting to eliminate those things which might get in the way and block you when it comes to getting out in the world and taking action.  
Just a few weeks later, Part 1 is already working its magic!  
HeartMath Facilitator and Energy Practitioner Linda Campling attended the Part 1 event and has just launched not one, but 2 events this week, plus set up an Eventbrite Page and created a Facebook business/event page, using the skills and knowledge shared during the Practitioner Insider Secrets Workshop!  Wow!!!!  Do check out her Facebook page for further details.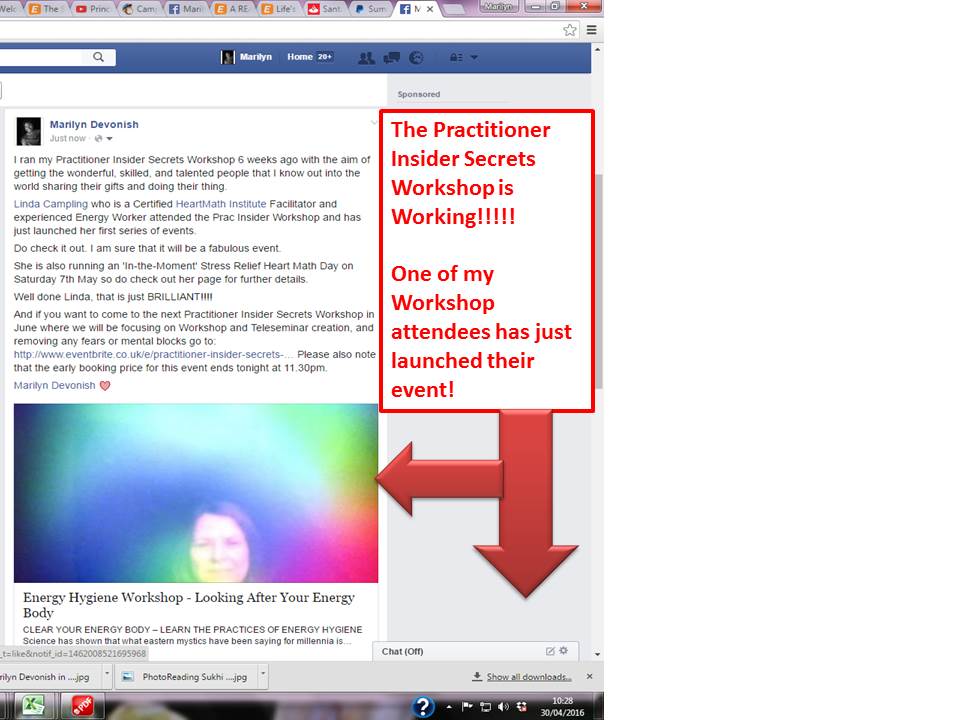 PRACTITIONER INSIDER SECRETS PART 2
WHY PART 2?
My original vision for the Practitioner Insider Secrets Event was a day on the nuts and bolts and practicality of things, and a day on idea and content generation and creation, and looking at what might stop or block you and get in the way.
As the structure of the event changed with having additional speakers, which was great, I focused more on the issues that practitioners often ask about which was the practicality and the 'how to' technological stuff, and put aside the piece around mind set, and confidence, and idea generation because realistically, practitioners already have a wealth of processes, and techniques at their fingertips to deal with those issues.
That said however, the idea is still bugging me 2 weeks later, and as I explained during the Practitioner Insider Secrets Workshop, when an idea keeps on popping up I tend to at least explore it.  So, if I were to run an extra 1-day Workshop would you be interested in attending?
I am opening it up to this group first, as you attended the previous event.  Basically the day would include:
The Creative Thinking Process

Idea and content generation – Writing and scripting your ideas

Think Tank - Sharing and testing of your Workshop, Webinar, and Teleseminar ideas with other participants

Event outline creation

Identifying blocks and barriers to implementation

Huna and Access Consciousness Belief Change Session

Event set up and Commitment
This would then dovetail with what we have already covered about the various event platforms and options, and the information and sales and structuring your ideas.
WHY THIS EVENT?
Over the years I have come across so many wonderful, gifted, and talented Coaches and Therapists who for whatever reason (and we'll come to those reasons later) are not out there in the world really sharing their knowledge and expertise and offering what they have.  What I call the proverbial 'Shelf Development' where shelves might be full of books and audio programmes, and the walls full of lovely certificates, yet you are not out there sharing what you've got. 
This event, designed and run by Marilyn Devonish has been created to get you off the shelf and so that people can invest in you, and buy whatever products or services you have to offer.  
WHO IS THIS EVENT FOR?
This event is aimed at Coaches, Trainers, Therapists, and Entrepreneurs, and those who know that they have something to deliver to the world based upon their skills and expertise, or those who want to run workshops and events, and know their stuff yet haven't quite gotten around to packaging up their knowledge in a structured and marketable way. 
It is not industry or topic specific because I have used these techniques to create workshops and training course on everything from Project Management, Finance for Non-Financial Managers, and Leadership Development Programmes, through to Hawaiian Huna, Banishing Procrastination, and Mind Body Spirit Events.  
WHAT DID ATTENDEES SAY ABOUT THE PART 1 LIVE EVENT?
"Beyond faboulous today."  ANNE JIRSCH, CREATOR OF FUTURE LIFE PROGRESSION
"What a supercalifragilisticexpialidocious day."  AUTHOR
"Fabulous workshop and even more fabulous speakers. So great to connect together with like-minded people."
"Sukhi and Marilyn, it as such an honour working with you both. Sukhi, I was totally blown away by your knowledge, wisdom and experience. Thank you for sharing so much of your spirit with me and the rest of the gang. I can't wait to reconvene our friendship."  HARUN RABBANI, SPEAKER, AUTHOR, FOUNDER OF UNTANGLED FM RADIO
"Marilyn Devonish aka Ms Bliss your workshops are always amazing but this one's definitely on spiritual steroids cause it's supercharged!!!"  HOLISTIC PRACTITIONER & REGISTERED RGN NURSE
"A M A Z I N G !!!  Thank you for putting on today M it was wonderful and has helped me focus. I shall get round to finishing workshop briefs etc .... I feel inspired and motivated despite being very tired!  Fabulous insights.  EFT PRACTITIONER
"Just finished up at the very informative, practical and thoroughly enjoyable 'Practitioners Insiders Secrets' event building programme with Marilyn Devonish. Totally recommend this woman.  And she delivered more valuable content and vibe than all those (previous workshops) before her combined."  GRAPHIC DESIGNER & CONSULTANT
"Just an amazing Practitioner Insider Secrets course with Marilyn Devonish, the Neurosuccess Coach, and a lovely group of fellow practitioners and guest speakers. Learned a lot and have confidence that I can put on a course with ease. Covered everything I wanted. Highly recommended."  HEART MATH FACILITATOR
FURTHER INFORMATION ABOUT PART 1, WHICH IS NOW AVAILABLE ON DVD FOR PRE-ORDER PURCHASE IS BELOW:
You can do them both as separate standalone events, and attend Part 2 having not attended the first 2-Day event. If however you would like to buy Part 1 and attend Part 2, I have put together a combo purchase deal.
WHO SPOKE AT THE PART 1 EVENT? 
The event has been created by Marilyn Devonish, and joining her over the course of the weekend will be 2 amazing and very experienced speakers and facilitators, International Author Anne Jirsch the Creator of Future Life Progression, and the owner of Untangled FM Radio Harun Rabbani, both of whom also run their own successful businesses and have lived and breathed what we are sharing with you at this weekend. 
Paul McKenna said of Anne Jirsch: "Anne possesses a remarkable clairvoyant ability." 
And one or 2 of you in attendance at this Workshop will get a chance to have a session with Anne on the day, more about that is below!
SPEAKER SESSIONS & WORKSHOP OVERVIEW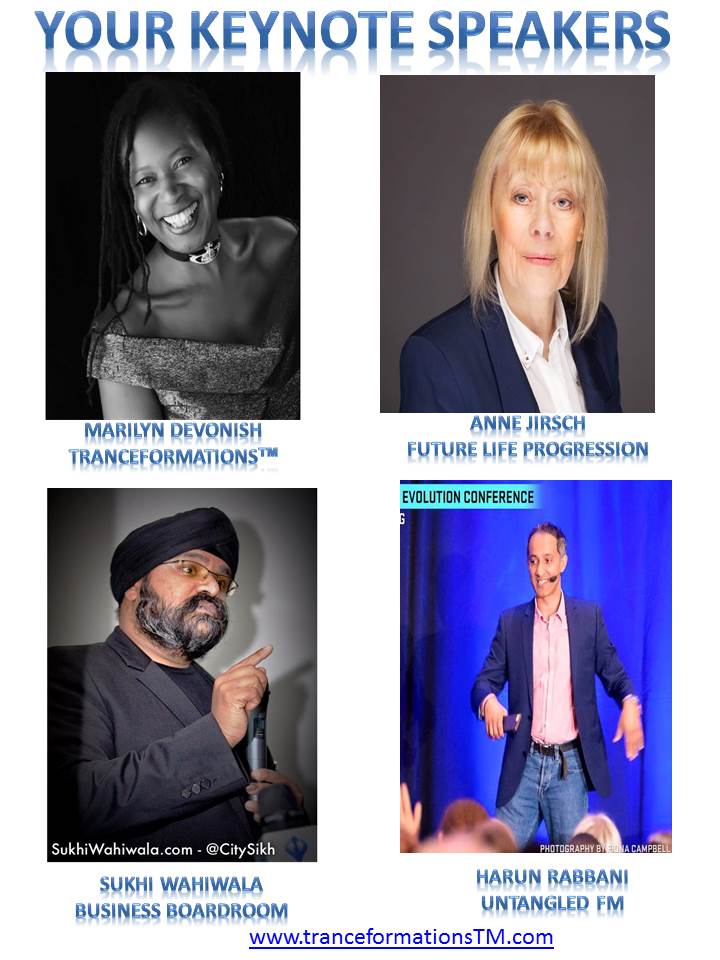 HOW TO SELL WITHOUT BEING SALESY!
Harun, a Spiritual Mentor and Media Company owner will be running a Selling Without Sales Session.  This will be an experiential session looking at both the strategy and mind set for finding out exactly what your customers want and showing you how to elegantly deliver it to them.  The Session will show you how to:
Increase your value and worth to your clients.

Get clarity on your target audience and who you want to serve.

Gain and maintain customer loyalty.

Significantly improve your sales without being salesy.

Get more business easily, effortlessly, and comfortably.

Learn the most powerful buying motivators and triggers that move clients to inspired action.

Find clients and give them what they want
Why Harun? 
Harun started his sales career in medical sales in 1996.  Starting with a new company in November 2001, out of a salesforce of 17 people he was the number 1 salesman by February 2002!  He also took a £90,000 territory to over £750,000.  All of this whilst 'hating sales' which meant he had to come up with a new and more natural tactic for meeting the needs of the doctors and surgeons he was working with. 
Harun is also an award winning international trainer on Entrepreneurship and Selling, the Founder of Untangled FM which is a leading and globally recognised conscious based radio station and growing media network.
Harun said of the Practitioner Insider Secrets Event:
"They will get so much more than they are paying for this event.  I know that with certainty."
And as they say on the old sales infomercials: "Wait!!!  And there's more!"  And there truly really is. 
THE INTUITIVE BUSINESS SESSION WITH ANNE JIRSCH
As well as sharing with you and showing you exactly what I do to go from 'no idea to vague idea to a finished product or workshop sometimes in the space of less than 8-hours, more about that later, we also have the incredible Author and Speaker and Creator of Future Life Progression Anne Jirsch joining us who will run an Intuitive Business Session. 
Anne will take one of our lucky participants through her Intuitive Business Process which shows you where you are right now, and identifying exactly what you need in order to take things to the next level.  Anne has been doing offering the Intuitive Business Sessions for many years to her high end clients, and has just opened them up to everyone, so you will be one of the first groups to hear about this incredible work in detail.  If you have seen me talking about some of my amazing client FLP Sessions on Facebook, that will give you tiny flavour of what to expect from the woman behind the creation.
Anne has some amazing celebrity clients who she has helped to reach amazing heights so she will most likely share some little snippets of that with you as well in terms of how you can start looking to do the same.  As well as being the creator of Future Life Progression, Anne is also a very gifted and internationally sought after Clairvoyant.
THE NUTS & BOLTS & PRACTICALITIES
This session will be part theory, part information, and experiential so that you put everything that we have been talking about into practice.
Marilyn Devonish will show you how to:
Use what you already know to go from very little or no idea about your content through to mapping out a full blown workshop or training course.

Structure and deliver your workshops so that they resonate with and meet both the external and unconscious needs of your clients.

Use PowerPoint to create slides and how to set it up and run a slideshow.

Set up and run Teleseminar and Webinar Sessions and offer free resources which means that you can get started straight away with no barriers to entry.
I will also share:
Tips and tricks that have made my life easier both when using technology and with the running of actual events.

Ideas on creating online and how I developed and run those that I've created.

 
We will also have an open Q&A forum so that you go away having had all of your questions about how to get started answered.
THE MASTERCLASS INTERVIEW
Anne Jirsch has also agreed to take part in a MasterClass Session where interview her about her own creative process when creating Future Life Progression, and what it takes to actually develop and launch your own successful Practitioner Modality from scratch in an already crowded marketplace.
You will also have the opportunity to ask questions so get your thinking caps on so that you make the most of this rare opportunity.  BREAKING NEWS!!!!  I am delighted to announce that we have a new speaker on board for what was already in amazing line up!
The Millionaire Mentor Sukhi Wahiwala has just agreed to speak at the event and will be running a session to help you assess whether your ideas, product, or service are viable, and identifying what else you can do to make it so.
Below is a bio for Sukhi, and you will see that he has a wealth of experience across a range of different product and serice industries.
THE SUKHI WAHIWALA – PRODUCT VIABILITY SESSION
Sukhi Wahiwala is first and foremost a loving husband and very proud father of four.  Sukhi is a natural born entrepreneur.  He took over a family business while still in his teens, becoming a millionaire at the age of 21, and a multi-millionaire by the age of 25.  He humbly credits his parents as his greatest teachers and Mentors.  Sukhi was schooled in business by his father, a phenomenally successful entrepreneur who ensured that a privileged background would not provide a shortcut to his son learning about business at the grass roots level.  From getting up at five in the morning to load vans for the warehouse, putting in a full day's manual labour whilst applying himself to his studies, Sukhi was taught the discipline of hard work on every level.  A solid grounding that invariably shaped a refreshingly modest multi-millionaire whose down to earth qualities and exceptional interpersonal skills drove a business empire that has grown into a formidable dynasty.
With an extensive property portfolio, and experience spanning 20 different business sectors including retail outlets, online e-tailing, importing, manufacturing, retirement homes, and mentoring, Sukhi has earned himself the reputation as 'The Man with the Midas Touch and Vision.'
Having built a solid team around him Sukhi has now freed up the time to pursue his passion, purpose and desire to inspire and create change through Coaching and Mentoring individuals and companies to success and prosperity.  Recognised at the UK's Small Business Coach of the Year 2011 by the Association of Professional Coaches, Trainers and Consultants.  He has also earned the reputation of being a tenacious trouble-shooter.  One client said "Hiring Sukhi is like bringing a guided missile into your business; he has an unbelievable knack of being bang on target, identifying a problem, locking onto it, then eliminating it with his amazing Knowledge!" 
A firm believer in 'Think Globally, Act Locally' Sukhi provides a valuable contribution to his local community, actively campaigning to change people's lives for the better, tackling issues such as homelessness, better resources for adult education, and equipping people with essential skills in numeracy and literacy.  Sukhi's business motto is SIMPLE: Strategy Insight Marketing Positioning Logic Experience.
GETTING ONLINE & TAKING ACTION
We have free wifi at the venue so if you wanted to bring along a laptop so that you can look at some of the online sites that I will be sharing and talking about, please feel free to do so.
TAKING ACTION
If you would like to join us for what will be an incredible 2 days you simply need to book your place using the ticket option above.  
If you are a previous Breakthrough Coaching client or paid Workshop attendee please enter your promo code (above the Order Now Button) before you place your order otherwise it will not register the code and I will not be offering retrospective refunds.
CAN YOU REALLY GO FROM NO IDEA TO A FULL COURSE IN LESS THAN 8-HOURS?
Below is a summary of my Magic & Gratitude Course which has been running and changing lives for since 2013.  All of the feedback below is as a result of the Programme which was created in just a few hours, the techniques for which I will be sharing on the day, including how to set things up energetically so that people are, as you can see from the feedback below, blown away by what you have created.
The timeline for the initial creation of this Online & Teleseminar Programme was as follows:
3.33am - Woken up for the third night in a row with a nagging that I should create a course around living a more magical and gratitude filled life.
3.36am - Got up and started Mind Mapping ideas.
8.30am - Mind Map and outline Programme notes completed.
9.30am - Eventbrite page set up and made live.
11.30am - First paid delegates signed up and onboard.
THE MAGIC & GRATITUDE PROGRAMME . . . .
A NOTE FROM OPRAH WINFREY ABOUT THE POWER OF GRATITUDE
Oprah Winfrey says in this Super Soul Sunday interview with Elizabeth Lesser:
"Practicing gratitude. I've said this many times, and I can't say it enough and I'm gonna say it again in case you didn't hear me the first time, or you didn't try it. Gratitude is the single best way I have ever discovered of changing your personal vibration. You can INSTANTLY do it with gratitude."
If you want to get on that path and learn how to instantly change your vibration and do it in a way that has proven to be fun, easy, and effortless, then do join us on this magical and life changing Programme and journey.
WHO CAN JOIN THIS PROGRAMME & WHEN?
This is both a Live Teleseminar* and eCoaching Programme.  Because you receive the daily Magic & Gratitude Practice Exercises via e-mail you can join at anytime from wherever you happen to be in the world as long as you have e-mail access.  
DOES AN ONLINE PROGRAMME REALLY DELIVER?
People have asked if you can really get a sense of magic, connection, and gratitude from an onlne group.  This is what is just one of the many similar posts from a member of the Magic & Gratitude Group:
"Thank you so much for these readings and for your positive and encouraging words!  I ended a week filled with happiness and positivity and hope and I am so, so ready and grateful to welcome more amazing greatness in my life. Just like the cards say, I too have a strong feeling that 2015 is a year of abundance of health, wealth and happiness !!!  I wish words could express how I truly feel, but the level of gratitude and excitement exceed the power of words  My WOW is THANK YOU, THANK YOU, THANK YOU  Wishing you all a great week and an amazing start of the year"
WHAT CAN YOU EXPECT TAKING PART IN THIS 28-DAY PROGRAMME?
I discovered from creating and running the first 28-Day Daily Magic & Gratitude eCoaching Programme back in February 2013 that this approach, although seemingly remote because it essentially takes place online via e-mail and Facebook, could still be life changing and deeply personal and impactful.  One of the members of the Gratitude Facebook Group recently posted this:
"Oh, guys, you have no idea how much I needed these last postings ... WOW ... I'm speechless, but extremely grateful ... It feels so good to be part of this group ... You all are amazingly warm special people. Strong individually, a force as a group! Thank you! Thank you! Thank you!" 
This is from someone who had never personally met the other people within the secret Facebook Accountability Group.  They went on to say: 
"The magic power of one's mind is beyond imagination if and only if there is both consistent belief and constant appreciation ... There is good in every situation, choosing to see it is the hard part, but once we learn to do so, giving thanks becomes first nature  ... I'm very excited by the Magic workshop and I thank you Marilyn for the time and effort you're putting into it for all of us."
People's dreams were coming true within a few short weeks of joining the eCoaching Programme:
"Wow Marilyn!  I am truly happy for Sonny and I am happy for myself, happy to be a part of your Magic circle. It is so wonderful to read how people's lives change in such wonderful way and mine will never be the same thanks to you my dear!!!  THANK YOU Marilyn Devonish the words could not describe how amazing, empowering. life changing and truly magical your course was!!  Please keep on doing your magical work. YOU are an inspiration. Big warm hug xxxx
God bless you Marilyn
Hugs and love" 
Ana Capone xx
Wishes were being granted:  
We had one member of the group focus on creating the finances to be able to take some time off to get their 'head sorted out.'  A couple of months later someone sent them a cheque in the post, out of the blue, completely unprompted, just so that they could do exactly that.  One of the things I hear most often from my clients is:
"Wow.  You are not going to believe this!" 
Career goals were being attained: 
One of my Gratitude & Magic Programme participants was focused on reviving part of their career.  As the miraculous changes unfolded this is what they had to say on some of those changes: 
" . . . . . More has evolved since then, but I can wholeheartedly recommend Marilyn's excellent coaching programme based around Rhonda Byrne's 'The Magic'. It is a simple, easy to follow and practical programme spread over a month which can deliver amazing results. Marilyn's supportive, holistic & experienced coaching combined with the simple exercises make for a fun, insightful & powerful coaching course, which (if followed) will deliver some remarkable results.  One of the very best programmes I have ever done, in large part, due to Marilyn's experience & combination of skills. Highly recommended."  BEN BROPHY
Lives were being changed within weeks of taking part in the Magic & Gratitude Programme: 
"I hope you don't mind, I just wanted to give you an update of my progress. 
Where to begin, Magic is happening everywhere - I am so much more aware of not just the big things that are happening but I'm stopping to appreciate the small magic that happens everyday. I'm also so enjoying telling people around me about the magic that they are creating. I've definitely been raising some smiles along the way and my comments are always appreciated, which makes me feel amazing.
Some HUGE manifestations this week and I can't wait to tell you when everything is signed and sealed. A few months ago I never believed it could happen." 
I know it sounds miraculous, and there are a ton of other stories just like this from participants on my Magic & Gratitude Programme, Mind Body Spirit Energy Fest Workshop, TranceFormation™ Programme, and Breakthrough Coaching Programmes. 
WHAT DO YOU RECEIVE EACH DAY?
Based on this now tried and tested model, every day for 28 days you will receive a Daily Exercise e-mail.  It will give you an overview of what you will be doing or focusing on that day.  That is followed by a step by step outline of what to do and how to put the exercise into practice.
An example is outlined below: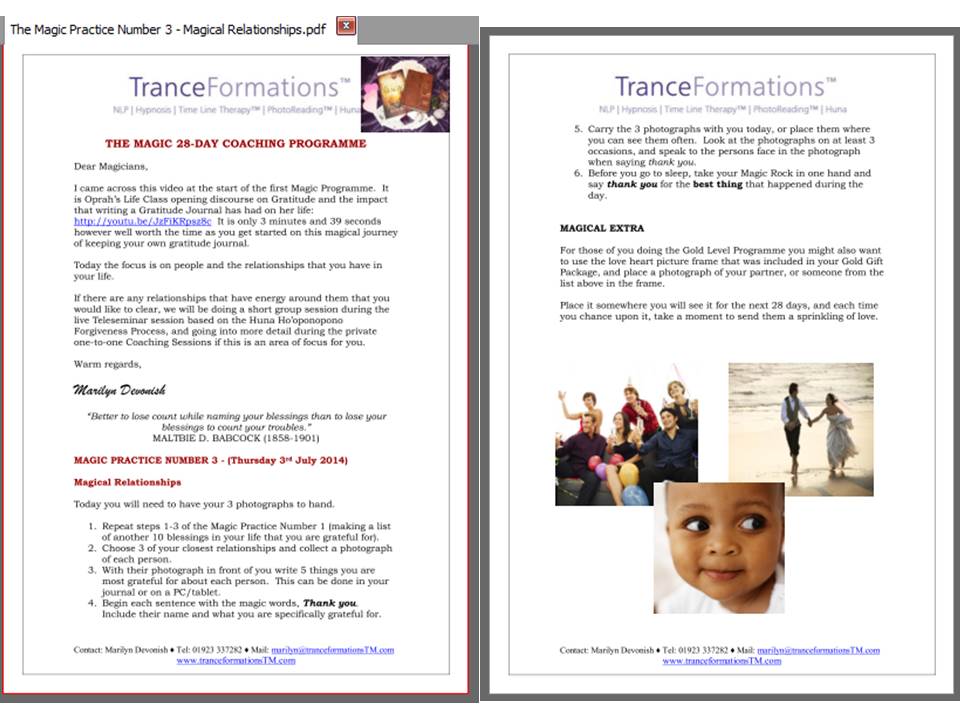 WHAT ELSE IS INCLUDED? 
There are 3 levels of participation available with The Magic & Gratitude Programme:
Basic

Silver

Gold
The Basic Programme includes:
The 28-Day eCoaching Programme delivered directly to your e-mail inbox.

Live Teleseminar Call (for those taking part in the March/April 2015 version).

Access to the private Lifetime Facebook Coaching Group.
The Silver Programme includes: 
The 28-Day eCoaching Programme delivered directly to your e-mail inbox.

Live Teleseminar Call (for those taking part in the March/April 2015 version).

Access to the private Lifetime Facebook Coaching Group.
A Private one-to-one 45-minute Coaching Session with Marilyn Devonish

Copy of The Magic book by Rhonda Byrne.
The Gold Programme includes: 
The 28-Day eCoaching Programme delivered directly to your e-mail inbox.

Live Teleseminar Call (for those taking part in the March/April 2015 version).

Access to the private Lifetime Facebook Coaching Group.

 
Two Private one-to-one 45-minute Coaching Sessions with Marilyn Devonish

Copy of The Magic by Rhonda Byrne

Copy of the Secret Gratitude Journal

Private Clairvoyant and Psychic Telephone Reading

The Magic Gift Parcel worth over £100 and counting . . . . .
Private one-to-one Sessions can be booked separately and are £150 per session and £190 for 90-minutes. 
The private Coaching Sessions are done via telephone or Skype.
If you have any further questions or queries e-mail: marilyn@tranceformationsTM.com
When & Where

Online DVD
Comfort of your own home



Saturday, June 4, 2016 at 9:30 AM

-

Friday, March 31, 2017 at 6:30 PM (BST)
Add to my calendar
Organizer
Trance Formations TM
Trance FormationsTM offers Training, Coaching, NLP Facilitation, PhotoReading and Accelerated Learning & Development courses to corporations and individuals.
A pioneer in cutting edge change technologies, and with over 20 years industry experience, Trance Formations offers Coaching and Events that enable people to tap into their own innate potential.
Contact Information:
For details of PhotoReading one to one coaching sessions and corporate training courses, you can contact Marilyn Devonish on: 
Tel: +44 1923 337282
E-mail: Marilyn@tranceformationstm.com  Web: www.tranceformationstm.com