Event Information
Location
The Elgin (upstairs)
96 Ladbroke Grove
London
W11 1PY
United Kingdom
Description
PRACTISE PUBLIC SPEAKING IN PORTOBELLO!
Gain confidence
Learn simple techniques to reprogram your fear
Allow your personality to come through
Practise speaking to a group in a friendly, neighbourhood environment
Presentation skills are SO valuable in today's society.
Whether you want to get ahead at work, be more assertive during conversations, or deliver your personal message to the world, you owe it to yourself to be the best communicator you can be. It's not about being perfect, it's about giving yourself the freedom to be YOU.
So many people suffer from debilitating fear of public speaking but there's no need to let it hold you back!
In this 1-day workshop you'll learn fear-busting strategies and practical ways to ace the stage.
Feedback from our event in December:
Just to let you know I really appreciated your Public Speaking workshop on December 2nd, I unexpectedly had to do a short pitch this week and the format and structure you taught us was a Godsend! Thank you.xx - Talibah Stevenson, Social Entrepreneur
The workshop was brilliantly insightful and practical. We were given very manageable tasks on preparing your speech, tips on presentation skills and we were able to practise some of the techniques and in return gain valuable feedback from the group and Shola herself. I highly recommend both her workshops and her book, How to be a Diva at Public Speaking, which I also bought to help me practise some of her principles. - Juliet Francis, PR Expert
Thank you for a most informative Speaking day, I just loved your presentation! - N.D., Therapist
It's a highly experiential and interactive day.
You'll find the courage to speak up and be you. And you'll walk away with tools to reduce anxiety, frameworks and structures to help you speak with ease and of course the experience to know you can present with confidence...again, and again and again.
Your two instructors are friendly and encouraging and the setting is a characterful venue rather than a bland corporate meeting room.
WHAT WE COVER:
Visualisation techniques to help you become a confident speaker
Understand the source of your anxiety
Hypnotherapy to banish fear forever
A toolbox of NLP (neuro-linguistic programming) coaching techniques you can use at any time
Multiple opportunities to practise speaking in pairs, groups and 'on stage'
Be the 'real' you and show your personality when you speak
How to open and close your talk in a compelling way
How to engage your audience and take the pressure off yourself
Simple storytelling and speaking frameworks
Create a plan for the next steps in your development as a speaker
Admission includes refreshments.
Maximum class size is 16.
Registration is at 12.30 and the day finishes at 6pm.
You'll have two, supportive, expert trainers working with you. One trainer is a hypnotherapist and NLP coach, the other is an award-winning speaker and speaker coach. Both trainers run local coaching practices and live in the area.
Once you sign up, we'll contact you via email with more details and ask you to complete a pre-event questionnaire so we can serve you even better!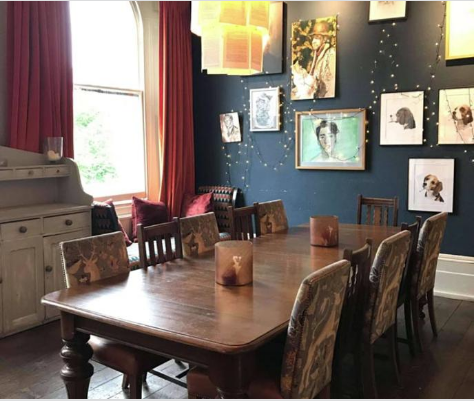 THE VENUE
The workshop takes place in a comfortable room upstairs in The Elgin, a local landmark. We'll have our own characterful room for the event but there may be a small amount of background noise. We will of course keep this to a minimum.
Please bring notebooks.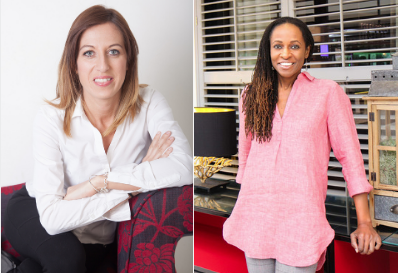 A WORD FROM ARANTXA:
Hello! As a transformational life coach, Nlp practitioner and hypnotherapist my job is all about high impact communication with an audience, either in a one to one session, doing a presentation or facilitating a group workshop.

I specialise in helping people to discover and understand the limiting beliefs and mental blockers that are holding them back from achieving their goals in life. These beliefs and blockers make or break our ability to deal with intimidating situations such as public speaking.

I've learnt a lot, from both my training and my own experience, about the mental processes we go through when we're stood up about to speak, with all those eyes staring at you. I understand how you can control your mindset, instead of letting it control you, to react both calmly and confidently.

If you would like to unblock yourself and unlock the secrets to great public speaking, this is the course for you! Find out more at www.arantxadedios.com
A WORD FROM SHOLA:
Hi, I know what it's like to have nerves and stage fright. I used to hate speaking in front of a group. Years ago I even had to leave a job because I couldn't speak up during meetings.
One day I knew I had to take the bull by the horns and deal with my fears. Eventually I had the courage to become a professional performer.
Over the years, as both a speaker an international entertainer, I've performed and spoken in front of tens of thousands of people.
Let today be the day you face your own anxiety and uncertainty. Uncover a more confident, positive and impactful self! Find out more at www.sholakaye.com

ABOUT THE TRAINERS:
Arantxa de Dios
Arantxa is an international bestselling co-author of the Love Unboxed book. Arantxa combines her skills as a transformational life coach, Nlp and hypnotherapist with her multilingualism and natural energy to help people in any one of 4 languages to find balance, make important decisions, overcome challenges, and transform their lives.
Shola Kaye
Shola is an award-winning speaker, an author and speaker coach. Her work has appeared in Marie Claire, Harper's Bazaar and on the BBC. She has been teaching and training in companies, colleges and schools for more than a decade. With an unusual background as both a performer and a speaker, Shola uses her wealth of experience to bring out the best in people. She's an intuitive instructor and has a knack for giving people the right amount of information to get the job done, without overwhelming them.
HOW MUCH?
£85 before Feb 27th, £95 before March 10th, £105 on the day (if available - please email divacourses@gmail.com to find out).
No refunds.
Date and time
Location
The Elgin (upstairs)
96 Ladbroke Grove
London
W11 1PY
United Kingdom
Refund policy