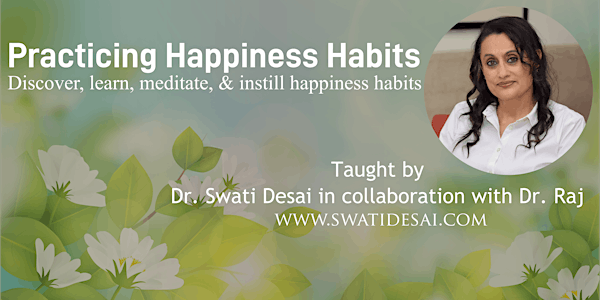 Practicing Happiness Habits
Discover, learn, meditate, and instill happiness habits
Refund Policy
Contact the organizer to request a refund.
Eventbrite's fee is nonrefundable.
About this event
From January, 2021 through February, 2021
8 weeks
One session per week 
1 hour and 15 minutes each time
Three options for enrolling (convert to your time zone). 
Options 1:
From 9th January, 2021 through 28th February, 2021. 
Saturday – 8 am Pacific Standard time / Saturday 9:30 pm Indian Standard Time (Dr. Raj will be present for all 8 sessions)
Options 2:
From 4th January, 2021 through 22nd February, 2021
Monday – 8 pm Pacific Standard time / Tuesday 9:30 am Indian Standard Time (Dr. Raj will be present for some sessions)
Option 3:
From 5th January, 2021 through 23nd February, 2021
Tuesday – 8 am Pacific Standard Time/ Tuesday 9:30 pm Indian Standard Time (Dr. Raj will be present for some sessions)
Happiness Program offered based on Dr. Raj's book
"If You Are Smart, Why Aren't You Happy" and his very popular Coursera course "Life of Happiness and Fulfillment", accompanied by Mindfulness and Self Compassion techniques.
This program focuses on understanding the seven happiness sins and cultivating the seven happiness habits described in Dr. Raj's well known work. His work is based on years of research and understanding that such happiness habits can be cultivated. Dr. Swati uses techniques from her expertise in Mindfulness, Self-Compassion, and modern Buddhist Psychology to explain and to help instill the seven happiness habits in Dr. Raj's work. Modern neuroscience research supports these techniques on how to change the brain structure to experience the positive aspects of life and reduce the negativity bias humans seem to have.
The series is offered on a completely voluntary donation only. Your donations help to keep our offerings alive. However, no one is denied access to the participation because of financial issues. Your participation and using the lessons in your life is the biggest reward.
Swati Desai, Ph.D., LCSW is a mental health practitioner, certified teacher of Mindfulness and Self Compassion, life coach, writer, and speaker. Educated and trained in Los Angeles for many years and spiritually initiated in India, she combines her Eastern heritage and Western training to follow her passion for helping people to ease into exploring their potential. To know about her work, check www.swatidesai.com