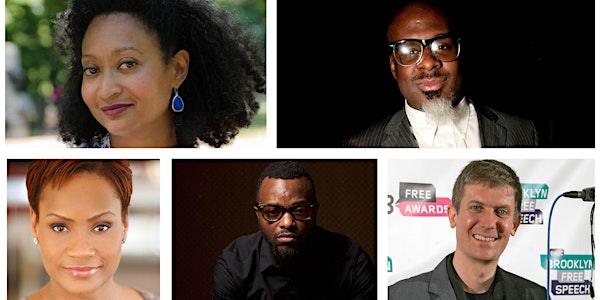 Practice Your Pitch: Communicating Your TV & Film Ideas in Three Minutes or...
Description
Come pitch your 3 minute show idea on the Stoop and get valuable feedback from industry experts.
Do you have a television pitch that you are working on and would like immediate feedback from industry professionals? BRIC is offering a Practice Your Pitch session where you will have 3 minutes to pitch your idea and then get feedback on how you might improve your pitch.
Come prepared to pitch your idea to television professionals including Michael Pinckney, Squeaky Moore, Rashidi Hendrix, Kuye Youngblood, and a live audience!
KUYE YOUNGBLOOD
Kuye Youngblood is an Emmy award-winning producer who has worked in both independent and corporate media. She is currently the Head of Development & Production at BRIC TV. Her responsibilities include creative development of new series including The Great Pretender with filmmaker Nathan Silver (Tribeca) and collaborating with teams of dynamic media makers. She oversees scripted series, was the Executive Producer for the Miami Web Fest nominated Brooklynification and part of the management team forThe Show About The Show (Tribeca). She was also Series Producer for Neighborhood Beat, a show about Brooklyn's amazing neighborhoods. Prior to BRIC, she worked in the corporate sector, producing content for television networks including BMW and MINI USA. Born and raised in Brooklyn, Kuye still lives, works, and occasionally whips-up gluten-free treats there!

RASHIDI HENDRIX
Rashidi Hendrix is an award winning music executive, tech entrepreneur, and producer. He currently is a co-founder in the start-up app Laugh.ly and partner for the production management holding company Metallic Entertainment, Inc., that includes Metallic Management, Metallic Pictures and Motion Music Publishing/BMG Music Publishing venture. Hendrix is the co-founder and Chief Content Officer for Laugh Radio, which is a unique streaming standup comedy platform tech start-up. Since their recent launch of Laugh.ly, the app has garnered more than 100,000 installs and was #2 App in the Applestore, as well Laugh.ly being rated in the prestigious top 15 start-ups in Silicon Valley. Prior to Laugh.ly, Hendrix was a successful producer who has worked on close to 200 hours of programming, including series Kitchen Nightmares (FOX), Tori & Dean: Home Sweet Hollywood (Oxygen), MTV Awards (MTV), The Apprentice (NBC), Jimmy Kimmel Live! (ABC), Orange is the New Black (Netlfix) and The Mo'Nique Show (BET). In addition, Metallic management clients includes music artist and 2 X Grammy winning songwriter Kendra Foster, as well as TV talent that produce & direct series like Criminal Minds (CBS), NCIS:LA (CBS).
MICHAEL PINCKNEY
Michael has over 10 years of experience as an assistant director on films and television series such as "Inside Man" , "Top Five", "Broad City", "The 25th Hour", "7th Heaven", "The Best Man", "Law & Order", and the academy award nominated film "Precious". Michael made his feature film directorial debut with "You're Nobody til somebody kills you", a gritty crime thriller Executive Produced by Spike Lee and distributed by Lionsgate. He won an award for Excellence in Media from The Black Men's Film Conference for his HIV film "The Candy Store" and toured the film festival circuit with films from his short film collection. He's directed a variety of digital series from "SoleKings", "Black Actress" to "The Colors of Love" in addition to Producing the award winning digital series "For Colored Boys - Redemption" starring Tim Reid.
SQUEAKY MOORE
"One woman, many faces, one creator, many talents," is how Squeaky Moore likes to describe herself. Regarded as the pitch guru for independent content creators. Squeaky is a mompreneur, content creator, producer, director, writer, and actress. She freelances as a development and pitching consultant and strategist. Squeaky's mission is to enlighten, uplift, and inspire. Her career path—one designed to artistically address socially conscious issues, invoke discussion for the greater good, and to teach and inspire — lies at the very core of who she is, and is continually reflected in her work. Some of Moore's recent directing and producing credits include, "64," a project on father absent homes that she executive produced and assist directed, "Father's Day?", also produced by Squeaky that addresses the effects of absentee fathers; which debuted on the launch of Magic Johnson's, Aspire TV Network. The Positive Controversy," a show in which she developed and is the show-runner, and her latest film project, "Face of Darkness - Journey to Healing," a documentary film that explores depression and suicide in the African American communities. She recently authored a book for content creators after journeying to pitch her film and television projects 100 times. The book, #100Pitches: Mistakes, I've Made So You Don't Have To, is a film and television pitching guide geared towards independent content creators about the do's and don'ts, and strategy of pitching television and film projects.
Organizer of Practice Your Pitch: Communicating Your TV & Film Ideas in Three Minutes or Less
We are Brooklyn Free Speech, a New York Emmy-WINNING community television network that amplifies and honors alternative voices in media. We empower Brooklynites with media dreams to share their brilliance, talent, and creativity with the world.

Our premier, state-of-the-art media center is for filmmakers, television artists, and organizations to learn and create innovative media. Every week on our four Public Access television channels, we showcase over 650 hours of TV shows, films, and shorts created by Brooklyn-based community producers that reflect their perspectives on the world.
Through our media education program we teach close to 2,500 students annually giving them access to free and low-cost media education courses so that they can further their television and film dreams.
Interested in learning more about who we are and what we do? Ready. Set. CLICK!