Location
Accenture Houston Innovation Hub
1301 Fannin Street
18th Floor
Houston, TX 77002
Join us for Practice Makes, a meetup for creatives to come together to talk about craft, inclusion, and community.
About this event
Description
Pull up a chair and join us for this installment of Practice Makes: Inclusion!
Inclusion means a better world for all. It's about correcting mismatched human interactions and opening up experiences/products for everyone to participate.
With 7.4 billion people, our planet is home to a diverse range of conditions, experiences, and perspectives. How do we make sure we're building the right products for everyone? And how do we include everyone in the process? Together, we'll discuss how to break down barriers and design in a way that reflects the diversity of our world.
We'll see you there!
Schedule
6-6:30pm: Awkward Mingling & Refreshments (we'll have pizza and drinks!)
6:30-8:00pm:
• Quick Icebreaker
• Accessibility Demo: Eddy Gann, Steve Galbraith, and Alvin Andino
• Panel Discussion
Iliana Martinez, Freelance Designer at Iliana Designs
Mia Nellums, Senior Experience Designer at Accenture Digital Products
Aaron Tenbuuren, Studio Lead at Accenture Digital Products
Tany Tomas, Product/Project Manager at Accenture Digital Products
• Wrap up and Mingle
Parking
Street parking is available around the building and free after 6pm. Garage parking on Clay St. is $10. Please enter through the doors on Polk St.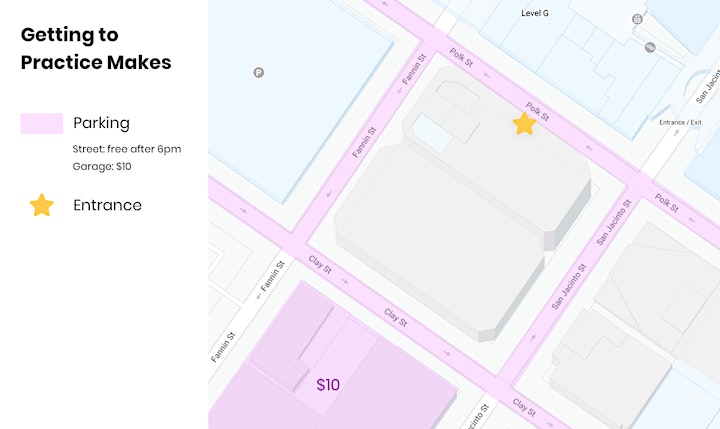 About Practice Makes
Practice Makes is a meet-up series for creative-minded folks in the broader tech and design community. Every other month we'll fill in the blank with a refreshing, offbeat theme that ties together that event's agenda. An evening at Practice Makes includes a few short talks from experts in the field, some low-key activities to keep the creative energy flowing, and maybe a surprise or two. Speakers run the gamut of disciplines: designers, strategists, developers, and more! We hope everyone walks away with new ideas, tactical tools to take back to work, and friendly new connections.