Description
Join us on August 23rd at Erie 1 BOCES (Room B2A) for an introductory session on practice facilitation. Practice facilitation uses a range of organizational development, project management, quality improvement, practice improvement approaches, and methods to build the internal capacity of a practice. Practice facilitation helps a practice engage in improvement activities over time and provides support in reaching incremental and transformative improvement goals.
Practice Facilitation is perfect for health care systems or primary care offices looking to:
Use practice-level data from an EHR to drive change,

Train staff in QI methods and specific transformation processes, such as team-based care,

Implement project management, resource identification and procurement,

Build capacity in the use of health IT to support improved clinical care and office efficiency,

Expand network improved linkages to outside resources,

Require technical assistance in implementing particular models of care, such as the chronic care model (CCM).
P² Collaborative is able to offer scholarships to attend the October 2017 cohort of the University of Buffalo's Practice Facilitation Course. In order to qualify for a scholarship, one representative from the practice must attend this informational session. Applications will be available at the time of the informational session. Practices must be willing to implement practice facilitation strategies within their organization, provide feedback to P² Collaborative, and agree to implement a mini project identifying the number of patients within the clinical system with hypertension and/or prediabetes.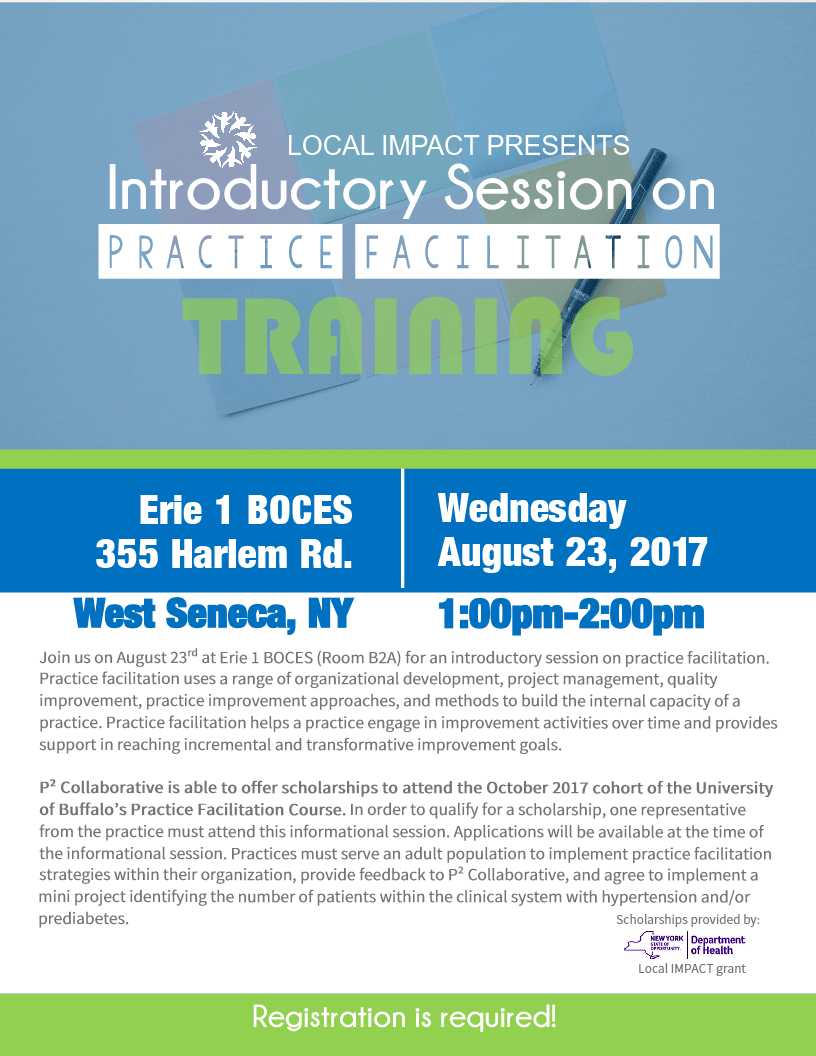 Questions? Contact Jessica Thomas at jthomas@p2wny.org or 716.923.6575.