Consortium for Public Education offers a two-day training in project-based learning, as well as ongoing coaching and support afterward.
About this event
Please join us for two professional development days centered on PBL instruction!
Teachers who are interested in learning and applying PBL in the classroom will design a project plan that is unique to their content area. A common language will be established through discussion and by engaging with the key elements of PBL. Methods and strategies (such as Human-Centered Design) will be shared and demonstrated, so that teachers have a greater understanding of how PBL can be implemented and ways in which to engage students in thoughtful critique and reflection. This training is designed to give teachers the tools and confidence needed to implement PBL into a classroom successfully.
Day #1, scheduled for October 8th, 2019 from 7:30 am to 3:00 pm will cover key PBL elements, classroom culture, driving questions, and learning outcomes.
Day #2, scheduled for October 24th, 2019 from 7:30 am to 3:00 pm will build on the work accomplished on Day #1. Such topics as rubric and assessment development, student research, mini-lessons, and critique/revision techniques will culminate in project plan presentations.
Participants should dress casual and bring laptops or mobile devices. Breakfast will begin at 7:30 am, with programming beginning at 8:00 am. Parking is free, lunch, and ACT 48 credits will also be provided.
We offer discounts up to 40% for districts based on economically disadvantaged enrollment percentage according to futurereadypa.org. Please see the table below to see the actual cost for the two day training. Participants will not be billed via Eventbrite; an invoice will be mailed to your district's business office unless otherwise noted.
Space is limited so please register as soon as possible!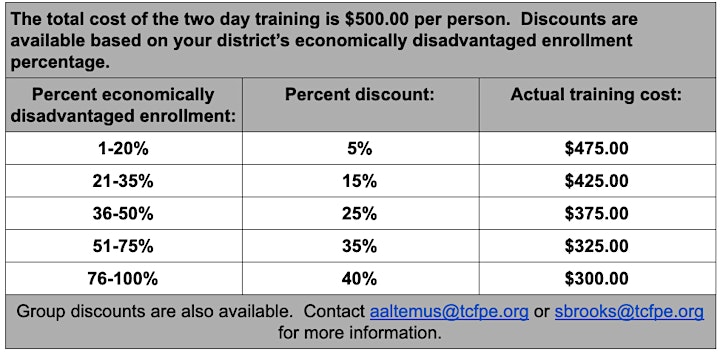 Organizer of Practical Training in Project-Based Learning ($300-$475)
The Consortium is a nonprofit organization that works with school districts across western Pennsylvania on intiatives strategically designed to strengthen and broaden school leadership, engage the community and empower students.
By advocating for education, for engagement and for equity, the Consortium is working to ensure that all students graduate from high school with formal, viable plans for post-secondary education and careers.