Practical Strategies To Grow Your Business From Zero To Hero

Tuesday, December 11, 2018 from 12:00 PM to 5:00 PM (Malaysia Time Malaysia (Kuala Lumpur) Time)
Event Details
"Give Us Just 5 Hours And We'll Show You How To Grow Your Business From Zero To Hero By Experiencing Immersive Simulation"
[STATISTIC] Forbes Reports That 80% Of Businesses Fail Within The First 18 Months.
Why do so many Entrepreneurs seem incapable of launching and running a successful long-term business?
It's not because they're incompetent.
In fact, the truth is quite the opposite. Most people who start their own businesses are very intelligent, daring, courageous, and ambitious.
So, what's really creating the failure?
For starters, Entrepreneurs are at a disadvantage from day one.
No matter who you ask, everyone has this perception that becoming an Entrepreneur is very risky. Thus, an Entrepreneur starts with the preconceived belief that they will most likely fail. Because of that perception, many Entrepreneurs are already prepared to fail. That, of course, is a big problem.
The second problem is that, from day one, Entrepreneurs are taught all the wrong reasons why so many Entrepreneurs Fail. 
Some of the most common reasons cited by major publications as to why Entrepreneurs fail are:
Not enough cash or cash flow

The product didn't have a market

Not a good business model

Issues with pricing and cost

Poor marketing

Ignoring customers

Bad timing

Not pivoting in time

Lack of focus
What If You Could Launch A Proven System So You Can Generate More Of The RIGHT Leads, And Convert Them Into New Customers?
Discover The 5 Game-Changing Business Strategies In This Workshop:
Rapid Results Formula. Applying this will immediately speed up transition from being a Business Operator into a Business Owner.


STOP SELLING and ATTRACT YOUR CUSTOMERS. What most businesses do is PUSH method which is not Scalable and Tiring. Learn how to deploy PULL method used by 2% of top BUSINESS in the world to attract raving fans.


Avoiding Burnouts. Most businesses are BUSY but don't have enough BUSINESS. Learn how to maximize productivity and create time freedom for yourself.


Turning The Odds. How to turn economic shifts into opportunities rather than it being an obstacle.


Breakthrough Coaching. You will work with Highly Trained Facilitators to discover what works in your (aspiring) business and multiply the results.

By End Of The 5 Hours Workshop, You Will Discover:
An Actionable Plan That You Can Implement To Grow Your Business.

How Anyone Can Be A Successful Entrepreneur.

Mistakes That 98% Businesses Make And How You Can Avoid It

.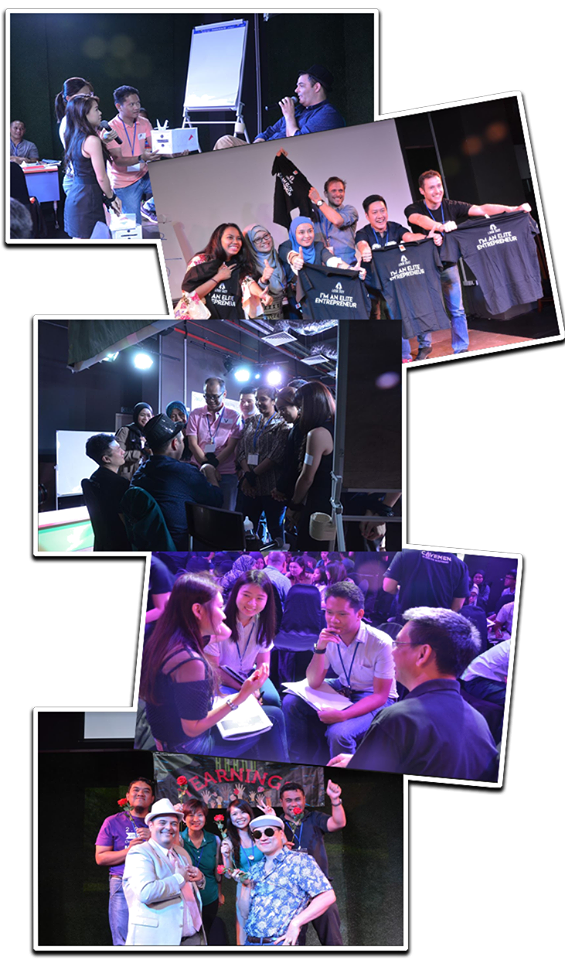 Facilitators Profile
Transformation Engineer: Jean-Paul Valdes
Jean-Paul is a master coach and trainer and the CEO of Cavemen. Hailing from the United States, he has spent more than 10 years living and working in Malaysia and Singapore and brings global experience to his regional clients.
Jean-Paul started his career in event management for a multi-national oil and gas association where he organised and executed conferences and events around the world ranging from 40 to 22,000 international delegates. Here he worked closely with senior executives of MNC's such as ExxonMobil, Shell, Total as well as national oil companies like Petronas and many more.
As an ICF-certified professional business coach, Jean-Paul started his own coaching company with offices in Singapore and Malaysia and developed his own unique coaching style called onto-facillitative coaching, supporting his clients to achieve tremendous breakthroughs both in business and in their personal lives. He also worked with a number of companies to shift their culture and teams to achieve greater cohesion and leadership within the organisation.
With the Cavemen, Jean-Paul uses his natural creativity to develop unique and engaging immersive simulations that, combined with his coaching skills, enable participants to experience tremendous insight not only in their business but in all aspects of their lives. His breadth of experience in business, event-management, coaching, training and game-development made Cavemen a natural fit for realising his personal vision of empowering people to create a win-win-win world.
The Pulse: Thomas Yap
Thomas is an international speaker, trainer and coach who brings to Cavemen his experience building a multi-million dollar network marketing business with his skill on stage and his passion for supporting entrepreneurs to grow their business and live extraordinary lives.
Thomas got his start in the hospitality industry working for a luxury 5-star hotel chain where he developed the fundamentals of customer service which became the foundation of sales and influence. After being introduced to the power of network marketing and direct selling, he decided to leave his corporate job and build his own network marketing business. In less than 3 years, he built a team that produces more than USD 25 million in sales revenue annually and a network that spans across multiple countries including India and Thailand.
As a speaker and trainer, Thomas brings immense energy to the stage and his skill has enabled him to engage audiences beyond language barriers. He has trained and given talks to more than 8000 people internationally on the topics of Sales, Negotiation, and Stagecraft. He has coached and trained individuals from companies such as Nuskin, Amway, Enagic, Melaleuca and Wellness Concept amongst others.
Thomas' skills in business and stage craft as well as his compassion for the challenges faced by many entrepreneurs have helped him create programmes that are not only built on essential business principals but that also have theatrical flair and heart which sets them apart from many other programmes in the market today.
Digital Wiz: Leon Chan
Leon is the digital marketing wizard of Cavemen, a role in which he utilizes his skills and expertise to bring Cavemen to the forefront of the industry online while also training others to do the same through Cavemen's programmes.
Leon started his career in Proctor & Gamble where by the age of 23, he was managing a USD150 million portfolio across ten countries in Asia. In just two years, he had created multiple initiatives that increased their sales revenue by seven figures and in 2011, won two prestigious international marketing awards.
Since then, he started his own online business, generating over five figure monthly sales revenues within 6 months. Following his success in this field, he began coaching other individuals to produce similar if not better results.
Leon's experiences in coaching awakened in him the desire to continue supporting others on a larger scale to achieve greater success not just in their digital marketing but in building their businesses as a whole. His ability to identify gaps in business processes and create innovative and practical solutions for them make him an invaluable member of the Cavemen team. 
Why Learn From Cavemen?
Cavemen was founded by six established trainers and coaches with over 30 years of combined experience.
Coming together, they were able to use their experience and training in different techniques such as neuro-linguistic programming (NLP), Experiential Excellerated Learning, Ontological Coaching, and Game-Based Training.
All of this has been blended together into a single school of training we have developed called Open-Ended Learning and this is done through the method of delivery we call Immersive Simulations.
 ?
As You Can See... This Workshop Has Already Helped Countless People JUST LIKE YOU...
The Question is, Are YOU Next?

If you want to exponentially grow your business and to give the income you truly deserved and you're ready to take that leap of faith... 

Then get your tickets now.. They may not be here tomorrow.
Have questions about Practical Strategies To Grow Your Business From Zero To Hero?
Contact Cavemen Asia
When & Where

Cavemen Global Sdn Bhd
D-2-57, 10 Boulevard, Jalan PJU 6A
Kampung Sungai Kayu Ara
Petaling Jaya, Selangor 47400
Malaysia

Tuesday, December 11, 2018 from 12:00 PM to 5:00 PM (Malaysia Time Malaysia (Kuala Lumpur) Time)
Add to my calendar
Organizer
The Cavemen are dedicated to creating a world of collaborators who are committed to forming and supporting a Win-Win-Win world.
From the time Cavemen was started, it was clear we were going to do things…a little differently. We didn't want clients, we wanted partners and we knew what to do that we needed to look at training in a different way. Cavemen believe that our job is to be the spark that ignites action in others. It is our duty and mission to spark and support the next generation to step up and take leadership to create a world that works for 100% of people 100% of the time.
To do this, we create unique and impactful immersive simulations that challenge participants' understanding and application of content. When combined with our powerful debrief sessions, we realised that this changed the impact the participants received and it challenged us to evolve the training methods into a completely new and revolutionary style of open-ended learning.  These immersive simulations allow us to provide content, give room for people to grow and challenge themselves so they can make a bigger impact than ever before.