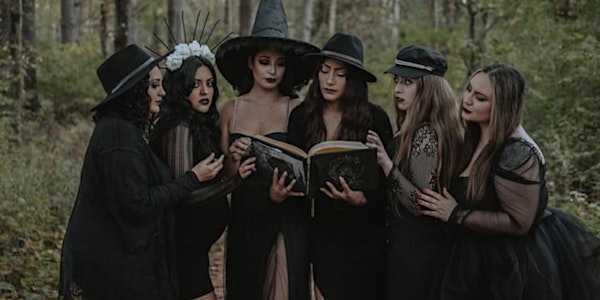 Practical Magick Retreat in Sedona Arizona
Join us for Witchy retreat in Sedona Arizona!! Four days and three nights all-inclusive retreat!
When and where
Location
110 Moondance Ln 110 Moondance Lane Sedona, AZ 86336
About this event
Does 4 days away from home to dive into rituals, ceremonies, herbalism, workshops, and deep connection to nature, self, and women of like mind and heart sound fun? If so my Witchy Sisters join us for four days and three nights at this retreat in magickal Sedona Az. on private land in a lovely 6000 square foot retreat home with a pool and meditation spaces, fire pits, and the creek is just a walk away! Your package includes a shared room and bathroom, 3 vegitarian meals a day, and retreat gifts such as brooms, hats, and wands! There is so much more but youll have to come to find out!! This retreat will prepare you for  living a witchy life and for the Fall Equinox which will be days after you reurn home while learning the Art of Earth & Moon Magick!!
We offer payment plans, you will return to this same page and link to pay monthly payments. Your retreat must be paid in full by August 1st, 2023
🌑 Four days and three nights 
🌑 Gourmet Vegetarian Meals 
🌑 A shared room and bathroom
🌑 Moon Magick & Rituals
🌑 Fire Ceremony
🌑 Herbal Medicine Making
🌑 Plant Spirit Meditations
🌑 Private Creek Access
🌑 Red Tent Ceremony
🌑 Sharing Circles & Sisterhood
🌑 Broom  &  Wand Making
🌑 Spells
🌑 Medicine Wheel Walk
🌑 Herbal Midnight Margaritas
🌑 Meditation & Activations
🌑 Fall Equinox Ceremony
🌑 Book Of Shadows Making
🌑 Seasons  & Goddesses
​🌑 Elemental Alchemy
We gather at 11:00 on September 15th ending 18th at 10:00 am
You will receive a welcome email within 24 hours of signing up!
E-mail Harmony with questions- harmony@mysticharmonyrose.com or mysticharmonyrose@gmail.com
There are no refunds for any reasons, we are a small business, please do not ask this is our policy.