Practical Feldenkrais® – the Challenge!

Saturday, April 28, 2018 at 9:30 AM

-

Sunday, April 29, 2018 at 1:00 PM (EDT)
Event Details
*Moti Nativ*
Practical Feldenkrais – the Challenge!
A 2-Day Workshop
 WHEN: April 28 - 29, 2018

 Where:  Carderock Club House, Bethesda, MD

To Register: Buy a ticket
Practical Feldenkrais® – the Challenge!
 This workshop is for ANYONE wishing to bring out the best in themselves!!
Join us for a Feldenkrais® weekend movement-lab and bring out the very best in yourself! Based on Dr. Moshe Feldenkrais' ideas, this workshop is designed to actually increase your physical as well as your mental ability and stability.
2  days of immersion into basics and advanced skills, with Awareness Through Movement® lessons and original practical implementations – derived from Moshe Feldenkrais' martial arts ideas and his favorite self-defense techniques.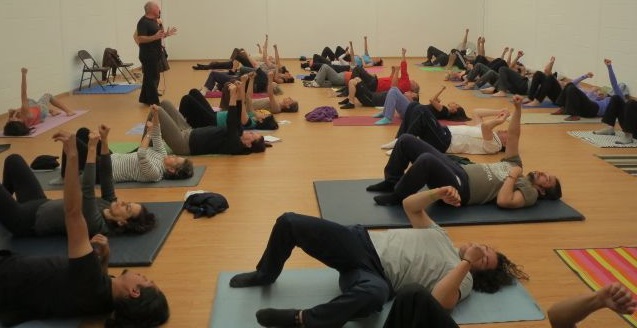 Meaningful and relevant but unfamiliar movements, practical but challenging actions, experienced in a dynamic but safe approach.
In an interactive and lifelike context we will elicit the rapid arousal of more efficient movement patterns, using Awareness Through Movement® lessons.
We'll explore practical use of gravity, momentum, timing and direction of movement to develop abilities such as the dynamic management of weight and balance, balance and counterbalance, and effective interaction with the environment and other people.
This workshop will be engaging, fulfilling and FUN for all! 
We'll be in a lovely light and spacious room at the Carderock Swim and Tennis Clubhouse in Bethesda, MD. Plenty of free parking, a kitchen where you can leave your food in a fridge, and also have tea and coffee. Also some nice places for lunch close by.
 "My life-long research into movement brings me deeper and deeper to the roots of Dr. Moshe Feldenkrais' work. I reveal Moshe Feldenkrais' development as a martial artist and I show the links between this process and the development of the Feldenkrais Method®.
In this weekend workshop we'll follow - AND TURN INTO PRACTICE - the principles of the Feldenkrais Method® as Moshe wrote about (when the "Method" did not yet formally exist), explaining to Judokas the principles of efficient and effortless action.
Those same principles are now being supported by modern research into the neuroscientific discoveries of movement as the language of the brain."
- Moti Nativ
 Details of the workshop
Dates:
Saturday, April 28th,  9:30am-5pm
Sunday, April 29th, 9am – 1pm
Location:
Carderock Swim and Tennis Club
8200 Hamilton Spring Court
Bethesda, MD 20817
301 365 2292
For more information, please contact:
Jane Johnston fitoverforty@jesed.com or 
Chrish Kresge feldenkrais@gmail.com
When & Where

Carderock Club House
8200 Hamilton Springs Court
Bethesda, MD


Saturday, April 28, 2018 at 9:30 AM

-

Sunday, April 29, 2018 at 1:00 PM (EDT)
Add to my calendar