Practical Empathy for Business - A Full-Day Workshop

Tuesday, September 16, 2014 from 8:30 AM to 4:30 PM (CDT)
Event Details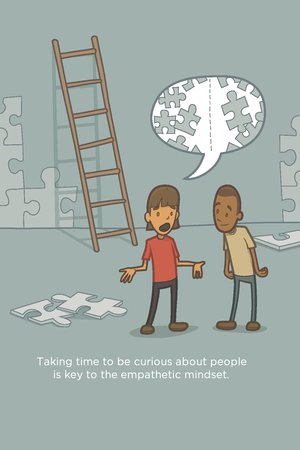 Why Empathy for Business?
There is tremendous power in an organization that can collectively see their customers through a lens of empathy. Empathy has a direct impact on what you create for customers and understanding the "deeper drivers" of customers will equip you with the insight needed to move the needle on your business metrics.
There are two parts to empathy: developing it, then applying it. We've constructed a two-part workshop designed to give you the skills required to first harness empathy and then share it with impact.
Lunch will be included. Please contact us if you have special dietary requirements.
Who Should Attend This Workshop?
Anyone making decisions about the direction of a product, service or process (external or internal) for your organization. For example: Developers, Project Managers, Design Researchers, Technical Writers, Team-Of-One Folks, Entrepreneurs, Higher-Ed, Non-Profits.
Morning Workshop – Empathy Is Not An Interview
Many have been taught to collect data in traditional interview formats in which they simply ask a standard list of questions and then compare the answers across multiple people. This is the wrong approach to empathy. To develop empathy, you need to be able to hear participants' inner reasoning in order to uncover the guiding principles that influence their reactions and behaviors.
This workshop will help you gain confidence with "questionless" listening sessions. You will learn how to:
Help create a rapport of comfort and trust with participants

Understand empathy as a frame of mind

Pinpoint the key motivations driving participants

Help participants understand that they are the ones with the answers

Become an expert at open curiosity for other people without analysis or assumptions
Afternoon Workshop – Sharing Customer Empathy
Fostering empathy, and especially curiosity, for the customer's experience is just as important as getting the research right. Once you've developed empathy with your customers and have a deep understanding of their needs, how do you share this with other people in your organization? Sharing empathy for the customer within your organization can sometimes require a shift in how your organization already thinks about customers. Helping others to empathize with the customer starts by piquing their curiosity about the customer and what it would be like to take a walk in the customers' shoes.
In the second half of this workshop you will learn how to:
Improve your presentations by capturing the voice of the customer and drive curiosity for the customer's experience

Communicate research data and insights in compelling ways through effective storytelling and research artifacts

Effectively present customer insights, depending on your audience and corporate culture

Apply a research socialization framework to begin to shift how you talk about customer insights within the organization
About Indi & Brian:
Indi Young is an expert consultant in empathy research and user experience. She has helped with digital applications, services, process design, and content strategy for organizations around the world. She focuses on helping engineers, designers, writers, and stakeholders tackle the hardest problems by understanding the people they're trying to support.
In 2001, Indi was one of the founders of the user experience agency Adaptive Path which continues to provide leadership for the user experience field. In 2008, Indi authored the first book published by Rosenfeld Media Books with the title, "Mental Models: Aligning Design Strategy with Human Behavior." The publisher now represents over 20 authors in the field of user experience design. In 2014, Indi is publishing her second book with Rosenfeld Media, titled "Practical Empathy." She has written articles for several user experience online magazines, and she presents frequently at conferences ranging in topic from user experience to content management.
Brian Winters, Director of User Experience at Manifest Digital in Chicago, has over 15 years developing human-centered designs and UX strategies. He is driven to understand people, their motivations and behaviors to help his clients develop empathy for their customers. Brian is a seasoned user experience practitioner, well versed in all facets of the discipline with experience in a wide range of industries including finance, travel and retail. Brian has been interviewed on several occasions by Forrester analysts, contributing to the inclusion of Manifest Digital as a research source in the following recent Forrester publications: "The Data-Driven Design Revolution" and "Journey Maps: Necessary But Not Sufficient for Running CX Programs" by Tony Costa as well as "Executive Q&A: Customer Experience Rooms" and "Five Steps to Create and Sustain A Customer-Centric Culture" by Samuel Stern.
When & Where

Manifest Digital
35 E Upper Wacker Dr
Suite 1000, 10th Floor
Chicago, IL 60601


Tuesday, September 16, 2014 from 8:30 AM to 4:30 PM (CDT)
Add to my calendar