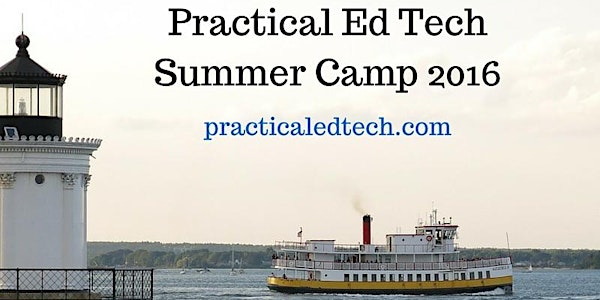 Practical Ed Tech BYOD Summer Camp 2016
When and where
Location
Holiday Inn By the Bay 88 Spring Street Portland, Maine, Portland, Maine 04101
Description
Join me, Richard Byrne, this summer in Portland, Maine's Old Port district for two days of hands-on learning at the third annual Practical Ed Tech Summer Camp. This year's event is being held at the Holiday Inn By the Bay on July 11th & 12th, 2016.

The Practical Ed Tech BYOD Summer Camp is a hands-on exploration of how to use free technology tools in your classroom. This version of the Practical Ed Tech Summer Camp is for people who work in schools that have 1:1 programs with MacBooks, iPads, Windows, Android tablets, or some mixture of devices. This two day workshop is based on my framework for using technology to help students discover new information, discuss their ideas, and demonstrate their knowledge. Registration is limited to 25 participants to ensure that every participant gets the attention he or she deserves. Register today or read on for more information.
Highlights of the Practical Ed Tech Summer Camp
Practical ideas for using technology in your classroom.

A small, collaborative, hands-on learning environment. Bring your laptop because you'll be doing, not listening.

Twelve+ hours of learning in a relaxed and picturesque setting.

Develop a repetoire of new tools and tactics to effectively integrate technology into your lessons.

Click here for a general outline of the two days.
Explore educational technology and the coast of Maine!
This year's Practical Ed Tech Summer Camp is being held at the Holiday Inn By the Bay in downtown Portland, Maine. Healthy breakfasts and hearty lunches will fuel your brain for learning and are included in your registration. And when we're done for the day you can walk to dozens of restaurants along the Old Port's cobblestone streets, walk to the ocean, or even hop a boat and take a sunset cruise to see the islands in Casco Bay. Beaches are just a few minutes drive from the hotel.
What you will learn.
The two day workshop is based on my framework of Discovery, Discussion, and Demonstration. The first day is focused helping students use technology to discover and discuss. Day two is focused on demonstrating knowledge by creating new digital content including podcasts, videos, and other multimedia productions. Abbreviated outlines of each day are posted below.
Day One:
Teaching students how to search effectively.

Going beyond Google.

Collaborative research.

The role of social networks in education.

Backchannels and informal assessment tools.

Collaborative writing and publishing with Google Drive and other collaborative tools.

Building blogs and websites.
Day Two:
Copyright, Creative Commons, and Fair Use

Teaching digital citizenship.

Podcasting and audio editing.

Video production with free web tools

Creating multimedia ebooks.

Maps as stories.

Sharing your work.
Who should come to the Practical Ed Tech Summer Camp?
K-12 teachers and curriculum directors who want to discover the best tools and strategies for teaching with technology in the new school year. You do not have to have any prior technology skills in order to learn a lot during the Practical Ed Tech Summer Camp. Just bring your laptop and you're ready to go. If you are a more experienced user of educational technology, there will be plenty of new tools and ideas for you too. Here's what some people have said about my previous workshops:


Register Today!
Early Registration (available until May 1st) is $447/person. (Early registration price is only available if your registration is completed and paid through EventBrite).

Standard Registration (available until July 10th) is $497/person.
Important information about purchase orders!

If you would like to register with a purchase order from your school, please contact Richard Byrne at richardbyrne (at) freetech4teachers (dot) com. Registration is not guaranteed until payment or guaranteed purchase order has been submitted.

Your registration includes breakfast and lunch both days. You are responsible for making your own

room reservations at Holiday Inn By the Bay (phone 1-800-345-5050)

. Mention "Practical Ed Tech" or "Free Technology for Teachers" when you call to get special room rates. A block of discounted rooms is being held until June 11th. That rate is lower than what you will likely find at other hotels in the Old Port district.
What's included in registration?

Breakfast, snacks, and lunches are included for both days.

Hotel accommodations and dinners are not included in registration.

Mention "Practical Ed Tech" when making reservations at Holiday Inn By the Bay to receive discounted rates.

Do I need to bring my laptop/ iPad/ Chromebook?

Yes, you must bring your own laptop, Chromebook, iPad, or Android tablet. Better yet, bring them all :)

Do I need to rent a car?

The Portland International Jetport (PWM) is only a 10-15 minute cab ride from the hotel so you do not need to rent a car unless you want to drive up or down the coast from the hotel.

Which airlines fly to Portland, Maine?

The Portland International Jetport (PWM) is serviced by Delta, United, Jetblue, Southwest, and US/ American Airways.

Will I see a lighthouse?

The chances are very good that you will see one. There are a couple within 10-15 minutes drive of the hotel. You might even see one as you fly into PWM depending on your flight path.

Will I see a moose in Maine?

While moose do occasionally wander into Portland and southern Maine they don't regularly appear.

Where can I get a good lobster dinner?

There are lots of places to eat lobster within walking distance of the hotel. If you want to eat on the water check out the Porthole.
Refund policy
100% refunds (less transaction fees) will be given until May 1st.
50% refunds (less transaction fees) will be given up to June 10th.
No refunds will be given for cancellations received after June 10th.
You can transfer your registration to another person at anytime until July 8th.