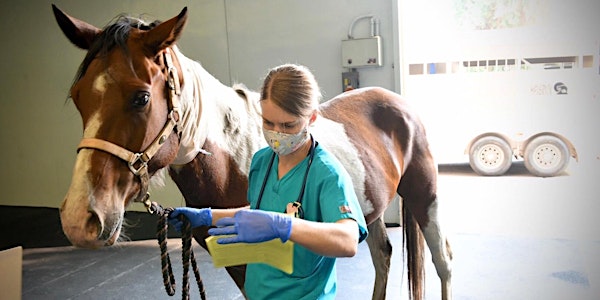 Practical Approach to Equine Neurology
John W. Schlipf, Jr., DVM, MS, DACVIM (LAIM), and Sarah Humphreys, DVM, DACVIM (LAIM), focus on equine neurology in this six-hour course.
When and where
Location
Cascadia Equine Veterinary Clinic & Rehabilitation Center 31730 Sport Horse Way Tangent, OR 97389
About this event
Please join John W. Schlipf, Jr., DVM, MS, DACVIM (LAIM), and Sarah Humphreys, DVM, DACVIM (LAIM), for this six-hour course focusing on equine neurology. They will begin with a neurologic exam discussion and will progress into exam demos and practice on live horses. During the afternoon portion of the course, Dr. Schlipf and Dr. Humphreys will discuss top differentials for the neuro horse, diagnostics, and treatment and management.
This program has been approved for six hours of continuing education credit in jurisdictions that recognize RACE approval.
EQUINE NEUROLOGY OVERVIEW:
Registration: 8:00AM (coffee and light breakfast provided)
Morning session begins: 9:00AM
- Overview of when/how to approach the neuro exam (Schlipf)
Walk through- is the horse moving normally, is it an orthopedic (consistently inconsistent) gait or a neurologic (inconsistently inconsistent) gait
- Review the components of the neuro exam (Humphreys)
Dynamic and static exam
How to grade and localize ataxia (front limbs vs hind limbs, UMN vs LMN)
Common neurologic gait abnormalities: truncal sway, dysmetria, paresis, pacing
Morning break (water and snacks provided)
- Neuro exam demo (Humphreys and Schlipf)
Following demo, break into groups to go through neuro exams on remaining available clinic horses
Lunch Break
Afternoon session begins: 1:00PM
- Top differentials for neurologic horses
CVM (Schlipf)
Trauma (Schlipf)
Vitamin E deficiencies (EDN/NAD, EMND, vitamin E responsive myopathy) (Schlipf)
Infectious- EHV-1, EPM (Humphreys)
- Diagnostics for neurologic horses
Highlight- ALWAYS start with cervical rads for NAL C1-T2 (Schlipf)
Vitamin E testing- pros and cons of blood testing, mention pNfH (Schlipf)
Infectious testing (Humphreys)
- Treatment/management/prognosis
Options for treatment of CVM cases- medical vs surgical (Schlipf)
Gray zones of CVM medical management (Schlipf and Humphreys)
- Trauma (Schlipf)
- Vitamin E (Schlipf)
- Infectious (Humphreys)
BIOGRAPHIES:
John W. Schlipf, Jr., DVM, MS, DACVIM (LAIM)
Dr. Schlipf is a Colorado native and graduated from Colorado State University a number of years ago. He spent several years in a mixed animal private practice in Montana and an equine ambulatory practice in Michigan before going back to Colorado State University for an equine medicine residency. After completing his residency, he remained on staff as an instructor until taking a position at Purdue University prior to joining a private referral practice in Kentucky. An opportunity at Oregon State University veterinary teaching hospital led him back to academia and teaching where he spent more than 20 years. He retired in 2020 remaining clinically active doing locums at several teaching hospitals and private practices. Clinical interests include pain management, neurologic diseases, neonatology, antibiotic stewardship and respiratory diseases.
Sarah Humphreys, DVM, DACVIM (LAIM)
Dr. Sarah Humphreys graduated from UC Davis in 2016, after which she completed a large animal rotating internship at U Penn's New Bolton Center, then went on to complete a large animal clinical fellowship at Oregon State University, before going back to UC Davis for a large animal internal medicine residency with an equine emphasis. She has published clinical research on EPM, and on ACTH concentrations in donkeys. In 2022, she established Humphreys Veterinary Consulting, LLC, a large animal internal medicine consulting business that provides both virtual and in-person services to large animal veterinarians.