Practical Applications of ESG in Japan: How Investors Make Companies Bette...
Description
IMPORTANT MESSAGE(S): Registration for this symposium is now closed. We are no longer accepting reservations, although please join us since walk-ins will be accommodated first-come, first-served, based on seat availability.

No photography or video recording will be permitted by audience members at this event.

Practical Applications of ESG in Japan:
How Investors Make Companies Better Global Citizens

Wednesday, February 27, 2019 | 6:00-7:30 PM (Reception to follow)
Room 1501, International Affairs Building, Columbia University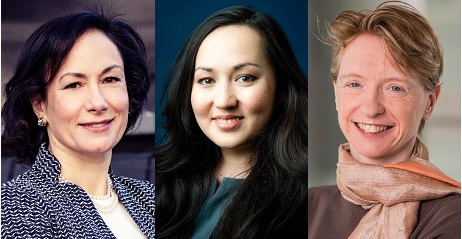 Featuring:
Fabiana Fedeli
Managing Director; Global Head of Fundamental Equities, Robeco
Laura Nishikawa
Managing Director, ESG Research, MSCI Inc.
Fiona Stewart
Lead Financial Sector Specialist, World Bank
Moderated by:
Alicia Ogawa
Director of Project on Japanese Corporate Governance and Stewardship
Center on Japanese Economy and Business


What You'll Learn:
1) Factors behind the surge in demand by investors for ESG (environmental, social and governance) investments
2) Measuring the performance of ESG investment strategies
3) Challenges for fund managers who want to deliver both good investment performance and strong ESG goals

About the speakers:
Fabiana Fedeli is Global Head of Fundamental Equities and Senior Portfolio Manager in the Emerging Markets Equities team where she is responsible for portfolio construction and country allocation. She has a background as Portfolio Manager and Analyst on Asia and US equities in London, New York and Tokyo. Prior to her current role, Fabiana was the lead Portfolio Manager on the Asia (ex Japan) Equity fund at Pioneer Asset Management. She joined Pioneer following the sale of Occam Asset Management, where she was Partner and Fund Manager. She began her career at ING Barings as a research analyst covering Japanese equities in Tokyo. Fabiana holds a Master of Economics from Hitotsubashi University in Tokyo and a Degree in Economic and Social Sciences from Bocconi University in Milan.
Laura Nishikawa leads a global research team responsible for producing ESG-related research content and developing models to help institutional investors identify, measure and manage investment risks and opportunities arising from material ESG issues. Her team produces research on over 5000 companies across 70 industries, and develops research and tools covering governance, climate change, impact, and screening topics. She also led the methodology and design of ESG fixed income indexes in collaboration with Barclays, and developed MSCI's Green Bond Criteria.
Laura joined MSCI in 2010 through the acquisition of RiskMetrics, where she led ESG ratings methodology and was the head of ESG fixed income and financial sector analysis.

Laura received her Master's degree in International Economic Policy from Columbia University (SIPA), and her Bachelor's degree from McGill University, and is a CFA charterholder.

Fiona Stewart, Lead Financial Sector Specialist, is part of the Long-term Finance Team in the World Bank's Finance, Competitiveness & Innovation Global Practice. Fiona provides policy advice on pension and insurance market reform to governments around the world, and is currently working on projects in East and Southern Africa, Indonesia and Georgia. Previously, she worked for the OECD's Financial Affairs Division for eight years and led the Secretariat of the International Organisation of Pension Supervisors (IOPS). Prior to working at the OECD, Fiona worked in the pension fund industry. As head of American Express Asset Management in Japan she was responsible for investing $2bn in Asian equity markets, and, as part of an international team, for managing $20bn globally. She holds degrees from Oxford and Johns Hopkins Universities and a Chartered Financial Analyst qualification. She also served on the advisory board of one of the OECD's own pension funds.
(Moderator)
Alicia Ogawa is the director of the Project on Japanese Corporate Governance and Stewardship at Columbia Business School's Center on Japanese Economy and Business. She is also a consultant to one of the largest U.S.- based activist hedge funds in the United States and an adjunct associate professor at Columbia's School for International and Public Affairs. Until 2006, she was managing director at Lehman Brothers, where she was responsible for managing the firm's global equity research. Prior to joining Lehman Brothers, Professor Ogawa spent 15 years in Tokyo, where she was a top-rated bank analyst and director of research for Nikko Salomon Smith Barney, having managed the original Salomon Brothers Research Department through three mergers. She is currently a member of the board of directors of the Maureen and Mike Mansfield Foundation, a member of the investment committee of the Association for Asian Studies, and a member of the President's Circle of the All Stars Project, a development program for inner city young people. She graduated from Barnard College and earned a master's degree in international affairs at SIPA. Ogawa has been inducted into the Academy of Women Achievers, and is now a director of funds at Tokyo-based Misaki Capital. She is a member of the International Corporate Governance Network.

Advance registration is required.
General Contact: Emiko Mizumura, em2265@columbia.edu
Media Contact: Ryoko Ogino, ro2213@columbia.edu
Special Note(s):
All photography and video recording permission for this event is at the discretion of the organizers.
Your presence at this event indicates your willingness to appear in any photos or videos produced by Columbia and by third parties. If this is an issue, please let us know. Thank you.
Organizer of Practical Applications of ESG in Japan: How Investors Make Companies Better Global Citizens
Established at Columbia Business School in 1986 under the direction of its chairman, Professor Hugh Patrick, and led currently by its director, Professor David E. Weinstein, the Center on Japanese Economy and Business (CJEB) promotes knowledge and understanding of Japanese business and economics in an international context. CJEB is a research organization widely recognized for its vigorous research activities, international symposia, conferences, and lectures, held in New York City and Tokyo, which provide prominent speakers from the public and private sectors a forum for collaboration and reflection on Japan, the United States, and the global economy. For more information visit www.gsb.columbia.edu/cjeb. For more information, go to http://www.gsb.columbia.edu/cjeb