Learn to think like a publicist to land meaningful brand partnerships.
About this event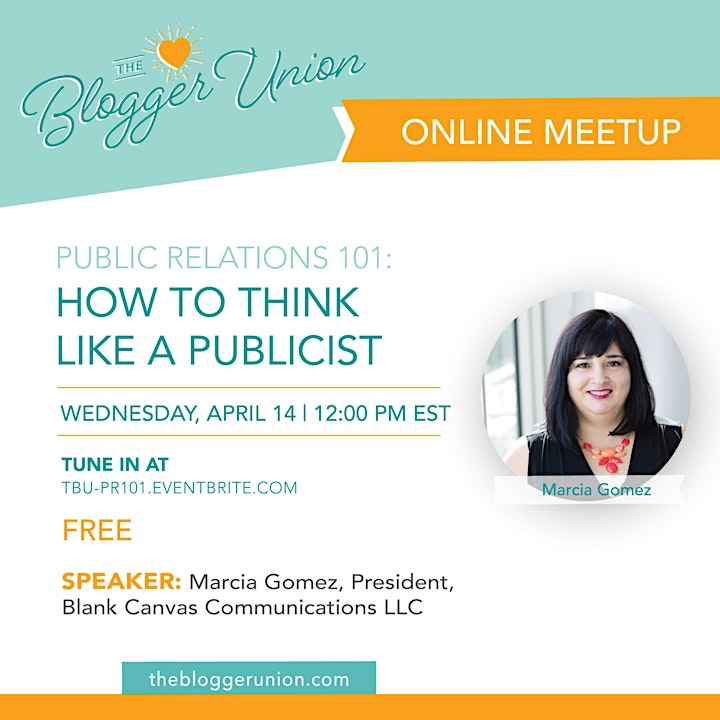 Most brands leave influencer marketing to their PR department. Learn to think like a PR professional to better understand what brands want to achieve with influencer partnerships. Join us as we discuss PR with Marcia Gomez, president of Canvas Communications.
We'll discuss creating narratives and telling stories. How to craft your own story or build on a story in the news. How to research what a brand's communication strategy to craft your ideas when pitching brands. How to find a brand's target audience and why that's important. Bring all your PR questions.
Speaker Marcia Gomez
Marcia Gomez is a veteran communications and marketing professional with more than 20 years of experience working in media, higher education, the arts and business communities. As president and founder of Blank Canvas Communications, LLC, she offers targeted, relevant and impactful communications solutions to clients from varying industries including arts, higher education, non-profits, insurance, banking and health.
Prior to launching her boutique communications firm, Marcia served as the director of campus relations for Miami International University of Art & Design where she oversaw public relations, traditional and digital marketing (including social media), events and strategic community/civic partnerships. She was a valued member of the University's executive committee team charged with leading and guiding the overall university and its mission. Marcia previously also served as the regional media relations manager for The Art Institutes.
Preceding her roles in higher education, Marcia worked in marketing and communications for major corporations in broadcast and print media including AT&T Advertising and Publishing, Nielsen Media Research, Caballero TV & Cable Sales and GLR Networks owned by Spain's Grupo Prisa, a major Spanish media conglomerate. These roles exposed her to the increasingly important, US Hispanic market providing her with a deep understanding of the growing geographic populations but also, the demographics and psychographics of the segment.
Ms. Gomez is a full-time lecturer for the School of Communication at the University of Miami. She has been actively involved in the Miami chapter of the Public Relations Society of America, serving as its president in 2015 and serving on the board of directors since 2007. Currently, she is an assembly delegate for the chapter, serving as a liaison to the national organization. She has also taught at Florida International University, Miami International University of Art & Design and Miami Dade College.
Marcia holds a Master of Science degree from the School of Journalism and Mass Communication from Florida International University in the area of Integrated Communications Advertising and Public Relations and Master of Science degree from the School of Business at Barry University in the area of Electronic Commerce (E-Commerce). She also holds a Bachelor of Business Administration (Marketing & Management) from Florida International University.