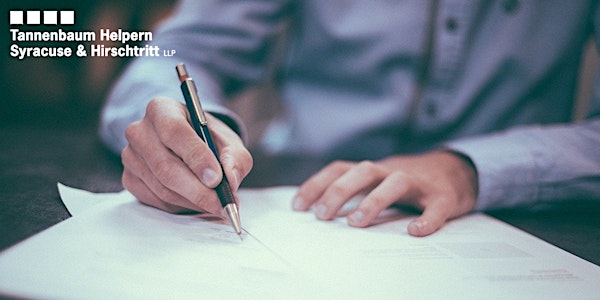 PPP Update and Federal Reserve's New Main Street Loan Facilities
Paycheck Protection Program Update and Federal Reserve's New Main Street Loan Facilities
By Tannenbaum Helpern Syracuse & Hirschtritt LLP
Date and time
Thursday, April 16, 2020 · 8 - 8:30am PDT
About this event
Since its introduction, the SBA and U.S. Treasury have issued updates to the Paycheck Protection Program (PPP) to offer clarity on these loans. Additionally, on April 9, 2020, the Federal Reserve released two term sheets for two Main Street Loan Facilities to aid small and mid-sized businesses affected by COVID-19. This 30 minute briefing will highlight the key updates on PPP loans and cover the two Main Street Loan facilities and how they work in practice.
Speakers:
Michael Riela, Tannenbaum Helpern Syracuse & Hirschtritt LLP 
Jason Rimland, Tannenbaum Helpern Syracuse & Hirschtritt LLP 
Date:
Thursday, April 16, 2020
Time:
11:00am– 11:30am: Opening Remarks, Panel Discussion, Q&A
Dial in information: 
Webinar information will be provided in the Eventbrite confirmation email.
Contact: For more information regarding the event, please email events@thsh.com
About the organizer
Since 1978, Tannenbaum Helpern Syracuse & Hirschtritt LLP has combined a powerful mix of insight, creativity, industry knowledge, senior talent and transaction expertise to successfully guide clients through periods of challenge and opportunity. Our mission is to deliver the highest quality legal services in a practical and efficient manner, bringing to bear the judgment, common sense and expertise of well trained, business minded lawyers.
Tannenbaum Helpern provides legal services in all areas of business law, including financial services, private funds and capital markets; real estate, environmental and construction law; general corporate and SEC matters; litigation; franchise, distribution and e-commerce; antitrust; intellectual property; employment (including ERISA, executive compensation and employee benefits); estate planning; and tax; as well as trusts and estates and the representation of individuals and charitable organizations.
Through our commitment to service and successful results, Tannenbaum Helpern continues to earn the loyalty of our clients and a reputation for excellence. For more information, visit www.thsh.com or follow us on Twitter: @THSHLAW .