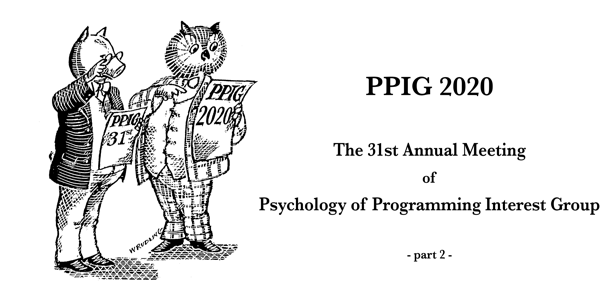 PPIG 2020
... the second part of PPIG's experiment with virtual conferencing.
About this event
Dear PPIGers,
As with many other conferences needing to adjust to the new circumstances, PPIG will be going online as well. At the core of the PPIG annual workshops is the fostering of a community of people interested in all aspects of programming. We aim to maintain and support these goals in the transition to the online setup as well.
We've split PPIG this year into two events. The August event was a great success, and we're hopeful that you'll help us make the November session a success too!
November's schedule will be similar: we'll meet for two to three hours a day for presentations, discussions, panels and social activities. We're encouraging all our attendees to keep in touch during the event on Discord.
We'll be meeting each day starting at 4pm UK, 11am Eastern, 8am Pacific, for about 2 hours of scheduled content, followed by up to one extra hour of social activities.
The workshop programme can be found on the ppig.org website: https://ppig.org/workshops/2020-annual-workshop/programme-autumn/
The conference registration is free, and you will need to register so we can share the virtual meeting links and invite you to the Discord channel we'll be using for keeping in touch throughout the event.
Please get in touch if you have any questions, and we look forward to seeing you there!
Colin, Clayton, Philip, Ben, Mariana and Luke