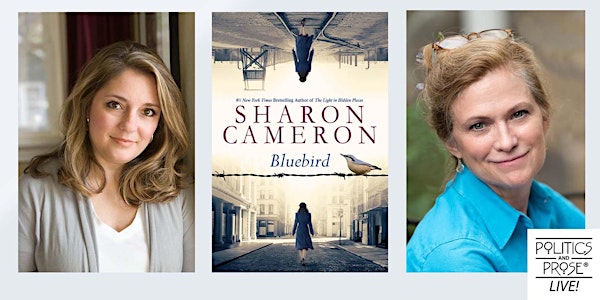 P&P Live! Sharon Cameron | BLUEBIRD with L.M. Elliott
Sharon Cameron presents her new historic fiction novel BLUEBIRD in conversation with L.M. Elliott
About this event
At the end of World War II, Eva flees a bombed-out Berlin to start over in New York City. She carries with her a dark secret: her father is a doctor who was responsible for medical experiments in a concentration camp, known as Project Bluebird. Although Eva was raised a Nazi, she is determined to avenge those harmed. Eva agrees to work as an informant to capture her father, soon realizing the boundaries between good and evil aren't always clear-cut. Fans of Cameron's well-researched historical fiction will embrace Bluebird, its dark, twisting plot illuminating the barbarity of a little known part of World War II.
Sharon Cameron's debut novel The Dark Unwinding was awarded the Society of Children's Book Writers and Illustrators' Sue Alexander Award for Most Promising New Work, and the SCBWI Crystal Kite Award, and was named a YALSA Best Fiction for Young Adults selection. Succeeding novels by Sharon have been critically acclaimed and received numerous awards. Her World War II novel, The Light in Hidden Places, received two starred reviews, was a Reese's YA Book Club pick, and received extensive media coverage for Sharon's strong research and affecting prose.
L. M. Elliott is a New York Times best-selling author of historical and biographical fiction for teens. Her twelve novels explore a variety of eras (the Italian Renaissance, the American Revolutionary War, WWII, and the Cold War), including her latest work, Walls.
Ages 14 and up