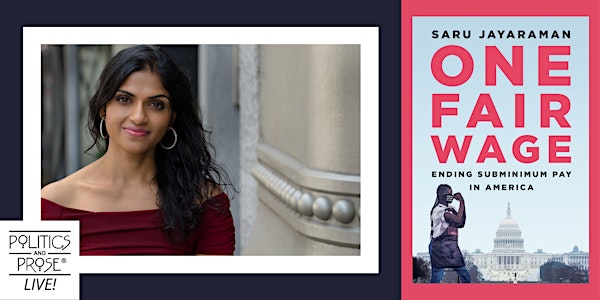 P&P Live! Saru Jayaraman | ONE FAIR WAGE - with Jane Black
Join P&P Live! as we discuss the launch of "One Fair Wage," by celebrated author and activist, Saru Jayaraman!
Refund Policy
Contact the organizer to request a refund.
About this event
This event will feature appearances from local members of One Fair Wage.
Before the COVID-19 pandemic devastated the country, more than six million people earned their living as tipped workers in the service industry. They served us in cafes and restaurants, they delivered food to our homes, they drove us wherever we wanted to go, and they worked in nail salons for as little as $2.13 an hour—the federal tipped minimum wage since 1991—leaving them with next to nothing to get by.
These workers, unsurprisingly, were among the most vulnerable workers during the pandemic. As businesses across the country closed or drastically scaled back their services, hundreds of thousands lost their jobs. As in many other areas, the pandemic exposed the inadequacies of the nation's social safety net and minimum-wage standards.
One Fair Wage shines a light on these workers, illustrating how the people left out of the fight for a fair minimum wage are society's most marginalized: people of color, many of them immigrants; women, who form the majority of tipped workers; disabled workers; incarcerated workers; and youth workers. They epitomize the direction of our whole economy, reflecting the precariousness and instability that is increasingly the lot of American labor.
Saru Jayaraman is the President of One Fair Wage, a national organization working to raise wages for service workers nationwide, and Director of the Food Labor Research Center at University of California, Berkeley. She was listed in CNN's 'Top 10 Visionary Women' and recognized as a Champion of Change by the White House in 2014, a James Beard Foundation Leadership Award in 2015, and the San Francisco Chronicle's 'Visionary of the Year' in 2019. She is the author of Behind the Kitchen Door, Forked: A New Standard for American Dining, and co-editor of Bite Back: People Taking on Corporate Food and Winning.
Jane Black has been covering food politics, trends and sustainability since 2004. These days, she has a particular interest in the way food intersects with cultural and class boundaries and the science of behavior change. Jane's work appears regularly in publications such as The Washington Post, The Wall Street Journal, the New York Times, and Eating Well. In her free time, she cooks, eats, and travels to eat—most often to Italy, her favorite country in the world.