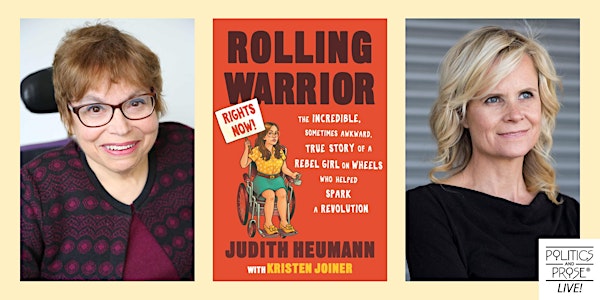 P&P Live! Judith Heumann and Kristen Joiner | ROLLING WARRIOR
Disability Rights activist Judith Heumann and Kristen Joiner present ROLLING WARRIOR, the young readers' edition of Heumann's memoir
Refund Policy
Contact the organizer to request a refund.
About this event
"If I didn't fight, who would?"
Judy Heumann was only 5 years old when she was first denied her right to attend school. Paralyzed from polio and raised by her Holocaust-surviving parents in New York City, Judy had a drive for equality that was instilled early in life. In this young readers' edition of her acclaimed memoir, Being Heumann, Judy shares her journey of battling for equal access in an unequal world—from fighting to attend elementary school after being described as a "fire hazard" because of her wheelchair, to suing the New York City school system for denying her a teacher's license because of her disability. Judy went on to lead 150 disabled people in the longest sit-in protest in US history at the San Francisco Federal Building. Cut off from the outside world, the group slept on office floors, faced down bomb threats, and risked their lives to win the world's attention and the first civil rights legislation for disabled people. Judy's bravery, persistence, and signature rebellious streak will speak to every person fighting for social justice and demanding their right to belong.
Judith Heumann is an internationally recognized leader in the Disability Rights Independent Living Movement. She has served in the Clinton and Obama administrations, and she was the World Bank's first adviser on disability and development. Heumann is the author of a memoir, Being Heumann, and her story was featured in the Netflix documentary Crip Camp: A Disability Revolution (2020). Connect with her on Twitter (@judithheumann) and Facebook (TheHeumannPerspective).
Kristen Joiner is a writer and activist who tries to tell stories that change how people see the world. Her writing on exclusion, inequality, and social change has been published in Stanford Social Innovation Review, Stuff, and other outlets. She lives in New Zealand with her family. Connect with her on Twitter (@kristenjoiner).
Accessibility: This event will include closed captioning. To request an ASL interpreter, please email PoliticsProseKids@gmail.com.
Ages 12 and up
Click here to support Politics and Prose by purchasing Rolling Warrior: The Incredible, Sometimes Awkward, True Story of a Rebel Girl on Wheels Who Helped Spark a Revolution.