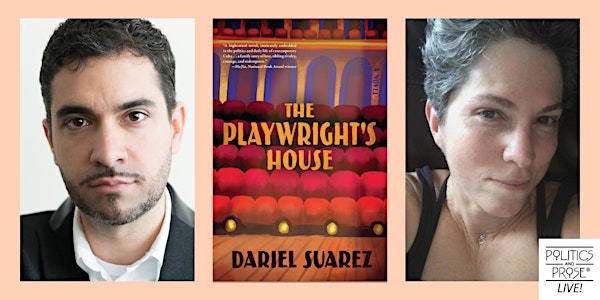 P&P Live! Dariel Suarez | THE PLAYWRIGHT'S HOUSE with Achy Obejas
Join P&P Live! to discuss Dariel Suarez's new novel, The Playwirght's House, with Achy Obejas.
About this event
In The Playright's House, happily married, backed by a powerful mentor, and with career prospects that would take him abroad, Serguey has more than any young Cuban lawyer could ask for. But when his estranged brother Victor appears with news that their father—famed theater director Felipe Blanco—has been detained for what he suspects are political reasons, Serguey's privileged life is suddenly shaken.
A return to his childhood home in Havana's decaying suburbs—a place filled with art, politics, and the remnants of a dissolving family—reconnects Serguey with his troubled past. He learns of an elusive dramaturge's link to Felipe, a man who could be key to his father's release. With the help of a social media activist and his wife's ties with the Catholic Church, Serguey sets out to unlock the mystery of Felipe's arrest and, in the process, is forced to confront the reasons for the hostility between him and Victor: two violent childhood episodes that scarred them in unforgettable ways. On the verge of imprisonment, Serguey realizes he must make a decision regarding not just his father, but his family and his own future, a decision which, under the harsh shadow of a communist state, he cannot afford to regret.
Dariel Suarez was born and raised in Havana, Cuba, and immigrated to the U.S. in 1997 at age fourteen. He is the author of the novel The Playwright's House and the story collection A Kind of Solitude, winner of the International Latino Book Award for Best Collection of Short Stories. Dariel is an inaugural City of Boston Artist Fellow and the Education Director at GrubStreet. His work has received the First Lady Cecile de Jongh Literary Prize and will be anthologized in this year's Best American Essays. His prose has also appeared in numerous publications, including The Threepenny Review, The Kenyon Review, Prairie Schooner, Michigan Quarterly Review, and The Caribbean Writer.
Suarez will be in conversation with Achy Obejas, the author of The Tower of the Antilles, which was nominated for a PEN/Faulkner award, among other honors. Her novels include Ruins and Days of Awe, which was a Los Angeles Times Best Books of the Year. Her poetry chapbook, This is What Happened in Our Other Life, was both a critical hit and a national best-seller. As a translator, Havana-born Achy has worked with Wendy Guerra, Rita Indiana, Junot Díaz and Megan Maxwell, among others. A recipient of a USA Artists fellowship, an NEA and a Cintas fellowship, among other awards, she is currently a writer/editor for Netflix and lives in the San Francisco Bay area. Her new book, Boomerang/Bumerán, a bilingual poetry collection, will be published by Beacon Press in September.