Description
POWHER MOVES CONF EVENTBRITE DETAILS
PowHER Moves Women's Conference: Winning Strategies to Secure Your Seat at the Table is a one-day career conference designed to inspire women to live their best career life. Created by powerful career women for powerful career women, this conference features an action-packed day of enrichment, including breakout sessions and panelist keynote to help you supercharge your career.
The panel of powerhouse career strategists, coaches, and experts, will reveal their best-kept career secrets, as well as the unspoken and unwritten rules of business and Corporate America. You'll leave equipped to make PowHER MOVES!
PowHER Moves Women's Conference is presented by Toni Howard-Lowe, the face behind career empowerment brand, The Corporate Tea, together with her powerhouse circle of friends and their influential female brands, and in partnership with Dress for Success Dallas. This influential collective of career-minded women are also on a mission to provide support to women in need and in transition.
Participants are encouraged to bring a gently used suit and/or purchase items from the Dress for Success Boutique during the conference. Opportunities to shop the Dress for Success Boutique will be presented at designated times throughout the conference; those proceeds will directly support the work at Dress for Success Dallas.
Attendee's leave with:
- Next level personal and professional development for life, career, and entrepreneurship to chart your career progression
- A new collective of career-minded women to support you in your journey
- Expert tips to navigate workplace micro-inequities
- Leadership and personal branding tools to level-up your corporate presence
Terms & Conditions
- All tickets are non-transferable and non-refundable
- Must be 21 years or older to attend
- ID and ticket must be present for admittance into conference
- No re-entry day of conference so prepare to be there all day
Conference Attendees get: brunch, conference bags, book signing access, and the Pop up Coach's Shop & Authors Corner to patronize throughout brunch and breaks.
---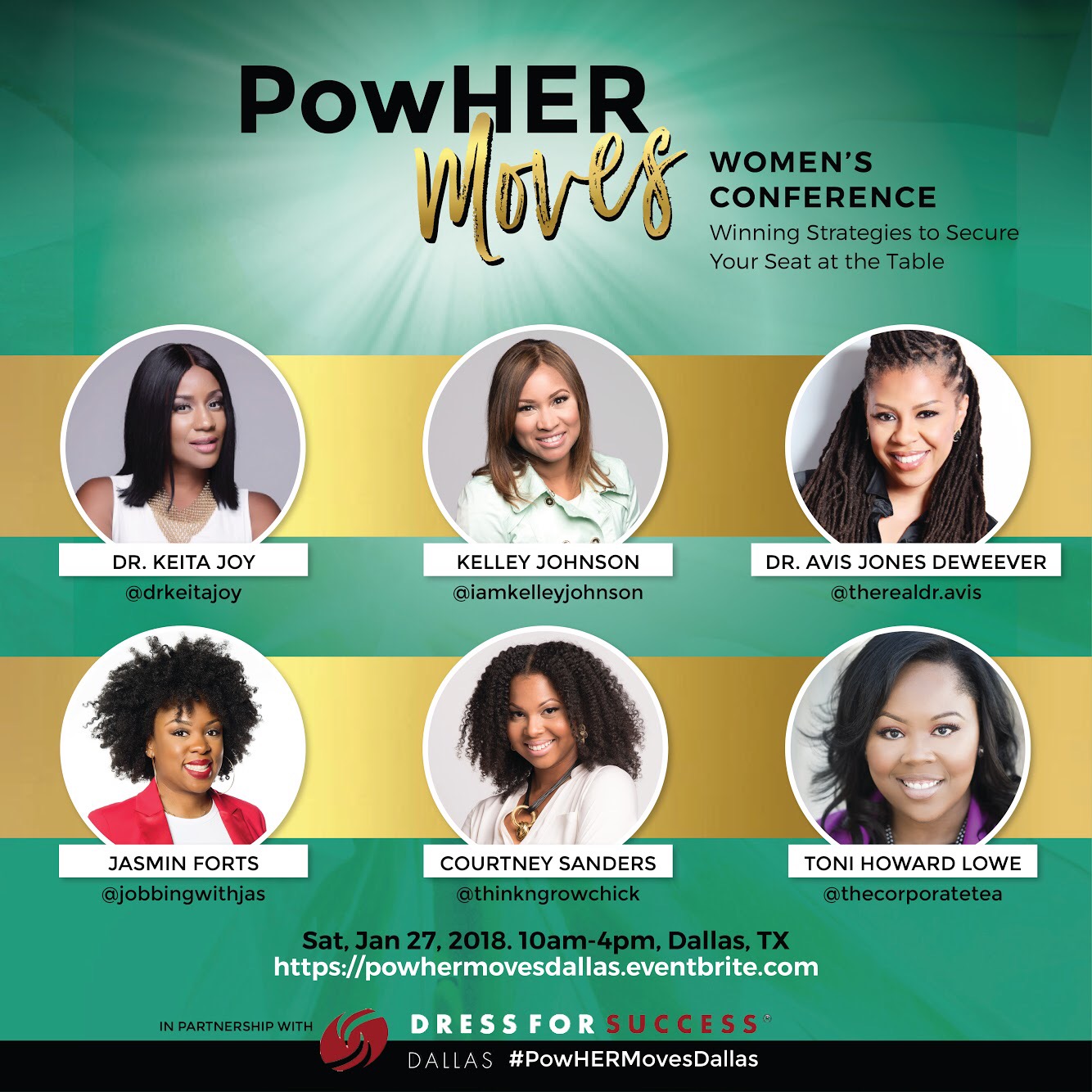 Conference Speakers:
Toni Howard Lowe
Career Strategist & Founder of the Corporate Tea
Host & Keynote Speaker
Dr. Avis Jones DeWeever -Keynote Speaker
Author of How Exceptional Black Women Lead
Media Commentator, Diversity & Equity Expert
Kelley Johnson -Keynote Speaker
Executive Coach & Leadership Strategist
www.kelleyjohnsonenterprises.com
Dr. Keita Joy -Keynote Speaker
Leader's Life Coach, Success Strategist & Author of Fabulous and Faithful
Courtney Sanders
Millennial Women's Coach & Founder of Think and Grow Chick
Keynote Speaker
Jasmin Forts
Career Coach & Founder of Jobbing with Jas
Keynote Speaker
Dr. Lauren Freeman
Chairman of the Board, Dress For Success & Founder of the Fabulous Firm
Author of The New Boss
---
Conference Itinerary:
Saturday, January 27, 2018
9:30 am- 10:30 am– Registration Open
10:00 am to 10:55 am - Conference Brunch/Networking & Mingling
10:55 am to 11: 25 am -Welcome & PowHER Moves Kickoff- Host Toni Howard Lowe and Dr. Lauren Freeman, Dress For Success Chairman
11: 25 am – 3:10pm -Sessions
Track 1
Session 1: PowHER Moves with Keynote Speaker Dr. Avis Jones DeWeever Talk on Expert Positioning - How to Be Seen as Thought Leader in Your Space
Session 2: PowHER Moves with Keynote Kelley Johnson Talk on Faith: Spiritual Principles for Entrepreneurial Success
Session 3: PoweHER Moves with Keynote Toni Howard Lowe Talk on The Politics of Promotion
Track 2
Session 1: PowHER Moves with Keynote Dr. Keita Joy Talk on Purpose, Passion, and Profit
Session 2: PowHER Moves with Keynote Courtney Sanders Talk on to Entrepreneurship – Building Your Side Hustle While at your Main Hustle
Session 3: PowHER Moves with Keynote Jasmine Forts Talk on Working Your Magic Sis, Building a Magical Career Brand
3:10- 3:55 Panel Discussion:
PowHER Moves Panel Discussion on #BlackWomenatWork – What I wish I knew in the beginning
4pm - Closing Remarks
PowHER Happy Hour 5-7 – Location to be determined