Description

POWHer Breakfast: Digital Marketing & Networking That Works!


---
It was the Kentucky Derby in May. We're following up with a June POWHer Breakfast Trifecta: Digital Marketing; Effective Networking: and a Tour of the Las Vegas Review-Journal.
Here's a summay of the power-packed two hour program:
DIGITAL MARKETING FOR YOUR BUSINESS - Is your business being left behind in the digital age? Is your business being seen by YOUR ideal client? Learn more about digital marketing and how to create a powerful presence for your business.
NAVIGATING THROUGH THE OCEAN OF NETWORKING - Networking is a necessary part of business and personal development -- and it can also be the most enjoyable. Discover how to connect and capitalize on circumstances, conversations and commonalities.
TAKE THE TOUR – Join us as we get a personal tour of the operation where Nevada's largest newspaper is produced.
Date: Tuesday, June 19
Time: 8:00 – 10:00 AM
Place: Las Vegas Review-Journal
*Please arrive by 8:15AM. Tour starts promptly at 8:30.
$25 – POW Members
$35 – Guests / Non-Members
$45 – Late Registration (After June 17)
Complimentary for Platinum Members
Agenda
8:00 – 8:30 Check-In / Registration / Light Bites
8:30 – 9:00 Tour of the Review-Journal
9:00 – 9:45 Program
9:45 – 10:00 Wrap Up / After Meeting Mingle
Thank you to our Program Sponsor:

About Our Presenters:
Ed Cassidy, Vice President, Marketing | Las Vegas Review-Journal

Ed is responsible for marketing initiatives of the Review-Journal's portfolio of print and digital niche products, including Luxury Las Vegas Magazine and the weekly Spanish language publication El Tiempo. Prior to joining the Las Vegas Review-Journal in 2016, Ed held positions of VP Communications and Event Marketing for USA TODAY; marketing director posts with the St. Petersburg Times (aka Tampa Bay Times) and was editor and pubulisher of the city magazine Honolulu.
Lani Dorlack, Director of Digital Advertising | Las Vegas Review-Journal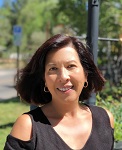 Lani has been helping businesses do better business through effective marketing and advertising solutions for over 30 years. Her strength, and her clients' success, is in her solutions-based approach to marketing and advertising challenges that address individual business needs over simply implementing industry trends. Lani has been with the Review-Journal for 3-1/2 years and has been living and working in Las Vegas since 2006.
Connect, Collaborate and Network with POWHer of WE:

Power of Women Entrepreneurs is a Las Vegas based membership organization providing relevant business-building programs and opportunities for meaningful connections for women business owners. For more information about joining POWHer, contact:
Lanetta Lillis, Lanetta@PartnerWithIPI.com, 702-328-5028
Jana Forsythe, Jana@FEIConstruction.com, 702-485-5983
"Behind every successful woman is a tribe of other successful women who have her back." - Author Unknown (yet Very Wise)