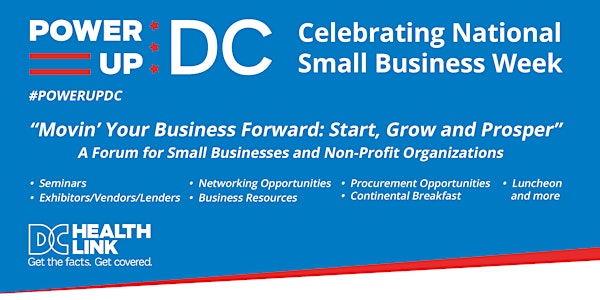 Location
Fairmont Washington D.C., Georgetown
2401 M Street Northwest
Washington, DC 20037
Description
Movin' Your Business Forward:
Start, Grow and Prosper
The 3rd Annual POWERUP DC National Small Business Week Forum is designed to provide small businesses and non-profits with information, tools, resources and services to support their startup and growth into prospering enterprises. The forum will focus specifically on one of the greatest needs of entrepreneurs, access to capital to start, grow and prosper. It will also focus on procurement opportunities in both the private and government sectors, certification and licensing, emerging industries, business trends as well as funding and capacity-building for non-profit entities. Additionally, the participants will learn about the benefits of the ACA and health insurance options for small businesses through DC Health Link, the District's online health insurance marketplace.
Schedule
Session 1: Morning Session – Networking, Morning Refreshments, Vendors and Exhibitors
Session 2: Opening Plenary Session: Welcome, Greetings, and Keynote Speaker
Session 3: Seminars
Track A: Jumpstarting Your Business: How to Launch and Stay Afloat
Track B: Keep it Movin': How to Grow Your Business Now that You've Launched
Track C: Nonprofits: Funding and Capacity Building
Session 4: Business Matchmaking / Speed Business Dating
Session 5: Luncheon
Another opportunity to network and meet with other business owners, lenders, service providers and resource representatives while enjoying a delightful lunch.
Keynote Speaker: Allen Gutierrez, Associate Administrator, Office of Entrepreneurial Development, U.S. Small Business Administration (SBA)