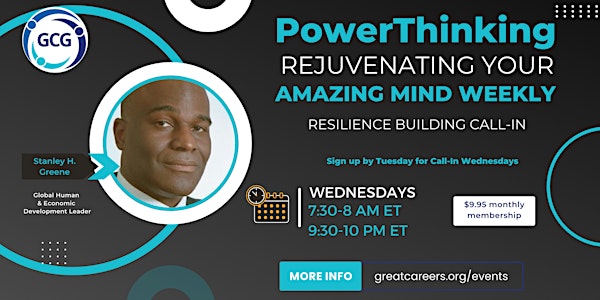 PowerThinking Weekly Resilience Building Call-In
PowerThinking Weekly Resilience Building Call-In
About this event
Register at https://www.powerthinkingcorp.com/membership-join/
When you get to the affiliation drop-down box, you'll pick Philadelphia Area Great Careers Group. Note that your purchase supports our 501(c)3 nonprofit!
PowerThinking: Rejuvenating Your Amazing Mind Weekly Resilience Building Call with Stanley H Greene. The calls are $9.95/month or about $2.50 per call.
Weekly phone calls on Wednesday at either 7:30-8AM or 9:30-10PM ET with Stanley H Greene (www.linkedin.com/in/StanleyHGreene)
Participating in our 30-minute weekly skill-building training enables attendees to improve upon the power we have to meet and exceed personal and professional goals.
Specifically, attendees will learn to harness the power of our ongoing automatic thoughts, which are driven by deep-seated beliefs and can lead to actions that are counterproductive to desired personal and professional outcomes.
This training will focus on the identification of seven inner strengths of resilience, as well as the development of 7 critical resilience skills. It's called "PowerThinking: Rejuvenating Your Amazing Mind!"
Each week, attendees will receive a text message on Tuesday containing content or an exercise that will be discussed on the Wednesday training calls. Attendees will also receive a text reminder on the day of the call.
AFFILIATE EVENTThis event is NOT sponsored by the Great Careers Group but may be of interest to our members. We take no responsibility for the content, quality, or any other circumstances related to this event.