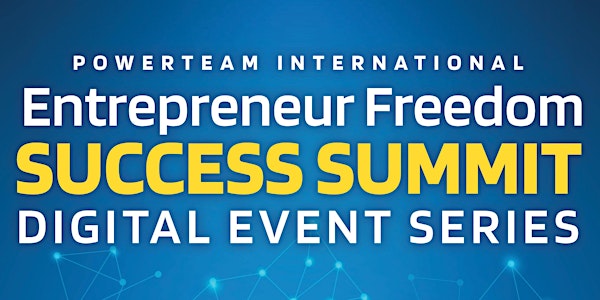 Powerteam Digital SuccessSummit360.com
The Success Summit is designed to help entrepreneurs & small business owners discover how to survive & thrive in today's New economy!
About this event
POWERTEAM Digital Success Summit Live Broadcast:
PROGRAM STARTS AT 4PM PST- 7PM PST (7PM-10PM EST) PERSONAL INVITATION:MEET OUR KEYNOTE & FEATURED SPEAKERS
Join us for our FREE 3 Hour Live Global Broadcast designed specifically to guide Entrepreneurs & Small Business to Create Even More Success! Learn from the comfort of your home or office from top industry leaders & top producers! 
TOPICS INCLUDE: Social Media - Internet Marketing - Business Growth- Mindset Mastery- PR - Branding - Public Speaking - Team Building - Residual Income - Marketing Funnels 
MEET YOUR VIP HOST FOR THE DIGITAL SUCCESS SUMMIT
Bill WalshPowerteam InternationalChief Executive Officer
Bill Walsh® is the CEO/Founder of Business Coaching/Venture Capital firm Powerteam International. Bill hosts and speaks at events all over the world! His passion is to empower entrepreneurs and business owners to create massive success. He loves to help people to understand specifically what it takes to build successful companies. He is an accomplished author, speaker, radio personality and movie celebrity, He has a very successful background in finance and marketing. He has spent two decades working with start-ups to major global brands increasing sales, productivity and overall success. He is an innovator with a remarkable ability to determine and dictate success strategy to seize global market opportunities.