| | |
| --- | --- |
| Powering Your Creativity With Adobe Creative Cloud + Post NAB Round Up at May 10th LAPPG Meeting | |
Event Details
Join us on May 10th for two special presentations:

ADOBE POWERS YOUR CREATIVITY

Creative Cloud gives you the power to create, collaborate, and streamline your video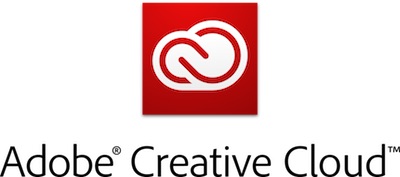 workflow from start to finish. Building on 25 years of proven Adobe technologies, Adobe Workflow Expert Karl Soule will show you how dynamic integration between Adobe products deliver powerful performance and efficiency to keep your projects on track and keep you in the creative zone. Karl will also discuss the latest release of Adobe Video's tools, including new features for graphics and titling, animation, polishing audio and sharing assets; support for the latest video formats, such as HDR, VR, and 4K; and advanced artificial intelligence capabilities powered by Adobe Sensei.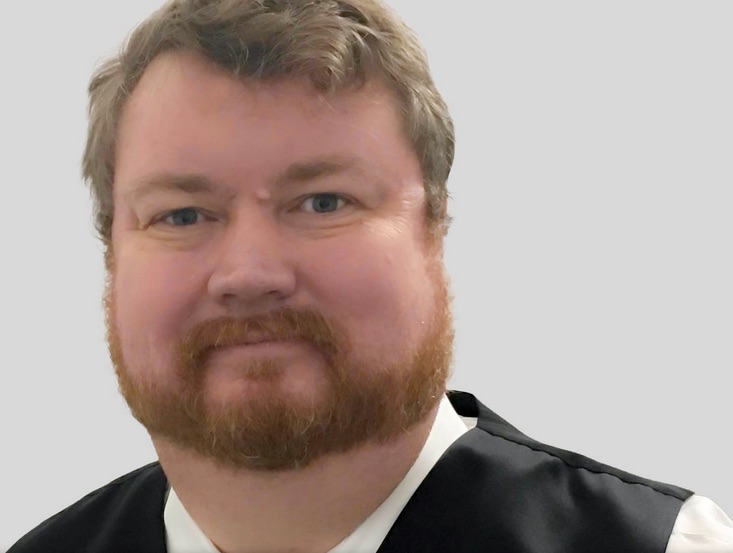 Karl Soule works for Adobe as part of the Hollywood engagement team, promoting the use of Adobe Creative Cloud video and audio tools, such as Premiere Pro, After Effects, and Adobe Audition. Karl recently moved back to the USA, after spending 5 years living and working in Asia, promoting Adobe tools in video production and broadcasting.
 POST NAB ROUND UP WITH ADVANTAGE VIDEO SYSTEMS


This year's Post NAB Round Up will feature Jeffrey Stansfield of Advantage Video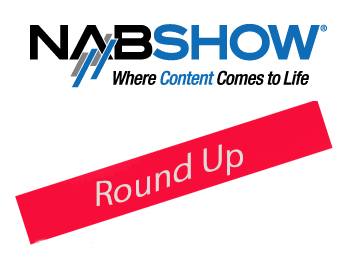 Systems.  Jeffrey will recap the major new products from the production, post-production, visual effects, asset management and content delivery industries. He'll also report on the various conferences and showcases which took place.  If you couldn't make it to this year's big industry trade show come get up to speed and if you did get to NAB, come and compare your notes!




Jeffrey Stansfield is the President and CEO of Advantage Video Systems, a leading technology provider to the broadcast, motion picture, television and motion graphics industries. Stansfield launched AVS in 2001 and has steadily built its clientele by focusing on one customer at a time. His company's work encompasses workflow consultation, design, installation and integration.  AVS's clients include: the NFL, Disney, NBC/Universal, FOX, AT&T, KTLA 5, U2, Macy Gray, Redfoo, TV Guide, The Asylum, Crystal Cathedral Church, the Dalia Lama and many more.

***As always there will be plenty of time to network, enjoy some coffee and participate in our great giveaway which includes thousands of dollars of amazing prizes from our generous partners!

$5.00 cash kindly requested at the door will include 1 giveaway ticket.
Location:

Roth Hall

1714 21st Street

Santa Monica, CA 90404
Click for a map here.
***Street parking is available as well as a Crossroads parking lot on 22nd street. Click here for a parking map.

---
LAST MONTH'S MEETING RECAP
April 18th's meeting was held at Roth Hall and began with an exciting announcment that Vimeo was joining the group as our Platinum Level Partner!
As most of you know, Vimeo is a video-sharing website in which users can upload, share and view videos. We thank Vimeo for their support!


We were thrilled to have Derick Rhodes, Vimeo's Director, Creator Programs and Events join us at this meeting where he shared the latest Creator Tools including Vimeo's support for 360, Enhanced Review Pages and the Vimeo Panel for Adobe Premiere Pro as well as a detailed look into Vimeo's Staff Picks. And we got a sneak peak into their much anticipated booth and schedule for their NAB! Congrats to the Vimeo team for winning NAB's ACE Award for coolest booth of its size! Quite impressive for their first year at the show!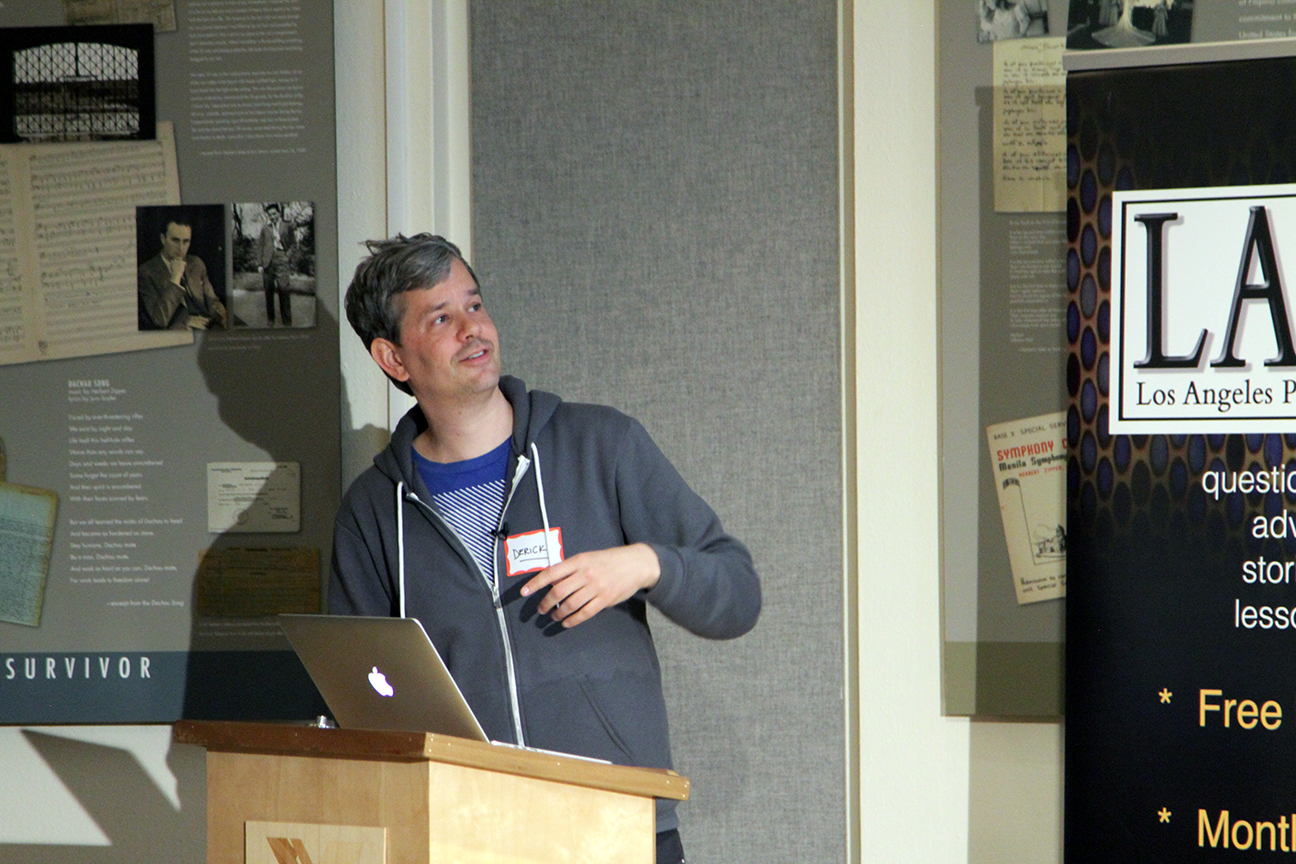 Derick Rhodes returns to LAPPG and shares the latest from Vimeo.

After the networking break Sound & Picture's managing editor, Kendra Ruczak took to the podium and led a fascinating panel with part of the team from HALON Entertainment. The panel was made up of Clint G. Reagan, Tefft Smith II, and Casey Pyke. They explained the post visualization process, what workflow they used as well as the tools. They showcased some of the amazing projects they worked on including, "Alice Through the Looking Glass", "Logan" and some information about the upcoming film "War for the Planet of the Apes." This was an amazing opportunity for our members to see this incredible work and learn about the process for creating it.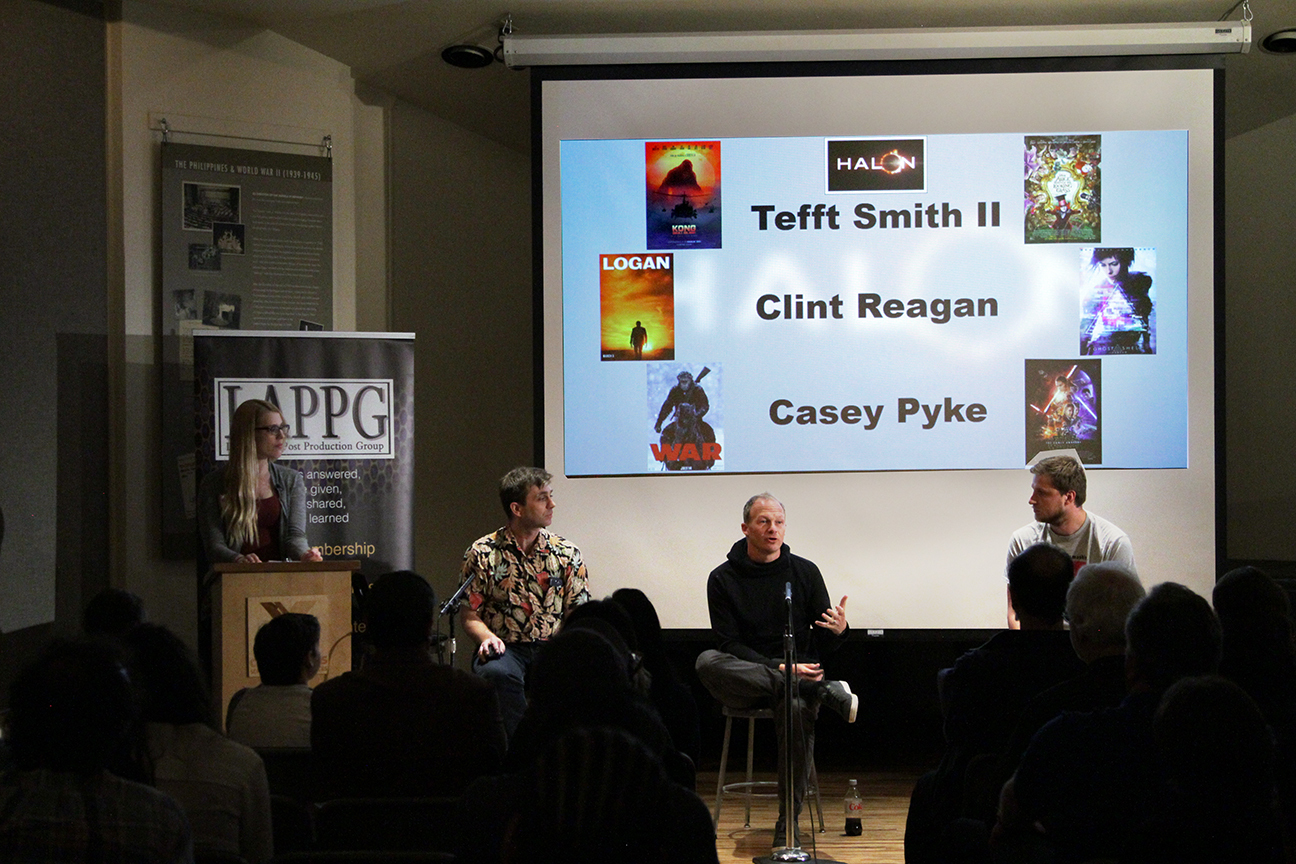 Moderator: Sound & Picture's Managing Editor Kendra Ruczak, Panelists from Halon Entertainment: Clint Reagan, Tefft Smith II, Casey Pyke
---
SHUTTERSTOCK'S BLOG OFFERS RESOURCES FOR DOC FILMMAKERS
While starting a documentary can be an exciting and worthwhile endeavor, there are so many questions and concerns that pop up almost right away. To keep you on the right track, our friends at Shutterstock put together this blog post to help guide filmmakers though this processes. 

Free Templates, Forms, and Resources for Documentary Filmmakers
Creating a documentary usually means a lot of work for very few people. Here are four simple tips to help documentary filmmakers complete their projects — including free assets and resources.
1. Don't Forget the Paperwork
New documentary filmmakers tend to forget crucial documents when starting a project. It's important to always have the proper release forms or licenses for any subjects you are interviewing or locations you're filming.
You always need written consent from your subjects, preferably something that grants you permission to edit the footage and audio as you please.
(Read more here)
---
HDSLR SHOOTER COVERS BLACKMAGIC URSA MINI PRO BLUETOOTH CAMERA CONTROL AT NAB

Excerpt from HDSLR Shooter by Jake Fruia April 26, 2017

While the Blackmagic Design URSA Mini Pro was released weeks before NAB, at least one feature was left a secret…until now.

The URSA Mini Pro has always had the capability for Bluetooth functionality, but will be enabled for free this coming June. The built in Bluetooth will allows the camera to send and receive commands from up to 30 feet away. While this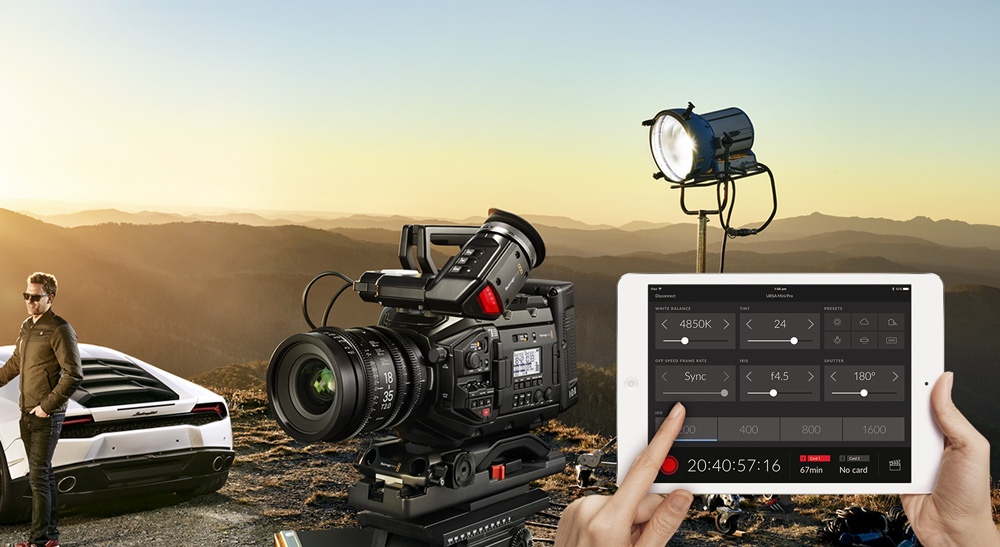 opens up the versatility of the URSA Mini Pro, that's only half of the update.

In addition to Bluetooth functionality, Blackmagic has also developed a new open protocol that they will release to the public. This, along with a developer API and sample code provided by Blackmagic will allow customers to create their own camera control apps for the URSA Mini Pro. This opens up a wide array of possibilities and opens up the versatility of the camera to even greater heights.

Camera 4.4 update, which will support the URSA Mini Pro bluetooth API and sample code will be available in June 2017 as a free download from the Blackmagic Design website for all existing URSA Mini Pro customers.

http://hdslrshooter.com/watch-nab-2017-blackmagic-ursa-mini-pro-bluetooth-camera-control/
Click picture below for Clint Milby's interview with Blackmagic Design's Simon Hollingworth.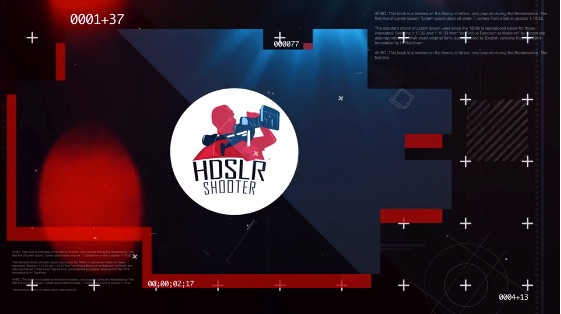 ---
RX 6: THE INDUSTRY STANDARD FOR AUDIO REPAIR

iZotope, Inc., makers of award-winning tools for audio production, recently released RX 6, the latest update to its flagship audio repair and enhancement software, RX. Built on years of extensive research in advanced digital signal processing and machine learning, RX 6 advances to a level of audio repair that once seemed impossible.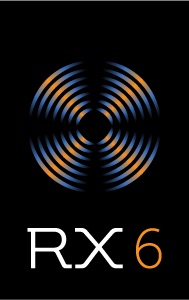 In RX 6, new features and workflows allow users to easily edit, repair and restore musical performances, while post production professionals can find new solutions to some of the once unsolvable issues in post production today.
"RX 6 pushes the envelope of what is possible in audio repair, while introducing tools that fit the needs of everyone, from the home studio artist to post production professionals," says Gerry Caron, Chief Product Officer of iZotope. "Machine learning is enabling advancements across industries, including audio tech. With RX 6, we are utilizing this technology to address some of the audio industry's deepest pain points, providing uncompromising quality and dependability to create truly great sound."

Be sure to check out Key features and benefits as well as availability and  pricing at: https://www.izotope.com/en/products/repair-and-edit/rx.html
---
THIS WEEK IN SOUND FOR FILM....

LAPPG's Woody Woodhall offers 10 rules for working with clients that will help to create productive and lasting relationships in ProVideo Coalition's 28 Weeks of Audio. Here's an excerpt from the blog post:
Working With Clients
28 Weeks of Post Audio - Week 25
#MixingMondays
excerpted from

1 – Be helpful, be supportive, help them tell the best story with sound that you can.
Some gigs are just amazing. It's an exciting project, made by an exciting team and you are just happy they chose you to do it. Many times however that is not the case. It's a dry read about auto parts for a technical video, it's a pick up for an audio book that does not interest you, it's a mix for a program on a subject that does not inspire you.
Always remember that you are getting paid for the privilege of working on their program or segment. They have worked hard on it, sweating the details, getting things just right and allowing you to take them over the finish line. While it might not "be your thing" this is the most important aspect of their day, show the proper respect for their hard work.
(Read about the other 9 rules here…)

---
MARK YOUR CALENDAR FOR THESE UPCOMING EVENTS:

May 10th, 2017 –  May LAPPG Meeting (Crossroads School, Roth Hall)

May 24th, 2017 –  2017 Creative Storage Conference (Culver City, CA)

June 1-4th, 2017 – Cine Gear Expo (The Studios at Paramount)

June 10th, 2017 – Sight, Sound & Story (NYIT Auditorium on Broadway, NYC)
June 22nd, 2017 – June LAPPG Meeting / Anniversary Meeting (Crossroads School, Roth Hall)
---
CINE GEAR EXPO REGISTRATION IS OPEN
Cine Gear Expo 2017 is the premier annual event for professionals engaged in the film and entertainment technology industry. Taking place June 1-4 at Paramount Studios in Hollywood, California, Cine Gear features 300 exhibits, new product and service introductions, 30+ complimentary seminars led by industry leaders, master classes, film competition, awards ceremony, special screenings in state of the art theaters, and ample opportunity to network with peers within a studio environment.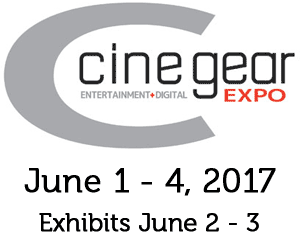 *June 1 - Film Series Competition Screenings

 *June 2-3 - Exhibits, Premier Seminars, Exclusive Screenings, Awards  Presentations, Special Events

 *June 4 - Master Classes


Badge registration is now open for Cine Gear 2017. All attendees must complete this FREE registration process to obtain their credentials. Registration is free until midnight PDT, May 27th 2017.  Here is the link:

---
PRO SOUND EFFECTS UPGRADE YOUR RIG GIVEAWAY

Pro Sound Effects Upgrade Your Sound Design Rig Giveaway has 4 prize bundles totaling $15,000+ in audio tools, this collection of industry-leading software, hardware,
and studio accessories is designed to speed up your workflow and upgrade your toolset so you can deliver amazing sound to clients on state-of-the-art gear.

Avid Pro Tools HD, iZotope RX Post Production Suite, Nugen Audio Halo Upmix, and BaseHead Ultra are among the prize offerings of popular audio software tools used to boost the quality of work for sound professionals in film, television, game audio, broadcast and beyond. Additional prizes include computer peripherals and ergonomic accessories from hard drive storage to studio mixing headphones to improve any sound designer's workflow.
The giveaway is open through May 15, 2017.

Click here for prize information and to enter.
---
NEWFILMMAKERS LOS ANGELES (NFMLA) FILM FESTIVAL - MAY 13th, 2017
On May 13th, 2017 NewFilmmakers Los Angeles (NFMLA) celebrates Asian Pacific American Heritage Month with a special installment of the InFocus series, InFocus: Asian Cinema. The first program in the evening line-up features 6 short films from emerging Asian filmmakers, including the Student Academy Award-Winning short "Cloud Kumo." These voices bring us tales ranging from a family affected by nuclear warfare to a pair of stoners seeking to make their name in Hollywood.

The second program celebrates the US Premier of the Japanese feature film "Where
Florence Sleeps." From the brother duo of Katsuto and Kenji Kobayashi, experience a dramatic tale of sabotage, kidnapping and ransom.

The evening film program closes with the LA Premier of "Looking for Jackalope," Karl Shefelman's feature length directorial debut.

Throughout the event attendees will have opportunities to mingle with the filmmakers, industry supporters and film lovers over cocktails and beats at the filmmakers' lounge adjacent to the private entry of the South Park Center's 500 seat theater in Downtown Los Angeles.

    $5 advanced purchase / $7 at the door for individual film blocks
    $15 for all three programs with an open bar
     
 For more event information and tickets, visit: https://goo.gl/Hq6Vjq
---


5TH ANNUAL SIGHT, SOUND & STORY IN NYC ON JUNE 10TH

If you are in the New York area don't miss the 5th year of Sight Sound & Story, the annual event produced by Manhattan Edit Workshop. This year the panels will be about the art and processes of editing film and television both narrative and scripted, a
look behind the world of VR/360 post production, and our keynote panel this year featuring Oscar nominated editor Dylan Tichenor, ACE. The day concludes with a reception and networking session for guests, panelists and vendors sponsored by American Cinema Editors. 



Visit their website for all the details: www.SightSoundandStory.com 

---
$150 OFF REGISTRATION FOR 2017 CREATIVE STORAGE CONFERENCE 

The 2017 Creative Storage Conference is May 24, 2017 (CS 2017) at the Doubletree Hotel in Culver City, CA (www.creativestorage.org).  This full day conference and tradeshow focuses on all aspects of digital storage for professional media and entertainment.  Sessions will cover 4K, HFR and VR impact from capture to studio, collaboration in the cloud, moving content as well as archiving and digital preservation.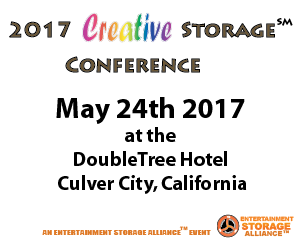 Keynote talks from Lucas Wilson, Founder and Executive Producer, SuperShereVR; Dave Fredrick, Senior Director of Media and Entertainment; Michelle Munson, Co-Founder and CEO, Aspera; and a keynote speaker from Google Media Cloud. 
The 2017 Creative Storage Conference is your chance to find out about the latest digital storage, content delivery and data management solutions for the media and entertainment industry and to network and meet influential and knowledgeable media professionals who are using digital storage to advance their art. 
Don't miss out on this opportunity to find the best digital storage tools to advance your career.  You can register for CS 2017 with a $150 discount off the regular full conference registration using this link:  https://cs2017.eventbrite.com?discount=onefiftyoff37168524
---
DIVULGE DANCERS' FILM FESTIVAL (DF2) - CALL FOR ENTRIES



Divulge Dancers' Film Festival (DF2) is a 2 day high energy event that will showcase dance videos, music videos and dance related films with live performances from some of the best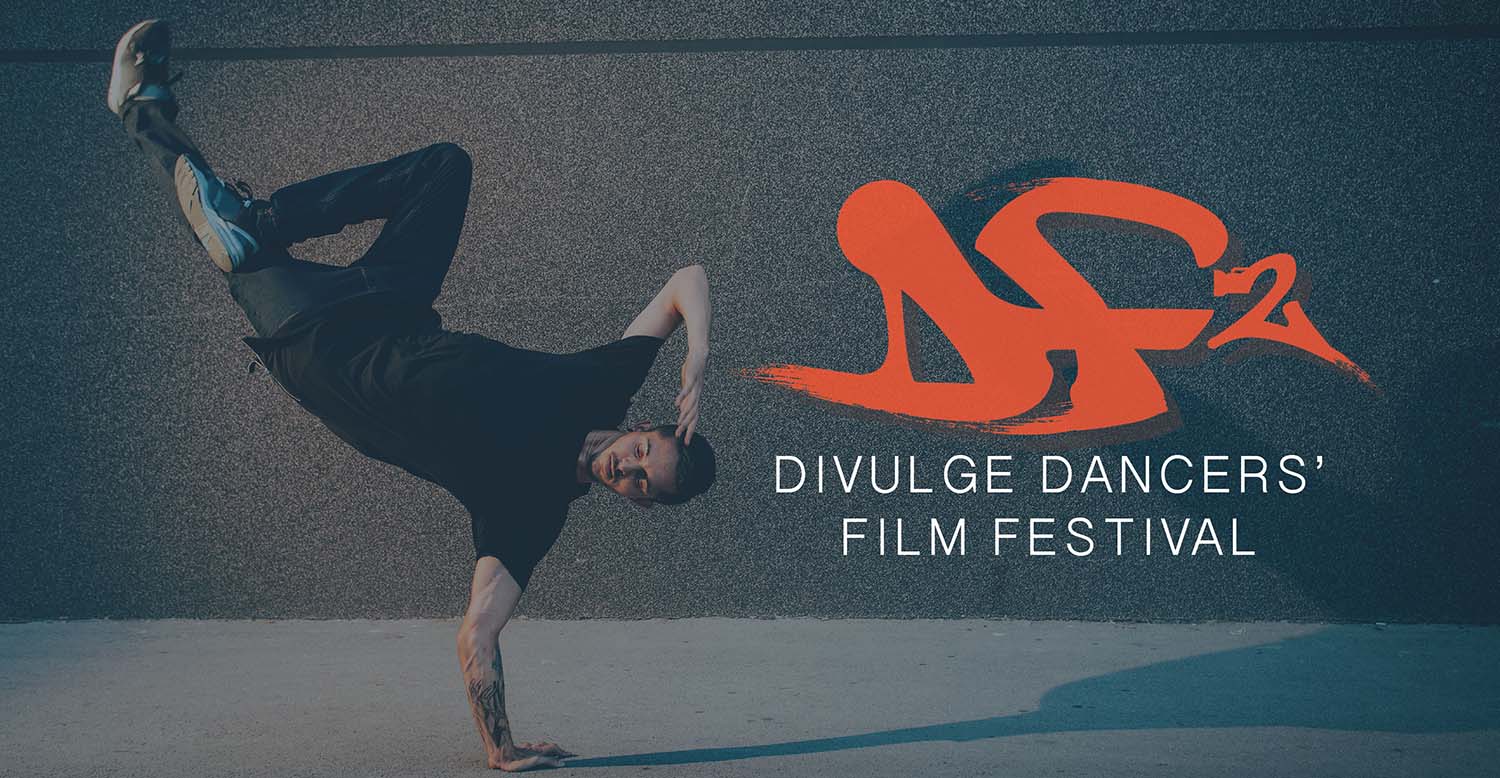 dance crews around the globe. The festival will be held September 2-3, 2017 at GWC Theatre, Huntington Beach CA.


DF2 is a social event that aims to unite accomplished and emerging filmmakers, choreographers and dancers to share their passionate, creative, and captivating work. DF2 is poised to feature short and feature-length films, dance videos, music videos, and dance promo trailers.
Early Deadline May 18, 2017
Regular Deadline June 30, 2017
Notification July 10, 2017

For more information on how you can be part of this event and the submission process, visit them at: www.divulgedancersfilmfestival.com
---
We thank the following partners for their generosity and support of our monthly meetings. Please visit them:
Adobe, Advantage Video Systems, Art of the Guillotine, Audio Network, Blackmagic Design, BorisFX, Creative Handbook, Digieffects, Digital Rebellion, Focal Press, GoPro Entertainment, HDSLR Shooter, Imagineer Systems, Intelligent Assistance, iZotope, Lacie, Mercury Production Report, Other World Computing,  Post Production Buyers Guide, Pro Sound Effects, Pro Video Coalition, ProductionHUB, Randi Altman's postPerspective, Shutterstock, Sorenson Media, Sound & Picture, Vimeo.

We look forward to seeing you on Wednesday, May 10th!
Sincerely,

Los Angeles Post Production Group
Please visit www.lappg.com for discount offers, job listings, industry news and more.
When & Where

Crossroads School for Arts & Sciences
Roth Hall
1714 21st Street
Santa Monica, CA 90404


Organizer
Los Angeles Post Production Group
The Los Angeles Post Production Group is a professional organization for people with a passion for film, video and the digital media finishing process.

The LAPPG discusses all aspects of post production, from picture and sound editing to color correction, visual effects, codecs, storage and post workflows.

Expert presenters and leading companies come to our monthly meetings and share new technologies, techniques, tools, products and best practices to aid us in telling great stories.
We also provide our members with great offers and discounts as well as opportunities to network and make industry connections.
Membership is free and you need not live in Los Angeles to take advantage of this great resource.
To become a member please email your name and information about yourself to membership@lappg.com.
Powering Your Creativity With Adobe Creative Cloud + Post NAB Round Up at May 10th LAPPG Meeting