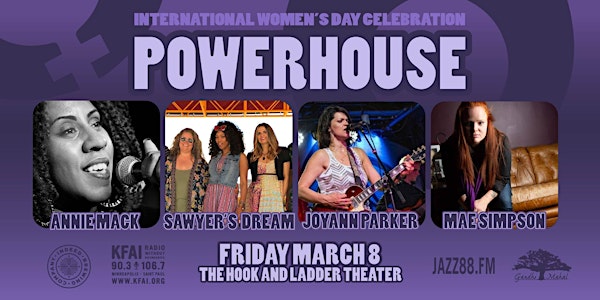 POWERHOUSE ~ Sawyer's Dream, Joyann Parker, Annie Mack, & Mae Simpson
International Women's Day Celebration!
Event Information
Location
The Hook and Ladder Theater
3010 Minnehaha Ave
Minneapolis, MN 55406
International Women's Day Celebration with Sawyers Dream, Joyann Parker, Annie Mack , & Mae Simpson with special guest Maya Elena!
About this event
International Women's Day Celebration
Sawyers Dream, Joyann Parker, Annie Mack , & Mae Simpson with special guest Maya Elena
Friday, March 8
The Hook and Ladder Theater
Doors 7pm :: Music 7:30pm
$16 Advance / $19 Day of Show / $40 VIP Meet & Greet
Tickets On-Sale Friday February 1 at Noon
VIP Meet & Greet is from 6-7pm! Hang out and mingle with the artists, taste food from Gandhi Mahal, sample beer from Indeed Brewing, & get a CD from one of the artists! These are limited and will be a very intimate experience.
----
Minneapolis based Sawyer's Dream is an all original band with amazing 4-part vocal harmonies. Mark Twain inspirations combined with vocal harmonies similar to those of groups such as the Mamas & the Papas, ABBA and Bread, create a unique cross-blending of Americana, Folk, Soul, Pop and Rock. They will take you back to simpler times, a time of dreams, nature and human kindness. Comprised of complex instrumental arrangements and intricate four-part harmonies, this daydream trip is an echo of the past and a glimmer of hope for the new day.
----
"Joyann Parker is the best Twin Cities female singer you've never heard. Imagine a sober Janis Joplin. And that's a good thing. Imagine a taller Shemekia Copeland without the my-dad-was-a-blues-star pedigree. And that's a really good thing. There's pain in Parker's heart - and in just about every song she writes and sings. And, onstage, the grimace on her face, the clenched fists and the ache in her roar let her listeners know that she knows hurt...Whatever she plays, Parker owns it. She's a powerful, animated blues-rock singer, capable guitarist and pianist, and a writer of praiseworthy originals." - Jon Bream/Minneapolis Star-Tribune
----
Annie Mack  has built a reputation for writing meaningful, relate-able and inspirational songs. Live, she delivers her songs with power, soul and conviction. A dynamic vocalist and charismatic performer, she takes the audience on a journey; from velvet lined melodic depths to exciting, gritty, full bodied church hollers.
A regional Powerhouse with National Recognition, Annie has performed at many top festivals and venues, including The John Coltrane jazz Festival-High Point North Carolina, The Lancaster Roots and Blues Festival-Lancaster Pennsylvania, The Thunder-Bay Music Festival-Ontario Canada, The Minnesota State Fair, The Twin Cities Jazz Festival, The Bayfront Blues Festival(six years running)-Duluth MN, Buddy Guys-Chicago Illinois, The Blues City Deli - St. Louis, Missouri and The Arts Garage Del-Ray Beach Florida.
----
Originally from Beaufort, South Carolina, Mae Simpson spent her formative years knowing that there were plans to do bigger things in life. Mae set out from the South at young age and began her musical career in Omaha, Nebraska. At the age of 21 Mae headed north to Minneapolis. By November of 2017, Mae joined her vocal and guitar talents with Jorgen Wadkins on guitar and Ricardo Romero on percussion. Influences by blues, soul, funk and folk, the trio quickly realized their collaborative efforts had a sound worth pursuing. The band quickly added Keaton Judy on saxophone, Paul Pederson on Trumpet, Dave Kellermann on bass and drummer Scott Thomson. Whether the venue is small and intimate, or raucous and roaring, the band members' contagious connection draws the audience into each note.
Date and time
Location
The Hook and Ladder Theater
3010 Minnehaha Ave
Minneapolis, MN 55406