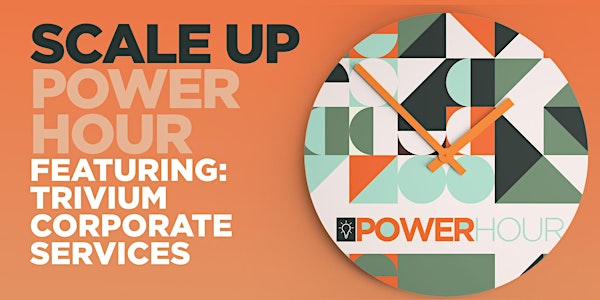 PowerHour - Trivium Corporate Services - Recruitment and Retention
Our first Power Hour featuring Trivium Corporate Services focused on questions you have about Recruitment and Retention.
About this event
This is a great opportunity  to get any and all questions regarding recruiting and retaining talent for your business. For each Power Hour, we bring in an expert on various topics and give members a chance to ask the pressing questions that keep you up at night. 
*Think of it as a virtual forum that facilitates open discussion with those in the know.
While this program is meant for Scale Up Members only, for this first Power Hour we are opening it up for anyone to join!
Intrested in attending future PowerHours for free? Become a Scale Up Member!
Get PowerHours and so much more! As we return to more in-person programming and roll out new programs, we want to prove to you the value of membership and ensure there are no barriers to entry. Right now, you can kickstart your membership for a one-time rate of $95. This one-time payment covers membership dues for the remainder of 2022.
About Trivium:
"Trivium is a Finance, Accounting, Human Resources, ERP and Tax consulting firm offering early-mid stage companies strategy consulting as well as support ranging from administrative to CFO level expertise. We provide tailored packages that scale to the needs of our clients. We partner with clients to manage all non-technical requirements, freeing up time and resources which can be spent on product and service development, while reducing cost and providing flexibility.
‍Trivium founded in 2009 with the mission to support entrepreneurs and executives with corporate strategy and execution. We do this by offering a number of flexible support models serviced by experts in their respective fields. Since then we've grown organically through referrals and repeat clients.
We value the importance of being a good corporate citizen, and as such, we constantly hold ourselves to the highest ethical standards both in the workplace and outside of it."