Description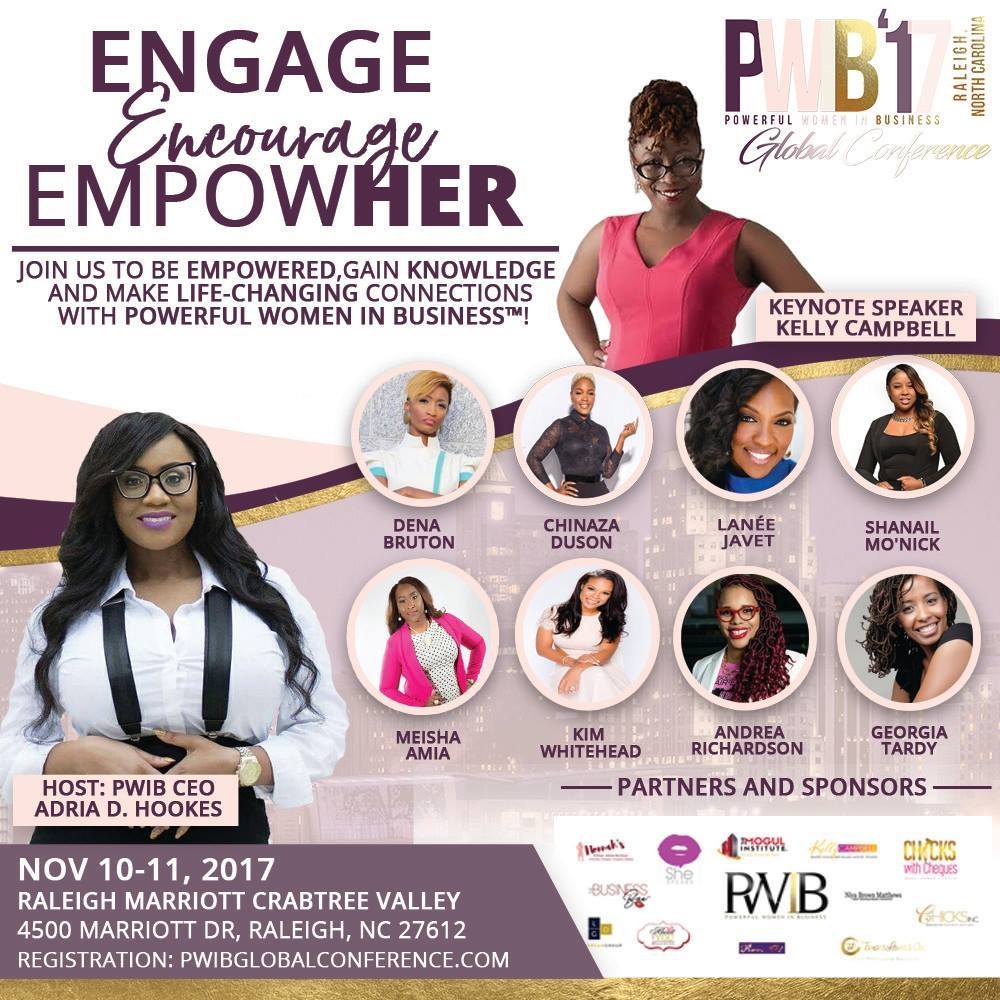 Engage. Encourage. EmpowHER
The Powerful Women In Business™ Global Conference will be an event featuring dynamic speakers, special guests, business building activities, personal development, and so much more. Our goal is for every woman that attends this event to be empowered, gain knowledge and make life-changing connections with other powerful women.
Conference Itinerary
Day 1 - Friday, 11/10/2017

Vendor Setup
12:00 PM - 5:00 PM

Registration/Information Booth
4:00 PM - 8:30 PM

Networking Mixer ft. DJ vspizzle
5:30 PM - 8:30 PM

Day 2 - Saturday, 11/11/2017

Registration/Information Booth
9:00 AM - 4:30 PM

Vendor Event
9:00 AM - 4:30 PM

Session One - Protect Your Business Legally:
Facilitator: Kimberly Whitehead
10:00 AM - 10:45 AM
Too often, individuals work long hours to build what they think is a sound business operation, only to learn that they have yet to surpass the stage of a side-hustle. In other cases, some have gone as far as forming a legitimate business structure with eye-catching marketing collateral to find that their ideas caught the eye of shrewd predators who prey upon those who fail to protect their brand. During this class, participants will walk away as more savvy business professionals ready to launch a sustainable business empire, acquiring a range of knowledge including articles of corporation, trademark and brand protection, copyrights, contracts, etc.


Session Two- Your Network Is Your Networth:
Facilitator: Adria Robinson
11:00 AM - 11:45 AM
If you were to total the net worth of those in your immediate circle, would the sum of those figures be enough to grant you financial freedom? If not, it's time to reconsider how you position yourself to network and engage in certain circles. This doesn't necessarily mean enlarging the number of people in your circle. It does mean being strategic about how you work to increase the value of what is caught in your net, hence the term, 'network.' During this session, participants will learn effective networking strategies they can employ while developing profitable business relations. In essence, participants will walk away with tactics for casting their nets to draw out resources, opportunities, and connections that yield sizeable monetary increases like unto sharks instead of those like unto a school of small fish.

Lunch Reception & Keynote Address
Keynote Speaker: Kelly Campbell
12:00 PM - 1:45 PM'


Session Three - Brand Like A Mogul
Facilitator: Lanee' Javet
2:00 PM - 2:45 PM
Yes, #bosschic, you have the business structure, and you've done the leg work to be sure your company is administratively sound. You know your craft like a mogul, and in this respect, no one can deny that you are indeed super fly. So, what's keeping you from soaring? With your level of industry expertise, why aren't clients knocking down your door? Could it be that no one knows your name? Who knows you're out there? The solution to these questions can be addressed with an easy fix: 'get social.' The truth is, in this era, most businesses cannot survive without a presence on social media. Therefore, this class is designed to help participants understand multiple social media platforms and which may best suit their particular business. Participants will also learn to exercise social media 'best practices' to promote their business and build a consistent, powerful brand identity in order to thrive in this competitive technological age. After this session, you will be so present that they will be calling your name again and again and again.


Session Four - Own Your Own Power In Business Panel:
Panelists: Dena Bruton, Georgia Tardy, Andrea Richarson, Meisha Amia, Chinaza Duson, Shanail Mo'nick Mitchell
Moderator: TBA
3:00 PM - 3:45 PM

You own the business, but not the power. What an oxymoron! Yet as contradictory as it sounds, it aptly describes too many of our sisters, who have taken the entrepreneurial leap, yet are still afraid to jump; sitting on the sidelines watching others become great, and hesitant about their own potential. into an dimension of power where real boss moves are made. to the next level of greatness, afraid to walk in their power as that success story. This panel presents a cohort of women, whose collective business journeys offer a powerful narrative of what it looks like to 'own your power in business.' The panelists will speak candidly about how over time, they not only recognized their power, they leveraged their power to access opportunities, and to set a new course of possibilities for other aspiring female entrepreneurs. Participants will be inspired to take hold of their own power, to achieve their next level of greatness, to make real boss moves, and to be that success story for themselves, their families, and their communities.