Powerful Conversations - Telling a narrative that motivates and moves peopl...
Description
We all know conversation is an artform, but did you know there is a science to it too?
Conversations are an essential part of ALL both work we do as Organisers, as campaigners and in our day to day lives as ordinary people.
All to often we focus our communication on people who are already with us or who are dead set agains us. Our energy is not well spent here. We need to move the undecided middle. Those who are neither for or against our ideas but if they could just hear our message, in the right way they would very likley be show support.
Through conversations we engage strangers, we shape and reshape public opinion, we build alliances, we grow relationships, and we move people to action.
In this workshop we examine the 'organising conversation' and how we can better structure our conversations to effectively move people toward action.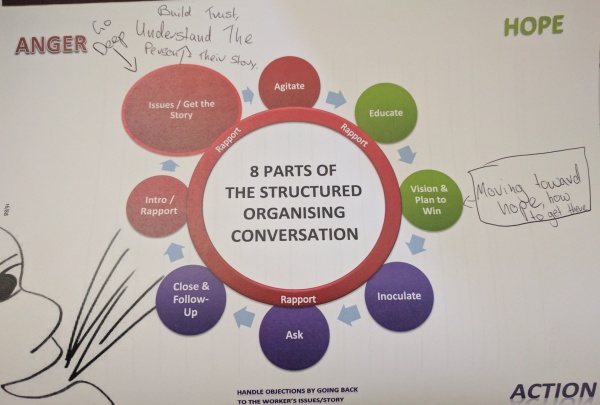 Ever find yourself getting completely lost half way through a conversation? Not sure when or how to make the ask? Struggling to move supporters to action? Constantly hitting the same barriers?
Then this workshop is definitely for you!
There are any number of ways a conversation might go. No two conversations are the same and no conversation is ever perfect, but understanding how a structured organising conversation works will help to improve your confidence and conversation success rate!
Make sure you come early and have your thinking cap' on for this one, as there is a lot to get through in a very short amount of time.
As always, tea, coffee and snacks will be provided on the night. Please bring a donation and invite a fellow organiser, campaigner or activist to join us.
---
"Community Organising is a process of building power through training and supporting leaders to activate their community, build effective teams and create solutions to identified problems. Strong personal relationships and motivational story telling are the foundation of community organising whilst the process of strategising and winning campaigns help strengthen and maintain community empowerment."