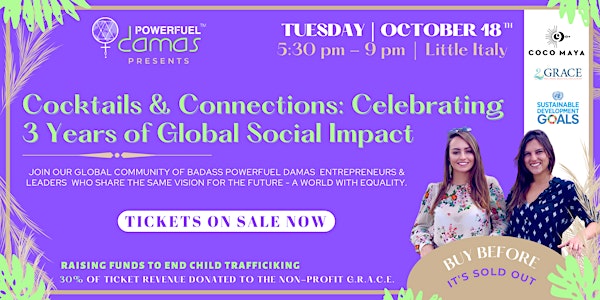 PowerFuel Damas Cocktails & Connections: 3 Years of Global Social Impact
We are connecting and growing an international family of empowered badass women entrepreneurs & leaders.
When and where
Location
Coco Maya 1660 India Street San Diego, CA 92101
About this event
PowerFuel Damas presents:
Cocktails & Connections: Celebrating 3 Years of Global Social Impact
We are calling women & supporters that are entrepreneurs, leaders, investors, and top professionals from all over the world who share the same vision for the future - a world with more equality.
This network event is your opportunity to fuel your power with a global community, that will empower you with meaningful connections, substantial knowledge, authentic vibe, and inspiring stories, while helping a PowerFuel social cause - Child Trafficking.
30% of your ticket will be donated to the non-profit G.R.A.C.E
In celebration of 3 years of PowerFuel Damas Social Enterprise and the recurrent support to United Nations - Sustainable Development Goal #5, we are partnering with the San Diegan Local Non-profit G.R.A.C.E (https://girlsrisingabove.org) to raise funds to support their vision to end child exploitation by transforming communities and positively impacting individual lives.
This event is for you if…
You want to gather with the most influential and curated women of San Diego
You want to meet with curated global badass women to expand your network
You're ambitious and hungry to grow
You're an entrepreneur, leader, investor, journalist, top professional, influencer, and/or activist
You're ready to expand your business and career
You're ready to go to the next level in your personal and professional life
You're ready to ditch any self-doubt and go after your big dreams
You believe in community over competition
You're ready to give and receive! #abundance
You want to support the United Nations to achieve gender equality
You're ready to build connections that will support your dreams and mention your name in a room full of opportunities
You believe that we're not meant to do business and life alone!
So if you said yes…
You are deeply connected and aligned with our PowerFuel event!
Get your ticket NOW and come join us for our Cocktail Party on 10.18.2022 to celebrate our 3 years of Global Social Impact.
🎟️Your ticket will include:
- One complimentary drink
- Appetizers
-Exclusive VIP spot to #GPDA (Surprise announced in there 🤫)
-30% donation to G.R.A.C.E
📍Location:
Coco Maya
1660 India St, San Diego, CA 92101
Surprise Announcement Alert: This event is not like any other. We have a special surprise that will blow your mind. 🤫 But you will only be able get exclusive details and gifts, if you come to the event. Really, you don't want to miss this one out.
​​ ⭐️⭐️⭐️⭐️⭐️
Dr. Silvia Mah - She Invests! CEO, AdAstra Ventures Founder, Forbes Council, ex-TED Talks speaker, and angel investor that has invested more than $1,5 Million in +45 companies founded only by women. In addition, as a Chairwomen of Stella, she recently secured $71 Million in Funding for Women-Led Startups.
"This dynamic duo is driving change at a massive scale with love, compassion, and empathy at their core. They champion all women in the world because gender equality is essential for our communities to be safer and healthier. It's a massive & complex undertaking, but these two leaders are executing, empowering, and impacting women globally; as their mentor/advisor I am in awe of their accomplishments and incredibly proud."
BE AWARE: this event is 100% private. It sells out quickly and spots are very limited. Entry to the event will only be allowed to previously registered and confirmed participants on the guest list.
Questions?
Sponsorship opportunities: contact Sofia Lucca, sofiaclucca@powerfueldamas.com
What is the dress code for the event? Please dress in business attire.
Can I purchase tickets by the door? No.
About our PowerFuel Damas Global Community:
+26 Nationalities
Personal & Professional Development
Diverse Women = Freedom to be whoever you want to be
Support System to encourage women to speak up about gender inequalities
Ah…Don't forget to bring lots of business cards, positivity, and good energy!
Are ready to surround yourself with a circle of badass women who inspire you, hold you accountable, support you like family, and help you become the best version of yourself?
We are very excited to see you at Coco Maya, on 10.18.22 @ 5:30 pm - 9:00 pm
See you there
Beijos,
Mayra & Dani (Co-founders & co-CEO's of PowerFuel Damas)