Description
IF YOU HAVE A DISCOUNT CODE, after you click on the green 'Tickets' button, there will be blue text in the top right corner of the ticket window that says 'Enter Promotional Code'. (See photo below) Enter your code there and the ticket prices will then reflect the discount as you continue the process.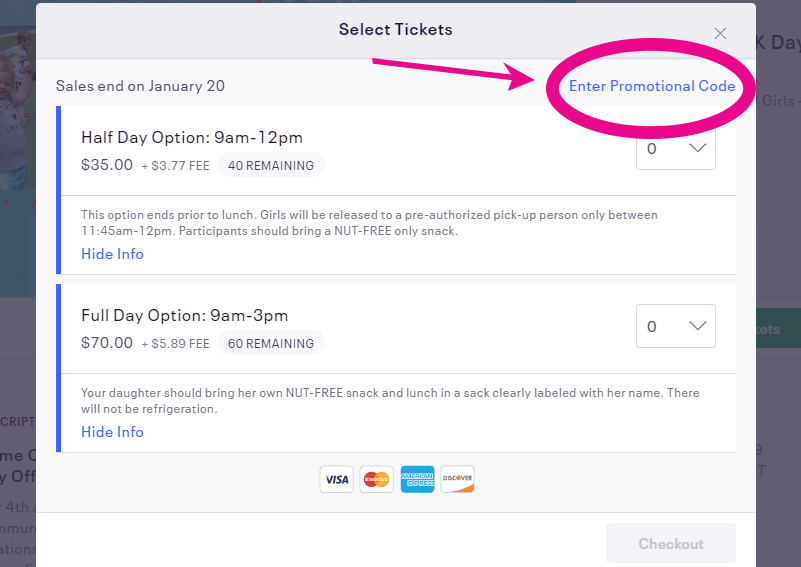 ---


Game On! Sports 4 Girls is proud to present the Power4Girls MLK Day Off School Event!
Our 3rd annual event will include a host of fun activities including a community service project, sports with Game On!, and other active rotations with our partners. All participants will also receive a swag bag full of goodies.
Our motivational speaker will be Marcia Cleveland, a Winnetka-based open water endurance swimmer who has swum across the English Channel, the North Channel (between Ireland and Scotland), the Long Island Sound, and more. Click here to read about Marcia's latest achievement.
PARTNERS
Chicago Bears
American Jump Rope Federation
Stay tuned for announcements of more partners!
ABOUT RUGBY ILLINOIS
Rookie Rugby is played in schools, parks, recreation leagues, and community organizations across the country. The rules are simple, the game is easy to learn, it is fast paced and fun. It is the fastest growing sport in America and girl can play from grade school, to college, and beyond.
ABOUT CHICAGO BEARS YOUTH FOOTBALL PROGRAM

The Mini Monsters Clinic brought to you by Advocate Health Care is a free youth program that stresses the importance of healthy eating, physical activity and proper hydration through fun, non-contact football drills..
Each clinic includes a visit from a former Bears player and giveaways for the participants.
ABOUT AMERICAN JUMP ROPE FEDERATION
Their goal is to create new programs that foster education, fitness, and safety in the community and to increase the accessibility of our sport and getting more people jumping rope.
---
---
FAQs
Who can come to this event?
This event is open to all girls in grades K-5th grade.
What should I wear to the event?
Come dressed ready for a day of play! Gym shoes required; no sandals, boots or bare feet allowed.
What is your policy on food?
There will be a lot of active play so please be sure to send a minimum of 2 nut-free snacks and lunch (if staying full day). Please know that snacks and lunches need to adhere to Game On! Sports 4 Girls strict no peanut, no nut policy.
My daughter has severe allergies or a medical condition which may require some intervention. Can she still come?
It has always been the priority of Game On! Sports 4 Girls to do our best to accommodate all girls. Please contact Game On! Sports 4 Girls to discuss at 847-229-9959
I signed up but cannot come. Can I transfer this to another friend?
This event requires participation waivers and other required forms which are specific to the participant registered, therefore, it is non-transferable.
Do I have to bring my printed ticket to the event?
Don't worry if you do not have it, as we will have a master list of all attendees, however the ticket will help speed up the admission process.
Who do I notify if there is a change in who picks up my daughter?
If you know of changes to your authorized pick up list prior to the event, you can go on your Eventbrite account to make the changes. All changes after January 18th must be via email to Game On! at info@gameonsportscamp.com . On the day of the event, you can always call Joy of the Game at 847.828.4650 and ask for a Game On! representative or email us at info@gameonsportscamp.com . We will be checking emails throughout the day.