Description
LOCALE Magazine Presents PoWer Up
October 13, 2018
2 PM - 9 PM
at Marriott Irvine Spectrum


---

What is Power Up?
"PoWer Up is a women's conference dedicated to empowering, enlightening, and encouraging local women to be unapologetically themselves. LOCALE Magazine has gathered strong female leaders to share their stories, talents and expertise on why the future is female."
---

TICKETS
*Classes are first come, first serve and will overlap. Attendees will not be able to attend all classes.

$99 Early Bird GA | Tickets on Sale: 8/1 - 10/1

Join us for a one-day conference filled with panels, workshops, shopping, delicious food, cocktails and all the things women! Panels and workshops focus on categories: Alive, Escape, Shoppe and Foodie.

$199 Early Bird VIP | Tickets on Sale: 8/1 - 10/1

Join us for a one-day conference filled with panels, workshops, shopping, delicious food, cocktails and all the things women! Panels and workshops focus on categories: Alive, Escape, Shoppe and Foodie. VIP includes: VIP entry to PoWer Up, reserved front row(s) seating in panels and workshops, two (2) complimentary drinks and VIP Swag Bag.
---

SPEAKERS

Keynotes

Karena Dawn - Co-Creator of Tone It Up
Lo Bosworth - Founder and Chief Executive Officer of Love Wellness
Jamie Lynn Sigler - Founder of J Public Relations
Tatiana Oliveira Simonian - Head of Global Media and Entertainment, Tumblr & Founder, Womentorship.net
Annie Lawless - CEO of Lawless and Co-Founder of SUJA Juice
Moderator: Christy Carlson Romano - Actress
One In A Million | Yes, having large amounts of followers is cool and all, but how did you build this empire? This panel is based on building a brand worth following.

Lauryn Evarts Bosstick - Author of The Skinny Confidential: A Babe's Sexy, Sassy Fitness and Lifestyle Guide Host of The Skinny Confidential Podcast
Kaitlynn Carter Jenner - Co-Founder of Foray
Stephanie Villa - YouTuber, SoothingSista
Riley Beek - Founder of @bitc.h
Danielle Lucia Schaffer - Blogger, City Girl Gone Mom
Moderator: Tiana Haraguchi - Co-Founder of Foray

You're Making Me Blush Presented by Sephora | Interactive experience aims to give women multiple beauty options for their casual, work or night look.

Sona Gasparian - Founder of Pérsona Cosmetics

What's the Stitch | Female designers will speak out on how they got to where they are and all the 'stiches' along the way.

Monica Wise - Founder and Designer of L*Space Swimwear
Nicole Hanriot-Tinkess - Founder and Designer of Beach Riot
Gorjana Reidel - Co-Founder and Creative Director of gorjana
Kelly Gray - Co-Founder of Grayse
Moderator: Cassydy Berliner - Lifestyle Blogger

How To Land Your Dream Job | How to land your dream job in the fashion and beauty industries!

Ashley Rachel Villa, Esq. - CEO, Partner and Attorney, RARE Global Talent Management and Co-Founder of The Be Rare Foundation
Natasha Vaquer - VP Talent Partnerships and Influencer Strategy at Refinery29
Amanda Marzolf - Digital/Branding Agent, Abrams Artists Agency
Katie Welch - CMO of Hourglass Cosmetics
Moderator: Aja Dang - Host, YouTube Personality and Social Activist

Aint No Mountain High Enough | Centered around women sharing inspirational words of wisdom based on real-life obstacles they've overcome.

Ali Grant - Founder of Be Social
Nadia Mejia - Miss California USA 2016
Morgan Harper Nichols - Writer, Arist and Storyteller
Moderator: Cindy Matalucci - Founder of The Pulse

Body Language | Geared around women's health: myth busting and fact checking on what we as women should be doing to stay healthy no matter what age you are.

Sara Cullen - CEO and Founder of GEM
Rebecca Louise - Founder of BURN by Rebecca
Dr. Sonja Fung - Owner of Live Well Clinic & Naturopathic Doctor
Moderator: Autumn Calabrese - Celebrity Fitness Trainer

Money Moves | Who said men are the only ones who can bring home the bacon? This panel is all about women gaining the power back in their finances.

Indya Yuill & Michele Sarna - Beacon Pointe Financial Advisors

I'm So Fly | We're putting together people who have more frequent flyer miles than anyone you know.

Justine "Coco" Cuenco - Content Creator at REVOLVE
Brianna Romano - Marketing Director at LOCALE Magazine
Nicole Isaacs - Travel Blogger
Serene Haddad - Strategic Planning Manager, FivePoint Holdings
Moderator: Sandra Endo - Reporter, FOX 11 Los Angeles

Whisk Takers | Putting an end to the thought that the chef industry is male dominate.

Jamie Gwen - Chef and Radio Host of Food & Wine with Chef Jamie Gwen
Kate Ramos - Blogger and Chef, Hola Jalapeño
Jocelyn Wong - Food Blogger, Hangry Diary Inc.
Moderator: Lane Petrauskas - Founder of Skorch

Pour Decisions | Tips and tricks on how to make specialty cocktails step by step.

Snake Oil Cocktail Company

---

SIP & SHOP
Ariana Gavrilis - DJ
Activations
SEPHORA
GEM
Foray
HolaJalapeño
gorjana
Corona Light
Hendricks Gin
San Clemente Outlets
Derm FX
The Bold Revolution
Lillet
Truly Spiked & Sparkling
Beacon Pointe Financial
Honest Tea
KIND Bar
...more to come!
Furniture by: Archive Rentals
Florals by: Rooted & Wild Co.
---

THE SCHEDULE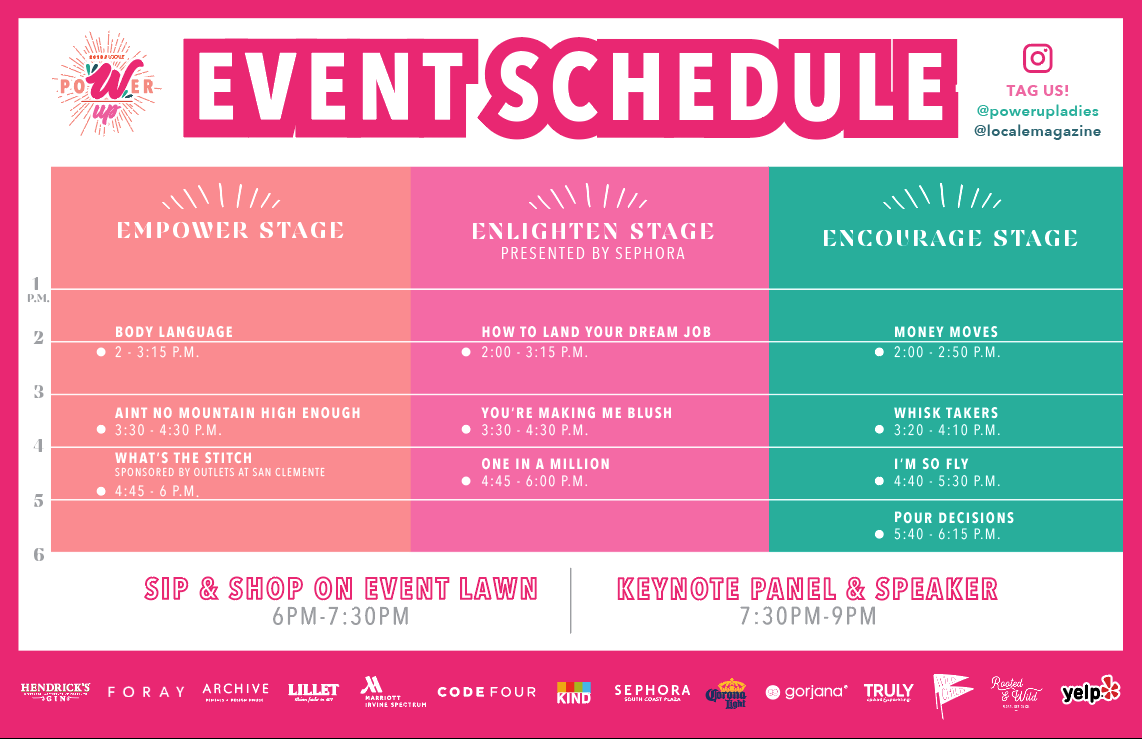 Parking
Please use side of hotel valet - Valet for the event is $10
Hotel Self Parking is available at 400 Parking Building Past Alton
Additional off-site parking can be found at the Irvine Spectrum or any other public lots you can find