Event Information
Location
Vinyl Music Hall
2 S. Palafox St.
Pensacola, FL 35202
About this Event
General Admission * Standing Room Only * If Any Seating Is Available, It Will Be On A Strictly First Come-First Serve Basis * All Ages * Additional $5 Cash Surcharge At The Door For Under 21 * Attendees Under 16 Must Be Accompanied By A Ticketed, Adult Guardian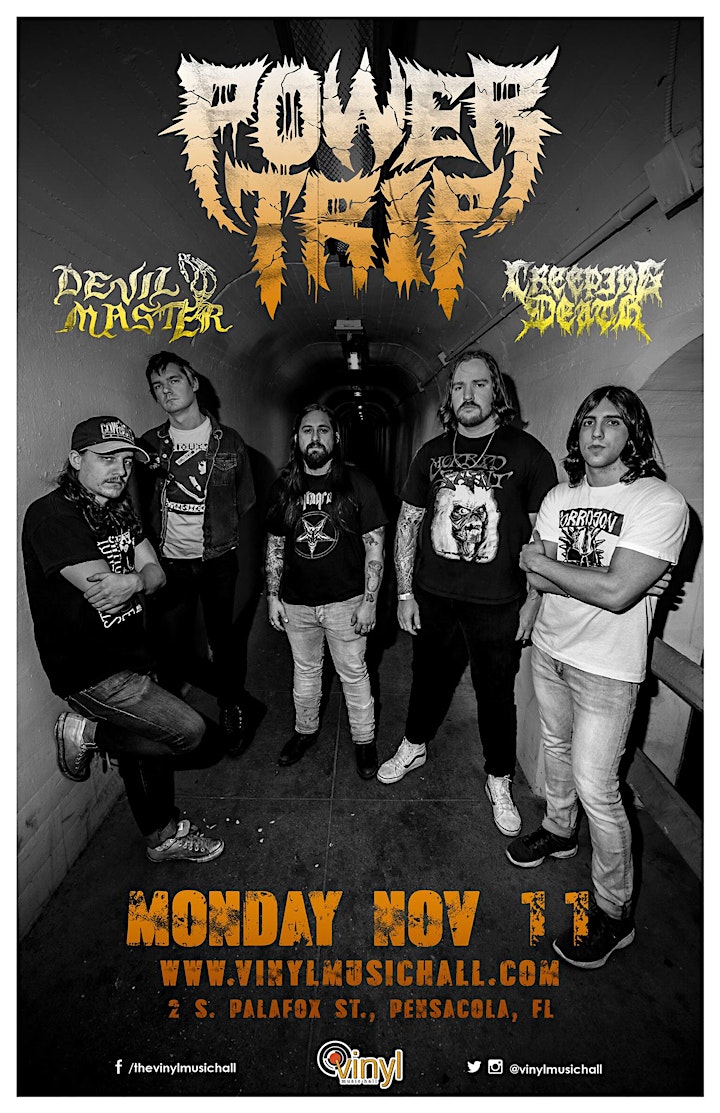 Power Trip slay us with the first new single "Firing Squad" from their anxiously awaited sophomore release Nightmare Logic, which finally sees light February 24 on Southern Lord. "Firing Squad" debuted via NPR who've described it as possessing "a certain monolithic quality Lemmy would admire: a massive rawness and a sludgy, heavy hopelessness that thrashes with punk immediacy and metal intricacy…it's a track preparing for war."
Power Trip are a real band - like no other. Their raw energy, musical proficiency, perfect song structure, rich tones, fierce riffs, persecution and collective attitude has seeded them as one of the most prolific underground staples in the U.S. metal, punk and hardcore scenes.
Power Trip have relentlessly toured the world for years now with the likes of Anthrax, Lamb Of God, Cro-Mags, Negative Approach, Turnstile, Backtrack, Eyehategod, Bane, Off! and having performed with literally countless others, in addition to pummeling audiences at major festivals all over the US, EU and beyond.
Philadelphia's DEVIL MASTER have been spitting in the face of convention since forming in 2016 with their raw, twisted brand of death rock meets black metal punk mayhem. Manifestations is a compilation of DEVIL MASTER's full catalog, two sold out demos from 2016 & 2017 (S/T & Inhabit the Corpse); remixed, remastered, and sounding more malevolent than before; plus available on vinyl together for the first time. The vinyl version of the self-titled demo was originally released on America's Leather Doomsday Records followed by both being pressed by Germany's Erste Theke Tonträger.
DEVIL MASTER's debut full-length album is coming early 2019. The band is recording the album in Philadelphia with producer Arthur Rizk (Code Orange, Power Trip, Volahn).
The band's blistering new full length platter, Wretched Illusions, raises the stakes with undeniable and unrelenting anthems like "Bloodlust Contamination," "World Decay," "Corroded from Within," and album opener "Ripping Through Flesh." Each of the record's ten tracks is a certified ripper, keeping those baseball bat swings coming, over and over.
Devotees of influential death metal merchants like Blood Red Throne (Norway), Gorguts (Canada), and Grave (Sweden) have a new American band to champion. Creeping Death draw liberally from the template set by those bands along with the speed of early Sepultura (Brazil) and the hammering epic crush of Bolt Thrower (England). All of these classic sounds are reforged together and reflected through Creeping Death's own fresh and unique prism.
hxc band from Pensacola, FL. fast riffage, guitar harmonies, headbanging, divebombs
Performers
Date and Time
Location
Vinyl Music Hall
2 S. Palafox St.
Pensacola, FL 35202
Refund Policy