Event Information
Refund Policy
Refunds up to 1 day before event
Description
Co-Founder and President of Take The Lead Gloria Feldt says, "Know your history and you can create the future of your choice." Knowing our history is incredibly important as women, but knowing our history goes deeper than just knowing about other women in history. Knowing our history means looking at and acknowledging the various histories we're all part of. In this interactive workshop we'll discuss women leaders throughout history, the importance of observing history through an intersectional lens, and dig deeply into our own personal histories as women and leaders.
Know Your History Workshop Agenda
1:30 to 2:00: Know Your History Formal Presentation
This is an interactive presentation designed to allow participants the opportunity to clarify their current understanding of Women's History, as well as their personal history. We'll be moving around, so please dress comfortably. We'll explore how intersectionality affects our view of history, and how our personal histories may affect our capacity to change and grow, thereby inhibiting or amplifying our personal leadership practice. All participants will be given a Gallup StrengthsFinder code with their information packet to enable them to discover their top five strengths.
2:00- 3:30: Small Group Discussion
Following the presentation, the group will select the topics for deeper conversation during the evening. There will be three 25 minute rounds of conversation, with 15 minutes for collaborative agenda setting prior to the conversations. There will be up to 9 separate small group conversations during this time, allowing participants to cover multiple topics related to women's history.
3:30-4:00: Large Group Closing
We'll gather in a large group and share key insights from our small group conversations, examine the patterns that emerged across our experiences, and commit to an intention to enhance our leadership practice based on the afternoon's learnings.
Key Take Aways:
You'll gain a deeper understanding of Women's History and your own personal history

You'll be able to identify areas of your personal history that are inhibiting or amplifying your leadership practice

You'll expand your awareness of intersectionality, and the multiple historical persepctives of women

You'll leave the conversation with a clear intention to grow in your own leadership practice


Please review the conversational agreements below prior to your arrival at the event.
"Everyone you will ever meet knows something that you don't. … Respect their knowledge and learn from them. It will bring out the best in all of you."
--Bill Nye
Conversational Agreements
1. We'll Be Respectful: We're all humans, being. We'll respect one another while we're being human together by listening with our full attention and speaking with intention.
2. We'll Be Curious: Curiosity opens up conversation, while judgement shuts it down. We'll practice curiosity and ask questions of one another.
3. No Cell Phones: We'll place our cell phones on vibrate. While we recognize the need to be connected in case of emergency, we ask that the connections we're building through our interaction be valued and respected during our time together. If you must take an emergency call, please step outside of the room to do so.
About Certified Leadership Ambassador Sara Nett
I'm a lover of growth and change for the greater good. I coach individuals and train teams in impactful leadership practices, organizing, and mindful conversational practices. My engagement processes are designed to encourage self reflection, collaboration, and wise action. With a background in organizing, activism, and family services provision and advocacy, I understand the impact of women's leadership on organizations and society. I obtained my BS in Women's Studies from Minnesota State University, Mankato in 2004, certification in Leadership, Organizing and Action from the Harvard Kennedy School Executive Education program in May of 2015, and became a Certified Leadership Ambassador in October of 2015. I'm deeply grateful to Gloria Feldt, Amy Litzenberger and Take The Lead for their work, and the opportunity to be an active part of the movement for gender parity across all sectors by 2025.
Take The Lead, a 501c3 nonprofit organization founded by Gloria Feldt and Amy Litzenberger, prepares, develops, inspires, and propels women to take their fair and equal share of leadership positions across all sectors by 2025 (rather than 2095 as the World Economic Forum predicts). Take The Lead achieves its mission of gender parity in leadership through four keys to parity – learning programs (prepare), mentoring (develop), role model events (inspire), thought leadership and movement-building for systems change (propel). For more information about Take The Lead and available programming, please visit taketheleadwomen.com.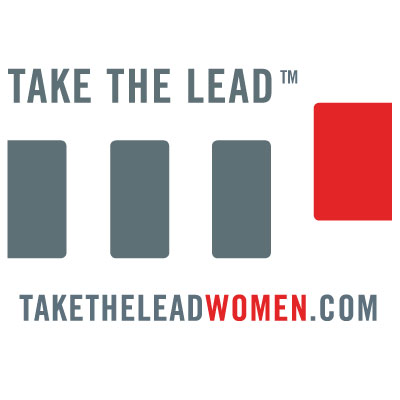 Date and Time
Location
Refund Policy
Refunds up to 1 day before event